Harry Potter: The Exhibition in NYC
Juxtapoz // Tuesday, 05 Apr 2011
1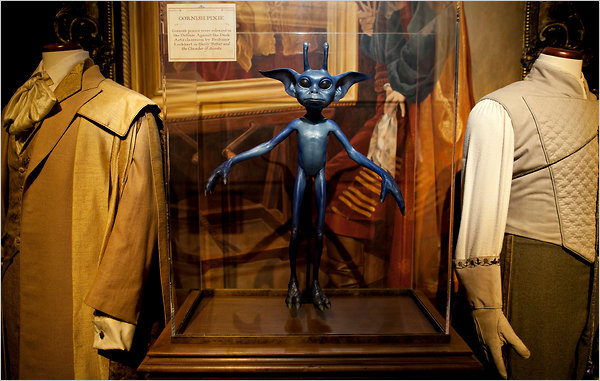 By the time the Harry Potter saga ends in cinematic form this summer, we will, as an international audience, have exhausted every angle there is to cover with Harry Potter. Books, theme parks, films, coffee mugs, toys, and now of course, a full exhibit at Discovery Times Squaure in NYC, titled, quite perfectly,
Harry Potter: The Exhibition.

If you were to check out the exhibit, "Harry's original wand and eyeglasses, the Marauder's Map, Gryffindor school uniforms as well as costumes worn at the Yule Ball. Enter the Quidditch
™
area and toss a Quaffle, pull your own Mandrake in the Herbology vignette, encounter Buckbeak
™
the Hippogriff and even a giant Acromantula spider."
To be honest, we have no idea what any of that means. You can guess why, now can't you? The exhibit makes its stop in NYC after touring in Chicago and Boston in 2009, and then Toronto and Seattle in 2010.
We enjoy the NY Times' take on it:
But what makes all of this so effective is that these props are not just reminders of something seen more potently and in wider context in the movies. (The films star Daniel Radcliffe as Harry, who is currently in "How to Succeed in Business Without Really Trying" on Broadway, just a block away.) Instead, it becomes clear that the movies work so well because no object really is just a prop. Everything is thoroughly imagined.
That is actually quite positive. We wonder if any of you have seen the exhibit yet? Care to see it?
All images of the exhibit courtesy of the
Times
.
HP WEB 30 sec from Discovery Times Square on Vimeo.