Hamburger Eyes presents Garden of Eden at Paris' Ofr Bookstore
Juxtapoz // Thursday, 12 May 2011
1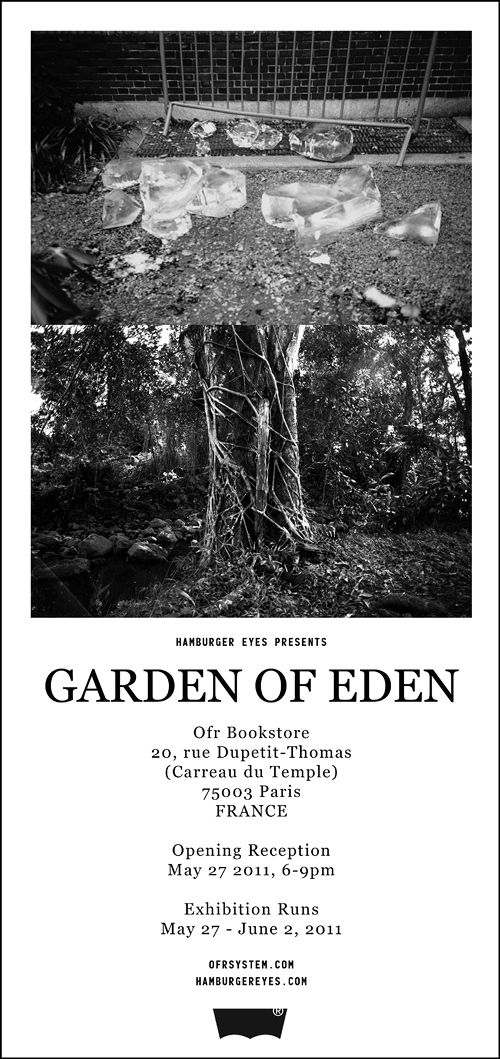 Hamburger Eyes
will be making their first international photography exhibition with
Garden Of Eden
at Ofr Bookstore in Paris on May 27, 2011. The exhibit will feature photographs from HE contributing photographers. Hundreds of photos will be on display, consisting of black & white and color photos, ranging in size from 11 x 14 to 30 x 40.
Garden of Eden is an exploration into what makes mortal humans engage in epic combat. When the Gods are mad, why do Earth humans suffer? Banished from paradise forever, mankind must create and forge their own personal Valhalla in this battlefield realm called Earth. Hamburger Eyes creates a dialogue with the viewer by showcasing, through numerous photographs, how the DNA of our cybernetic existence is forged from deep within the magic beans of these ancient stories .
The show will feature photography by Ray Potes, David Potes, Stefan Simikich, Jason Roberts Dobrin, Ted Pushinsky, Brian David Stevens, Ryan Furtado, Lisa Weiss, Patrick Griffin, Alessandro Simmoneti, Tobin Yelland, Michael Jang, Jai Tanju, Chris Beale, Alex Martinez, Oscar Mendoza, Dennis Mcgrath, Mark Murrmann, Andrea Sonnenberg, and many more..

Accompanying the photo exhibition, featured zines from the new King Hamburger Eyes publishing company will be for sale.
Check our studio visit with Hamburger Eyes here.