Haitian Girl by David Choe
Juxtapoz // Wednesday, 27 Jan 2010
1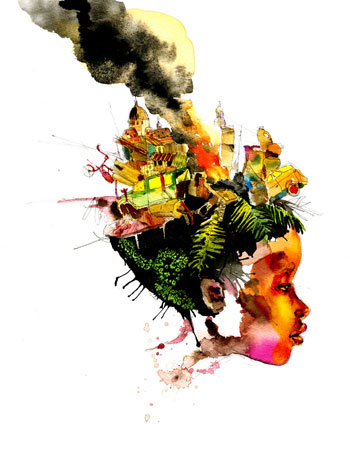 As news of despair in Haiti continue to flood media, David Choe has created Haitian Girl, a print from Hemway Industries with all proceeds being donated to benefit the Haitian Relief Effort.
Personally paying for the cost of the prints, David Choe created Haitian Girl, making sure all of the proceeds going to Yéle Haiti, a foundation created by Wyclef Jean.
Haitian Girl measures 18x24 and is a giclée print on archival paper. Limited to 50 editions, the print is hand-signed by David Choe and costs $300. The print is available now for pre-sale but will not ship until February 21, 2010. Details HERE.
David Choe's next solo exhibition featuring new works, "Character Assassination" opens on February 5, 2010 at FIFTY24SF Gallery. Info on that show HERE.
About Yéle Haiti:
Yéle Haiti is a foundation started by Grammy-Award winning musician, producer and social entrepreneur Wyclef Jean that is changing lives in this desperately poor but optimistic nation.
Through Yéle Haiti, Wyclef uses music, sports and the media to reinforce projects that are making a difference in education, health, environment and community development. In practical terms this translates to over 3,000 new jobs, close to 7,000 children being put in school, more than 8,000 people a month receiving food and approximately 2,000 young people a month learning about HIV/AIDS prevention.