Guerilla Knitters in Berlin
Juxtapoz // Thursday, 24 Mar 2011
1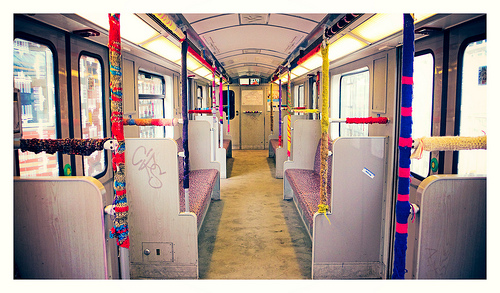 Anytime we read something like the term "Guerilla Knitters," it makes us laugh just a little because it sounds just so well-intentioned and non-offensive, but there is something a bit risky about being said artist. You actually do have to go and knit in public, guerilla style, while slightly older people watch in complete happiness and approval.
Here is the write-up:
"A group of Guerilla Knitters which I am part of have recently (31 January to be precise) stormed the U1 in Berlin disguised with knitted beards and armed with knitted cozies, to beautify and soften the harsh interior of the everyday world of commuters. After 3 months of preparation with my Stitch N Bitch group, it took us just an hour to install, and the carriage stayed in circulation until around 15:00, when the BVG security unfortunately cut it all to pieces. Despite making those few employees miserable by giving them extra work, I think we cheered up a fair amount of weary travellers on a gloomy January day!"
via
WC
.