Grotesk: Talking About the Past Decade
Juxtapoz // Wednesday, 06 Jan 2010
1


"Grotesk is one of our favorite artists in the world today, seamlessly connecting the posters he saw as a youth in Switzerland and contemporary hip-hop culture into a hybrid of high-end graphic and fine art," writes the Citrus Report.

"After leaving his gig as creative director at  Zoo York, he and friend Eric Elms have opened up shop on their new creative endeavor. There's more talent on that team then the 1936 Yankees. Trust us.

"So, what does Grotesk think about the past year, and the past decade? Read on…

1) What is the best thing you did all year? Personal or professional?

Leaving the corporate world and start my own company with my friend, Eric Elms.

2) If you could get one thing as a gift this holiday, what would it be?

A brownstone in Brooklyn.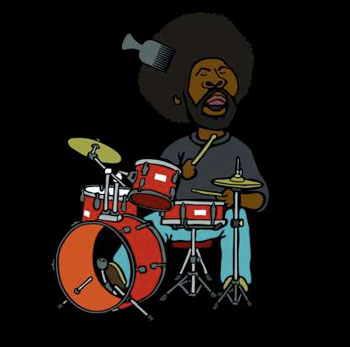 3) What is the best song or album (they still make those, right?) of 2009?

A lot of old reggae, the Yeah Yeah Yeahs, Brother Ali, Raekwon, Jay Z's "Empire State of Mind," and can't wait to listen to the 2009 wrap up by Skillz.

4) At the close of the decade, who is your favorite fine artist?

Tom Sachs, ESPO, Matthew Barney, and my daughter.

5) Favorite news story of the year?

I liked the plane that landed in the East River without any damage.

6) Favorite movie of 2009?

I go to movies only with my kids right now so I have to pick UP.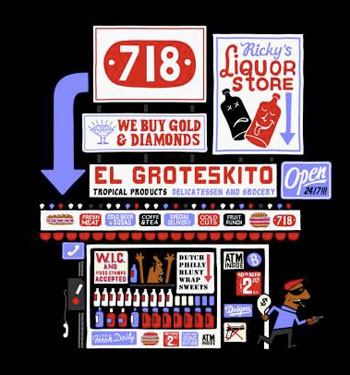 7) One conversation you wish you could have overheard this decade?

Obama telling Bush to pack his shit and get the fuck out of the White House.

8) Best book you read in 2009? And if you didn't read any, how about this decade?

I like to read Sepulveda's books.

9) The most overlooked cultural, pop or underground, phenomenon or event of the decade?

All those horrible, garbage reality shows that became modern TV standards.

10) What are you most hopeful of in the next 10 years? Obama has got maybe 3 more years, a war is about to start once again, MJ is not in residence in London, the Internet isn't that cool, and the economy is still the shits. Give us a good vibe to leave on....

I am hoping for another real big oil crises that puts those big ass stupid SUVs out of market for good and makes people think deeper. During the last oil crises, car companies stopped advertising SUVs and few months later… Boom!  It's like nothing ever happened. This is the only way a company will really research and build non-polluting cars: a shortage in oil. Hopefully people are going to come up with brilliant inventions that will make the planet cleaner and better for the next generations around the globe and not only just in the Northern Hemisphere.