Graphite, Animals, and Bones: A Studio Visit with Nix Turner
Juxtapoz // Wednesday, 02 Dec 2009
1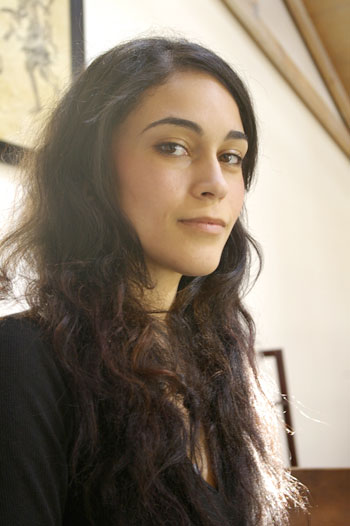 Nicomi 'Nix' Turner is a storyteller. She is a merchandise designer. She is a collector. She is a nature lover. All traits aside, above all, Nix is a truly gifted artist. Nix allowed us to stop by her beautiful home studio in Oakland, California this weekend for a peek into her life, (as well as into an apothecary jar or two).
Born in Northern California, but raised in Southern Oregon with "no friends," Nicomi Turner, better known as Nix, turned to the sprawling nature that surrounded her for comfort, to pass the time, and for inspiration.

"We played with everything," Nix states, standing in her lofty Oakland, California studio that also plays home to her boyfriend, fellow artist Justin Barry, and petite cat, Luna. "We would even grab onto electric fences and then hit our friends just to amuse ourselves. It was that isolated."

From a peek at Nix's newest personal work, those years of isolation allowed an unfettered imagination to flourish in a manner rarely seen. She contributes this isolation to the reason she got into art at such a young age.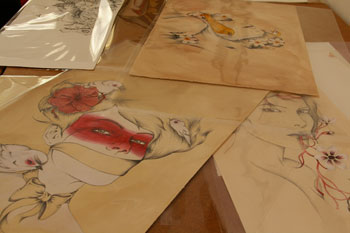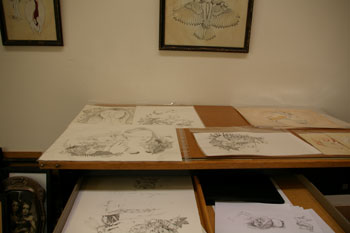 Nix's passion for art is truly genuine. Although she earns her main living as the creative director for the globally recognized and commercially successful Emily the Strange series, Nix enjoys taking time away from designing new merchandise and perfecting computer graphics to simply draw.

Perhaps that is an understatement. One look at Nix's drawing ability, and it's apparent her talent for manipulating basic graphite on paper is rare. In using such a basic medium, it leaves no room for error. Every stroke, outline, and bit of shading must be perfect.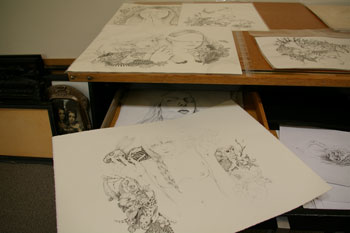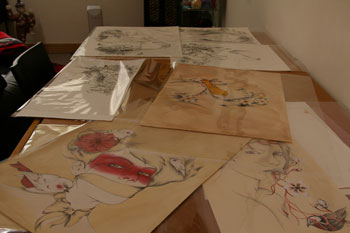 Nix moved to the Bay Area to attend CCA for art school, but dropped out after she realized paying exorbitant amounts of money to learn a craft she already possessed was unreasonable. While working at a local coffee shop, she casually inquired with a patron about any need of graphic designers. She landed an interview with Comic Debris, the creator of the beloved counterculture icon Emily the Strange. Nix was just 19 years old.  Needless to say Nix landed the job and the rest, as they say, is history.

It's clear that Nix's personal work, which includes graphite drawings as well as a newfound interest for making jewelry, culls influence from her childhood. Her mother taught anatomy and physiology, which is exemplified in her precise depiction of animal bones, facial structure, and detailed botany.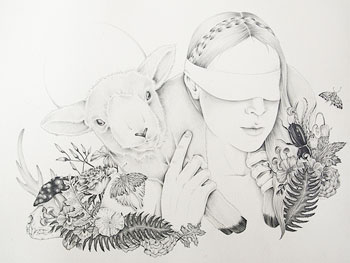 Nix's amazing drawings also incorporate the interpretation of women and their degradation of power throughout history. "The loss of the respect and power of females overtime is something that resonates deeply with me," Nix states. "Women went from being respected figures to being objects. I'm not some irate agro-feminist, I also have the same fascination with our loss of respect for everything else; animals, our resources, and sometimes ourselves. These losses play a big part in what I illustrate."

In speaking about her newest series, Maidens and Crones, Nix has been generously incorporating wild animals as well as the depictions of women with covered eyes. She tells us she has been introducing more wildlife because "it may not be around here that much longer. It's really sad but also really interesting."

A final and extremely powerful theme to Nix's drawing and jewelry is that of religion. "I have always been attracted to Paganism and our civilization's lost core," she explains. "The idea of harnessing and appreciating the forces around us has been drowned out by today's mundane distractions. Including this imagery into my art is a way to resurrect these forgotten practices which were once encoded in our everyday."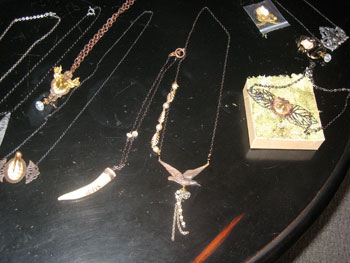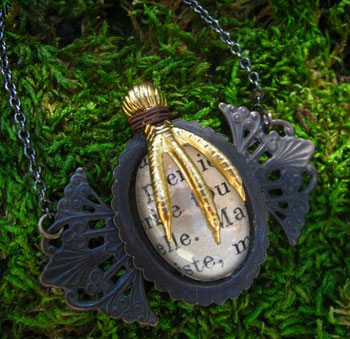 "I stick to what I know and love," Nix says with a smile and a slight shrug as she unwraps necklace after necklace from a small case of drawers hidden under a stairway leading to the upstairs bedroom in a simplistic but beautiful loft. The jewelry in a newfound fascination, but one that seems very fitting, considering Nix's interests.

The wearable art fuses antiques with pieces found directly in nature. Delicate silver pendants wrapped around smooth stones. Animal bones fused onto vintage metal backings. The way Nix approaches her jewelry mimics the way she approaches her drawing: she tells stories through her work. "I'm a stickler for lets not forget where we came from," she confirms as she starts to put back the unique creations into their moss-laden boxes.

Nix takes time to fully research her subject material and progress with a full tale or lesson in mind. Without judgment or agenda, she is able to present deeply personal, albeit consistently universal, truths in a simply beautiful serving of genuine creativity.

Catch a new collaborative series of work on nocturnal animals between Nix and Justin Barry, opening May 7th at Portland's "Redux" gallery located at 811 East Burnside #110.

Learn more about Nicomi 'Nix' Turner at www.nicominixturner.com

Nix's blog lives online at www.nicominixturner.blogspot.com

Nix's line of jewelry, Specimen Jars, is available at www.etsy.com/shop/specimenjars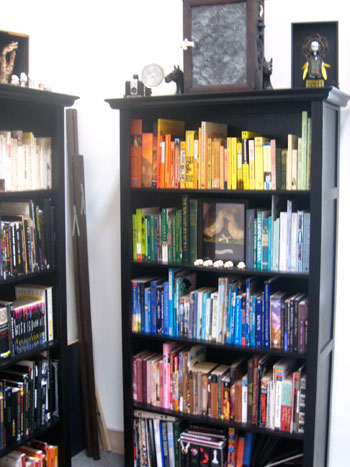 Books arranged by color in Nix's home studio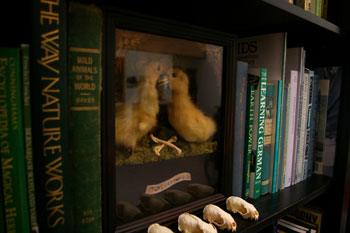 Nix also dabbles in taxedermy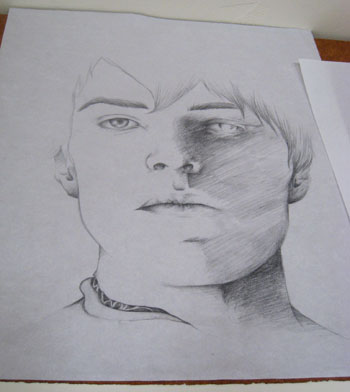 Close-up of a rare male drawing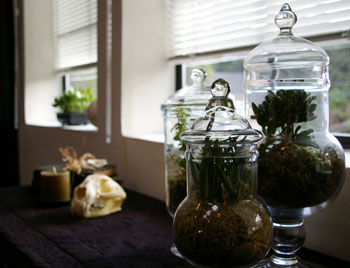 Jars turned terrariums dot the windowsill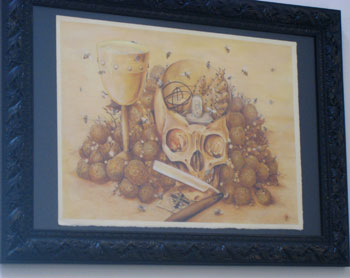 Drawing by boyfriend and collaborating artist, Justin Barry, hangs from the wall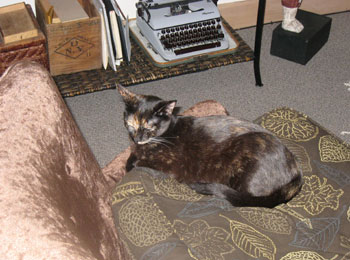 Luna, the cat, runs the house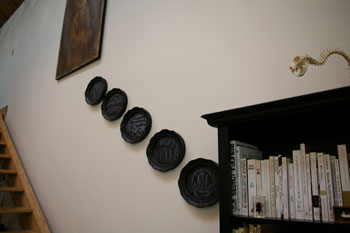 Stairway leading to second loft floor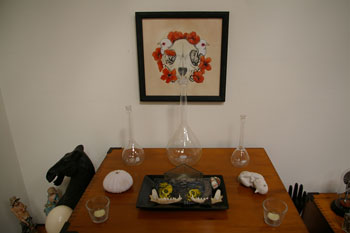 Bones and bottles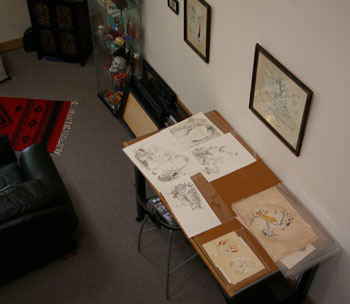 A look up high at Nix's work space