Goorin Bros Giveaway: One Week Left
Juxtapoz // Monday, 21 Mar 2011
1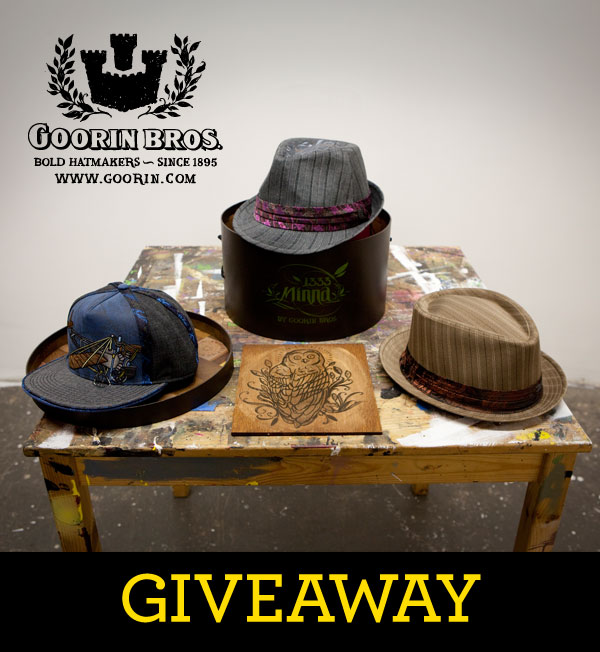 Sign up for both Juxtapoz' and Goorin Brothers' newsletters and be entered to win an almost $200 prize package of limited-edition headwear and one-of-a-kind artwork by Reyes, all courtesy of Goorin Brothers.

Hats include the Birth of Flight by Steel, a tribute to the evolution of flying machines with classic pinstripe and embroidered artwork. A custom woven lining within depicts drawings of early flight contraptions.

The Timeless by Reyes and Steel is a classic A-Crown fedora with grey pinstripes, juxtaposed with a colorful hatband and illustrated tipsticker. 1333 Minna Hat Box included.

And Grime's pinstripe Triangle Top fedora features a woven hatband and lining made up of his original illustrations. Grime's signature Black Claw insignia finishes it off as a printed suede tipsticker.

The original Owl Wood is hand printed and signed by Reyes himself.
1333 Minna is a collective art and design studio in San Francisco, CA that claims some of the best talents in illustrative design, providing them a place to collaborate and grow their abilities. The warehouse has expanded into a lifestyle of constant creative activity, housing painters, illustrators, printers, photographers, and designers. In the works for 2011 is a new Artist In Residency program where profits from gallery exhibitions are funneled directly back into the program for continuous creative opportunities and events.

http://www.1333minna.com/#/artist/?aid=0

A few things on the artists:
http://www.juxtapoz.com/Current/steel-x-reyes-x-amanda-lynn-paint-blick

http://vimeo.com/13089095


About Goorin Brothers:

SINCE 1895
The legacy of Goorin Brothers is one that follows a timeless approach to the art of hat making. In its fourth generation of leadership, Goorin Brothers continues the tradition of authentic family craftsmanship and is supported by a team of individuals who share the same passion for the cultural, artistic and hands on approach to this century old brand.

Goorin offers timeless, classic styles with a unique flare and personality hats that allow you to make a statement without having to say a word Goorin Brothers hat making tradition began on the cobblestone streets of Pittsburgh Pennsylvania when founder Cassel Goorin sold his first hat off a horse cart in 1895.

In the 1920s Cassel's Sons, Alfred and Ted Goorin, helped their father expand the business. Learning the trade from their father, Alfred and Ted were the original Goorin Brothers. War prosperity fueled demand for sport and leisure hat styles in the 1940's. Outdoor leisure was incorporated into their new sporting line designed to accommodate the hunter, fisherman, and camper alike.

In 1949 Alfred moved the company's headquarters to downtown Mission Street in San Francisco's thriving business hub. By the 1960s formal hats were no longer the norm for day-to-day life. In order to survive, the company turned to the ski industry and became the official headwear company for the 1960 Olympic Games in Squaw Valley USA.

During the 1970s Alfred Goorin Jr, Cassel's grandson, took over the family business. Alfred and his wife, Glorianne expanded their foothold in the ski business and added winter accessories to their successful line of headwear. This included gloves, mittens, socks, and other sportswear. They even looked to Europe for ideas and inspiration for more fashion-forward styles. In the early 1990s, Ben Goorin, now the fourth generation of family hatters enters the business. The rise in popularity of quality made baseball caps and beanies spurred by underground streetwear made Goorin Brothers relevant for the fast developing skateboard and snowboard industry. Today, Cassel's great-grandson Ben Goorin is leading Goorin Brothers with an eye to the future and a strong foundation in his heritage. While staying true to the company's authenticity and craftsmanship, Ben Goorin reaches out into San Francisco's rich artistic community and continues to develop the most creative headwear today.