'Good Times' with Nathan Ota x RISK Tonight
Juxtapoz // Saturday, 16 Oct 2010
1
Nathan Ota and RISK collaborated together over 25 years ago when they were classmates in high school. After high school they went their separate ways but reconnected once again through their mutual friends in the artist community.
"We did a collaboration piece for an in-store artist signing and were just amazed on how our work looked together and we both just looked at each other and I think we both knew we had to do more. This piece we did for Hurley is just that. Two friends that used to do graffiti over 2 decades ago coming together again with newfound skills and maturity doing it again!" - Nathan Ota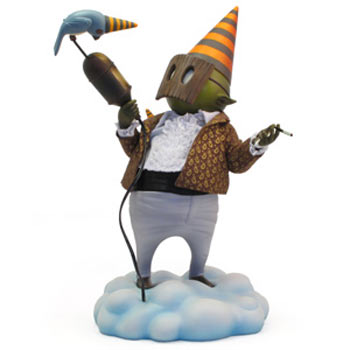 This exhibit opening will also mark the debut of Nathan Ota's vinyl figure collectible "Midnight Crooner"; a collaborative project with toy pioneers Three Zero and Strange Co., collectively called "Double Super". "Midnight Crooner" is based on an original painting by Nathan Ota from 2008 and features special tailored clothing including an actual working lamp. Ota has also hand painted a number of limited addition cases for the figures as well, which will be available tonight.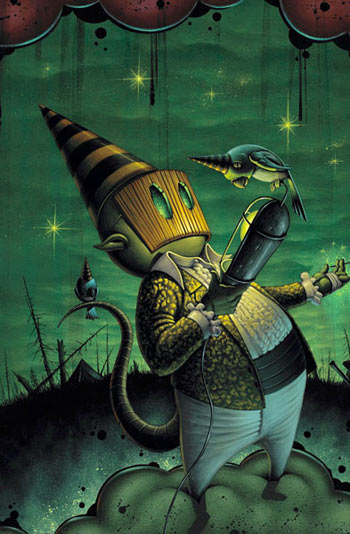 About the Artists:
Starting with a fascination in the art of graffiti Nathan Ota made his way into the world of illustration, working in almost every arena of art and media including; newspapers, magazines, recording companies, background art for the gaming industry, and gallery. In addition to his numerous gallery exhibitions and achievements as an illustrator Ota teaches drawing, painting and design to the bright young minds at the Otis College of Art and Design as well as Santa Monica College.
In a career spanning 27 years, RISK has impacted the evolution of graffiti as an art form in Los Angeles and worldwide. RISK gained major notoriety for his unique style and pushed the limits of graffiti further than any writer in L.A. had before: He was one of the first writers in Southern California to paint freight trains, and he pioneered writing on "heavens," or freeway overpasses. At the peak of his career he took graffiti from the streets and into the gallery with the launch of the Third Rail series of art shows, and later parlayed the name into the first authentic line of graffiti-inspired clothing.
Ota featuring a collaboration with Seventh Letter Crew's RISK
Saturday, October 16, 2010, 6 - 10pm
Hurley's )(SPACE Gallery
1945 Placentia Avenue
Costa Mesa, CA 92627
The event will be catered by Long Board Ice Cream and Kogi Food Truck. Surprise musical guest to be announced.
Nathan Ota's "Midnight Crooner" figures will be available for purchase at this exhibit and is also available for order from STRANGEco.