Go On A "Hooker DreamEscape" with Natalia Fabia at Corey Helford
Juxtapoz // Friday, 30 Jan 2009
1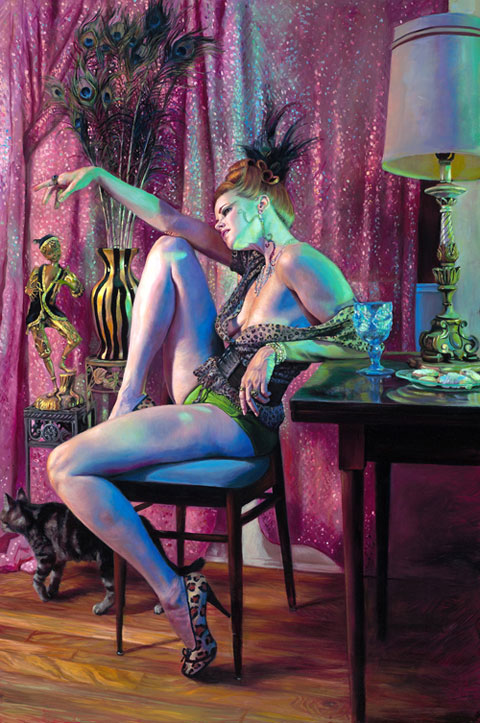 Next on the list for Corey Helford Gallery is Hooker DreamEscape, a series of new works by Los Angeles artist Natalia Fabia. Following her widely acclaimed 2008 exhibition, Hooker Safari, Fabia's second solo show at the Gallery continues her tales of seduction by revealing the forbidden desires and secret fantasies of her modern-day belle de jours.

Providing tongue-in-cheek "dream-escapes" with jewel-toned forests and candy-colored landscapes, the artist creates the ideal environment for her bold seductresses to indulge themselves in life's little pleasures. Fabia's unique style evolves for Hooker DreamEscape, capturing a more heightened realism in this collection of oil-on-panel works, topped off, as always, by the artist's signature glitter veneer.

The exhibition will also feature a limited edition of fifteen Lucite chandeliers, each baroque design elegantly displaying custom charms and hand-signed and numbered by the artist. The reception for Hooker DreamEscape is open to the public, and will take place on Saturday, February 21 from 7 to 10pm. The show will be on view until March 14, 2009.
For more information and exhibition schedule, please visit coreyhelfordgallery.com.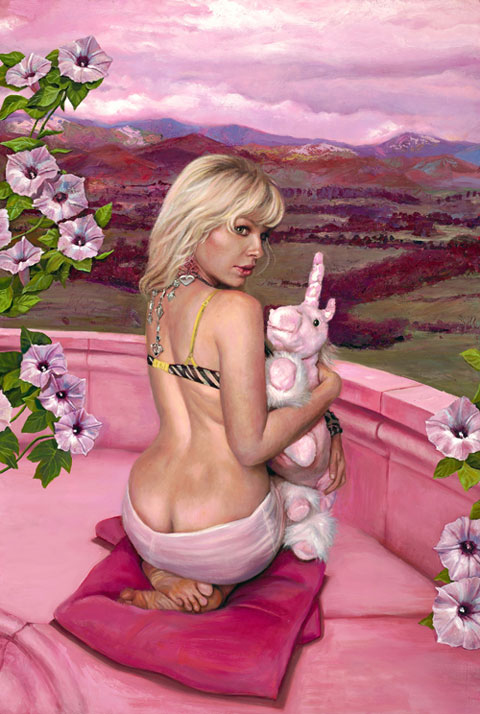 About the Artist:
Natalia Fabia is of Polish descent and was raised in Southern California where she graduated from Art Center College of Design in Pasadena.
Inspired by Henri de Toulouse-Lautrec, ornate interiors, wild animals, voyeurism, punk rock music, and sparkles, Fabia is fascinated with "hookers", which fuels her paintings of sultry women. Her work has been featured in numerous gallery exhibitions including Thinkspace Gallery, M Modern and The Shooting Gallery, and her custom jewelry line HookerFeathers adorns celebrities and fans alike.
In 2008, Fabia produced the first known Miss Hooker Beauty Pageant, which received media attention from LA Weekly and Boing Boing TV, and she has been featured in Art Ltd., Angeleno, Juxtapoz, and New York Arts magazine as well as appeared on Miami Ink, Fox 11 News, and Indie 103.1.

For more information about the artist, please visit www.nataliafabia.com.