Ghost "Then and Now" at TT Underground NYC
Juxtapoz // Saturday, 03 Sep 2011
1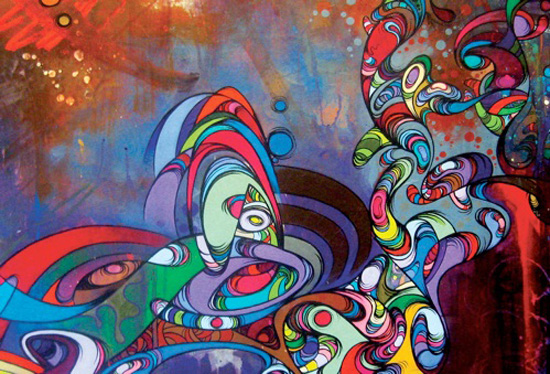 NYC subway graffiti legend, Ghost, will be showing a new series of paintings,
Then and Now,
at
TT Underground in NYC
opening September 8. His style is instantly recognizable, and he was one of our premier features in our NYC Graffiti issue in September 2008.
From TT Underground:
It's safe to say GHOST's legendary status in the lore of NYC subway graffiti's past was not achieved with some self-consciously plotted career path to art world success. In fact, GHOST was more concerned with the transgression than the aesthetics of letters at the time- and transgress he did. He hated the preciousness of some writers, and attributes his loose, un-planned, flowing style --that persists to this day-- to needing to get up and get away. When he later took to drawing, he elaborated on his own aesthetic and dark humor by creating crazily inventive and irreverent possibilities for his letters and characters. Soon after, he merged these  ink apparitions with his street-borne skills as a colorist, and has continued to enjoy a level of facility and mastery of these forms for some time now—and without the level of risk of the old days.
But there is something of the old intensity--a visual measure of the lengths he was and is willing to go- that marks this recent abstract work. Something has broken through and broken free. The mastery and confidence is there, even the taunting, graphic lines of the old character/letter mutation, but something has happened in this push though into complete abstraction. Kaleidoscopic forms that both forge and break their ties to graffiti undulate in front of a moody, murky atmosphere that conjures the dark smudge of old New York or an unconscious at home in dank spaces of the cities' underground. The urban, otherworldly space he has created, fore grounded by the glimmering, twisting forms viscerally pushing to the front, signal a startling originality and immediacy characteristic of GHOST's infamous work of old—embarking on completely new territory. —Barrie Cline

Ghost
Then And Now
September 8—18, 2011
TT Underground
New York, New York