General Strike: Media Roundup
Juxtapoz // Tuesday, 01 Nov 2011
1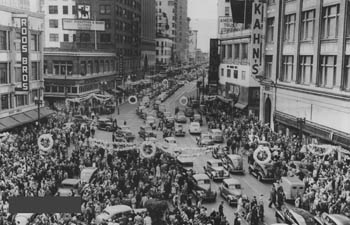 Occupy Oakland General Assembly has called for a General Strike November 2, 2011. Despite such short notice, prominent unions like the local 
SEIU
, the UC
UAW
, the
Berkeley
and
Oakland
Teachers Unions have thrown their support behind the strike. The eyes of the world have been fixed on Oakland since 
Scott Olsen
's wounding at the hands of Oakland PD, as the
Grey Lady
, the UK's
Guardian
,
TV New Zealand
, and even the normally feckless
USA Today
have run stories about the planned strike.
This would be the largest strike of its kind since the 1946 General Strike, a mass action which ground Oakland to a halt and demonstrated the power of workers united– 
a bottom-up show of resistance
which proved one of the most dramatic, if not effective, strikes in postwar-US history.
Click
here
for more information on how to participate in tomorrow's General Strike.