Gardener Prunes A Topiary Paradise
Juxtapoz // Monday, 02 Nov 2009
1


"'Pruning is the same as painting to an artist that paints. I look at plants as a means to express my creative ability,' Fryar says.

"Smack in the middle of the back yard, there's a square tree.

"'So I came out one morning and decided 'I want me a square tree.' It took me four-and-a-half years to go from a mushroom look to get that tree to square,' Fryar says.

"Across the yard, stands a tree that halfway up blossoms into a heart. At the very top, the trunk forks out into what looks like a fishbone before flourishing into a diamond.

"'I call this my fishbone style,' he says
"Fryar has no formal training in gardening.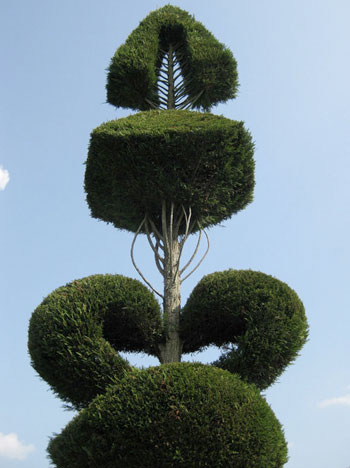 "This son of a sharecropper picked up his first pair of clippers nearly 20 years ago to prove that he could win Bishopville's yard of the month award.

"Pearl Fryar was the subject of an award-winning documentary in 2006 called A Man Named Pearl. Fryar was also profiled on South Carolina Educational Television network.

"So after a full day working on the assembly line at the local bottling plant — where he worked for 36 years — Fryar would pull out his ladder, grab his clippers and work late into the night.

"He won that award and just kept going.

"Fryar scavenges garden centers for plants they're throwing out.
"He doesn't start with a sketch. And he imagines what his elaborate topiaries will look like in a decade."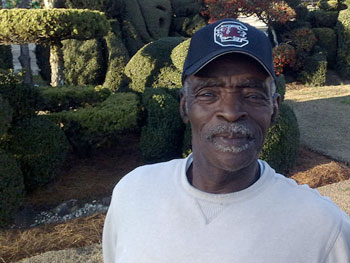 Read the full article on NPR here.