Gaia at Cabrini Green, Chicago Video
Juxtapoz // Wednesday, 30 Mar 2011
1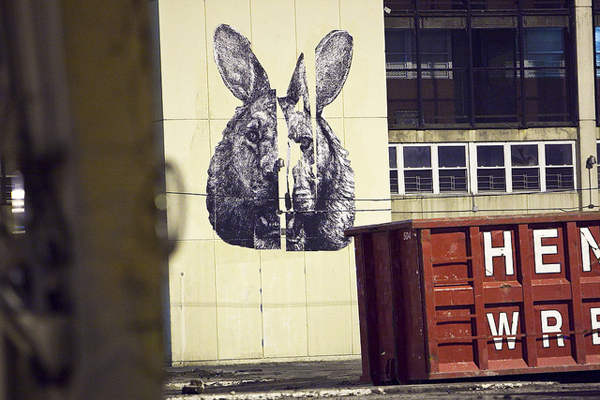 We ask Gaia to send us a few words about his time in Chicago, and his work at the Cabrini Green site. In his words:
The video was shot upon my third day in Chicago. After spending a good night putting up work around Humboldt Park and the West Side, the last standing Cabrini Building, HAD to be hit. The demolition of one of the most significant projects in the history of Public Housing in the United States was well underway with only one high rise left standing. Originally intended to house America's New Poor, Cabrini Green offered housing for both Italian and Black families. As the buildings have matured, they have become one of the most notoriously dangerous and drug ridden projects in America, and have infamously stood as a testament to the folly of Urban Renewal.

The Lion Rabbit's application onto abandoned projects in three sites in Chicago, the first being the Cabrini Green site, is a poetic gesture marking the nature of the shifting urban landscape. Inspired by the notion posed by Le Corbusier that the visionary architect is the lion, and the masses are the rabbits, the people that function under the planner's encompassing design. The Lion-Rabbit hybrid thus signifies the modernist process of clearing slum land under the auspices of Urban Renewal, constructing single use housing blocks, and their subsequent demise, and demolition. Ultimately, the high rise sites of Cabrini Green have been converted into mixed income residencies and have finally been compromised according to the influence of the wealthy Gold Coast neighborhood which sits adjacent to this contentious place.
Gaia Cabrini Green
from
Brock Brake
on
Vimeo
.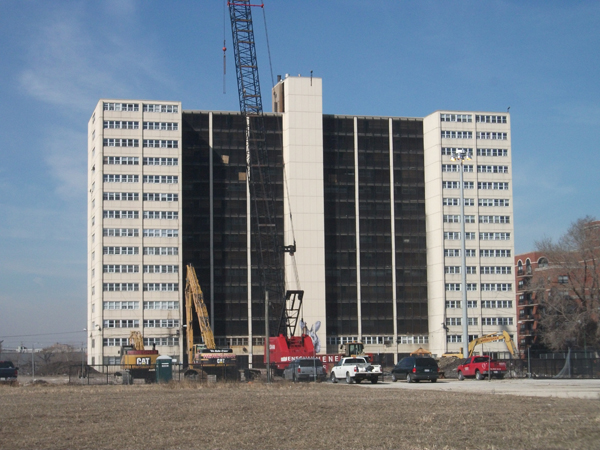 Photos by Brock Brake (http://www.flickr.com/photos/scumstash/).