Gabriel Dubois Covers India, France and London
Juxtapoz // Sunday, 20 Jun 2010
1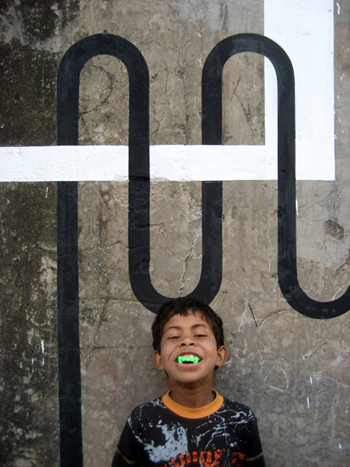 Street artist Gabriel Dubois has been busy in the streets lately and produced some really nice pieces in India, France and London. The new work offers bright bursts of color in the least expected of places.
In his recent selection of pieces and paintings, his distinct visual language of energized signifiers and symbols are delivered with delicately articulated lines that wrap, weave and totem themselves through and around color-coded compositions emitting a fresh momentum.
These synthesized seeds are fertilized amongst bright bursts of expression and delicately assembled collage. They are planted by chance and grow autonomously through a constructive/deconstructive process, which are finally re-fabricated and refined in an accurate mechanical order. This rhythmically infused shift is perhaps due to the artist's evolving relationship with the Big Smoke.