Full Explanation of Nobody's Fool: What's In Store for Yoshitomo Nara's Retrospective
Juxtapoz // Monday, 06 Sep 2010
1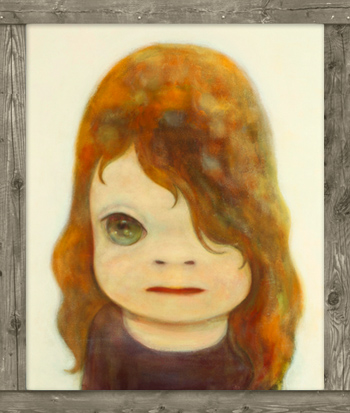 Yoshitomo Nara: Nobody's Fool is the first major New York exhibition of the Japanese artist Yoshitomo Nara (born 1959), and features more than one hundred works ranging from his early career in the 1980s to his most recent paintings, drawings, sculptures, ceramics, and large-scale installations. There is a lot going on in this massive exhibit, so here we help you break it all down.
As one of the leading artists of Japan's influential Neo Pop art since the 1990s, Nara (Juxtapoz cover #104) is well known for his depictions of children and animals. Nara's cute, though often menacing, children and animals are so readily associated with popular culture, particularly manga comics and animation, that viewers may neglect to contemplate his evocative imagery in depth. His popular appeal masks the serious social and personal dimensions of his work—feelings of helplessness and rage, and a sense of isolation in a hyper-networked society.
Despite an apparent connection to manga and animation, Nara cites music, particularly rock and punk, as his greatest source of inspiration. Moods of loneliness and rebellion in his art are often enhanced by hinting at particular musicians and songs. These clues leading to music are explored in this exhibition and help us understand Nara's internal world. Music is a crucial factor in the development of his signature style and iconographic motifs, and in the emotional significance of his art. The title Nobody's Fool, chosen by the artist himself, refers to a song by the American singer and songwriter Dan Penn.
The exhibition is organized into three thematic sections: Isolation, Rebellion, and Music.
ISOLATION:
During the first part of his career in the 1980s, Nara began revisiting early memories and dreams—many reflecting his loneliness—in a loose style of drawing and painting. In 1988 Nara decided to move to Germany in search of solitary time to develop his own distinct style. When he first arrived, he knew very little German and could only communicate in the most elementary way. As he has described in interviews, his sense of isolation was profound, even for someone who had spent much of his childhood alone.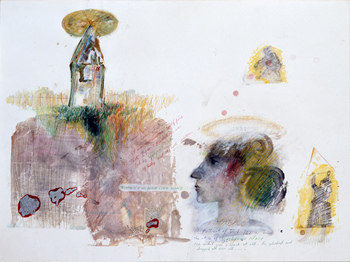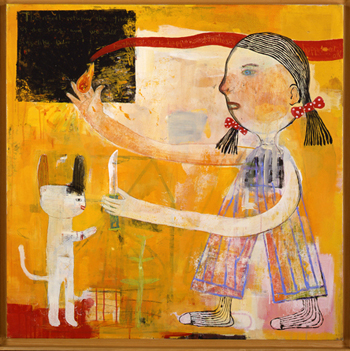 With time, he came to realize that communication could be established through the use of simple essentials, both in spoken words and visual language. Nara began to rid his work of all excess elements in the background and focus more completely on his subjects, determining that "each painting needs only to speak of one thing" (ichimai no e de katarukoto wa hitotsude ii). From this reductive process emerged Nara's signature aesthetic style and the now familiar iconography in Nara's art: children and animals. A child's feeling of sadness when left alone, an adolescent's awkwardness growing up, and the resulting uneasiness connecting with the outside world crystallized in his work.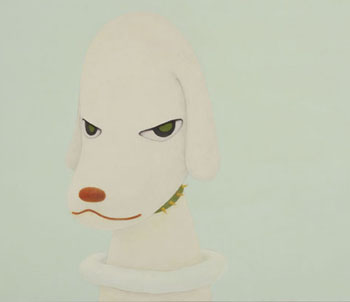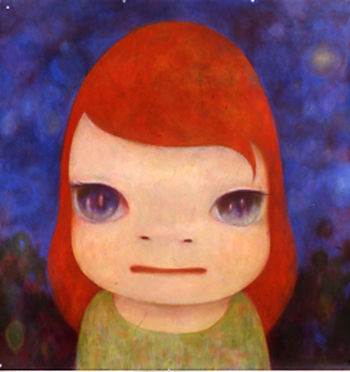 When asked about his frequent depiction of dogs, Nara has remarked that their submissive obedience reminds him, sadly, of children. In many of his works, children and animals are interchangeable representations of loneliness and solitude as well as symbols of innocence and its fragility. Another motif that recurs frequently in his work is a house, clear reference to the place where he spent much time drawing alone. Houses are today important elements in the design of his installation works. Nara's relatively secluded time in Germany ended in 2000 when he made a spur-of-the-moment decision to move back to his home country.
REBELLION: (images 7- 13)
Yoshitomo Nara spent an extended period of time in art schools in Japan (1979–87) and Germany (1988–93). In hindsight, however, it is almost as though he underwent formal education in order to rebel later against everything that schools are designed to teach, that is, the various conventions and definitions of art. His drawings and paintings are much more an embodiment of the youthful spirit of rebellion. In many works on paper from the 1990s, he has scrawled words that directly express anger, frustration, and the resolve to stand up to the challenges of life—words and phrases that reflect his longtime love of music and his adolescent dream of becoming a poet or a novelist.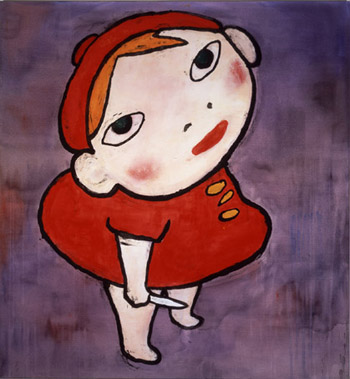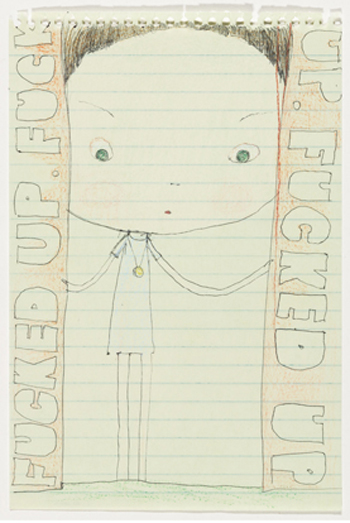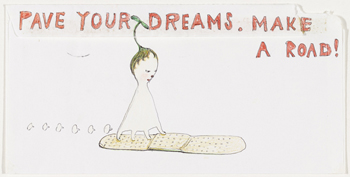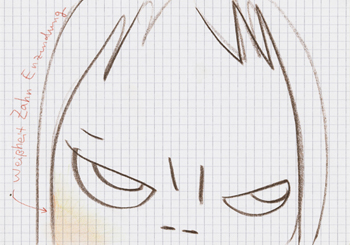 Nara often works out an emerging idea on paper, sketching on found scraps such as used envelopes and exhibition invitations. More importantly, these quick drawings and notes function as a personal diary that he returns to continually. The slang of some phrases may assume a sinister tone, but others serve more as an inspirational call to his audience and to himself, such as "Pave your own dreams!" and "Love, you've gotta love something."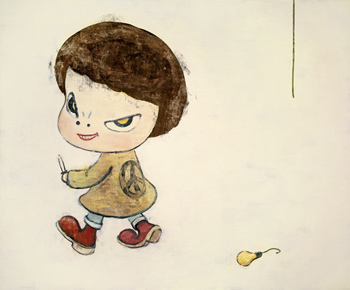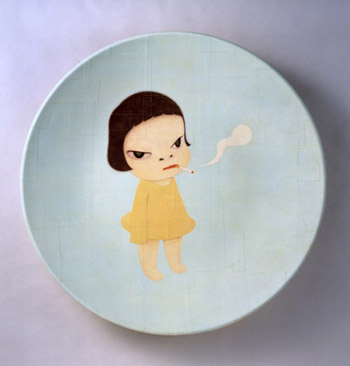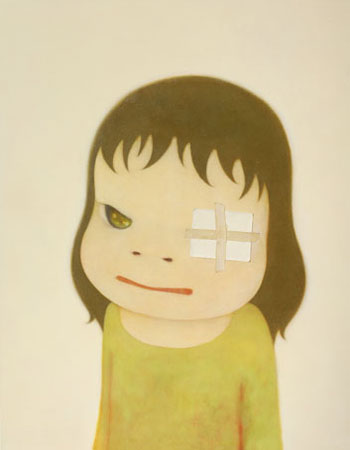 Paintings, on the other hand, depict the single figure of a child, who quietly yet firmly returns our gaze like a reflection in a mirror. Here, Nara's rebellion is distinctly personal and private rather than social or political. Nara himself describes the frustration of contemporary youth, particularly in Japan, as something that cannot be articulated in words because there is no clear-cut adversary. Perhaps these children in his paintings, with their discomforting expressions, represent the small-scale struggles that individuals face in contemporary society.
MUSIC: (Images 14-21 )
Songs by the Ramones and other punk bands that Nara first heard in the late 1970s affected him deeply and shaped his philosophical outlook. Nara's resolve to live his life on his own terms and never let go of his independence is encapsulated in his personal motto: never forget the beginner's spirit. At the root of this is the so-called do-it-yourself spirit of punk culture. From his earliest to most recent works, Nara often makes direct reference to his favorite musicians or song lyrics—testament to the fact that music is always playing in his mind, in his studio, and often in his installations.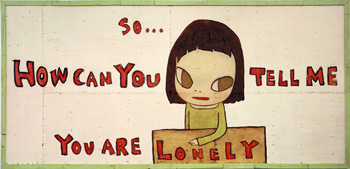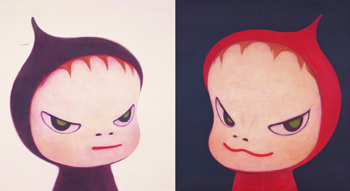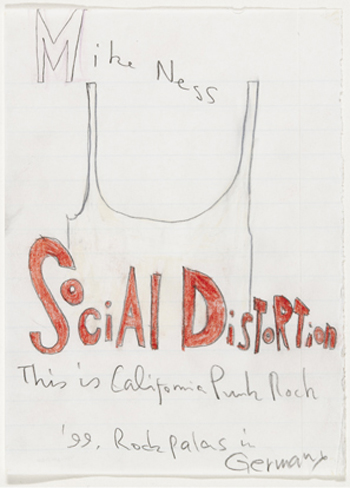 Nara is also an avid record collector. As a music-hungry high-school student, he often purchased foreign import records by sharing the cost with his friends. For Nara, album art is as important as the music that comes inside; an album jacket, he has said, is a charged space for collaboration between sound and image. Many artists have created album covers that give visual expression to music in this way: Andy Warhol for the Velvet Underground and Nico, Peter Blake for The Beatles, Robert Rauschenberg for Talking Heads, and Raymond Pettibon for Sonic Youth, to name a few. Nara himself has created album art for a number of musicians, such as Jim Black, R.E.M., and the Japanese punk groups Shonen Knife and The Star Club, visualizing each band's unique musical style.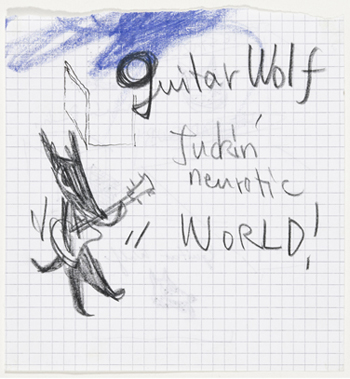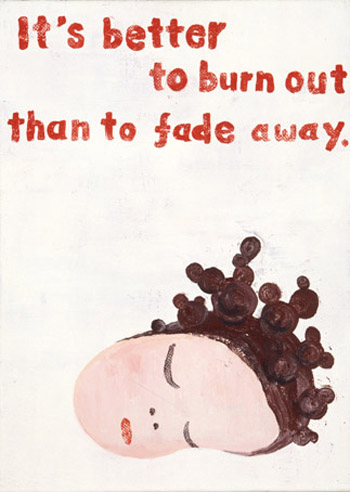 The music references in his work also serve as catalysts for personal associations, encouraging viewers to recall their own memories of certain songs and bands. Those who are new to the bands Nara cites may develop an interest in them, while those who are more familiar with the music may find their perspectives widening.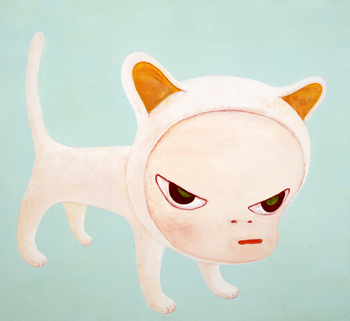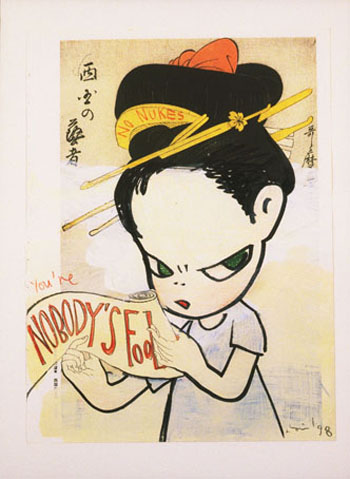 In more recent years, a clearly noticeable change has taken place in Nara's work. His children appear more contemplative, and carefully layered background color adds to the solemn atmosphere. Such a stylistic change not only is due to new life experiences, but as the artist himself explains, also parallels a shift in his preferred music. After his journey through the rebellion of rock and punk, Nara is turning again to American folk and soul music for inspiration.
Nobody's Fool
Yoshitomo Nara
Opens Thursday, September 9th, 2010 at the Asia Society Museum in New York City
725 Park Avenue at 70th Street NY, NY 10021