From the Editor's Desk: Bestia Extraña Gallery, Medellin, Colombia
Juxtapoz // Thursday, 11 Aug 2011
1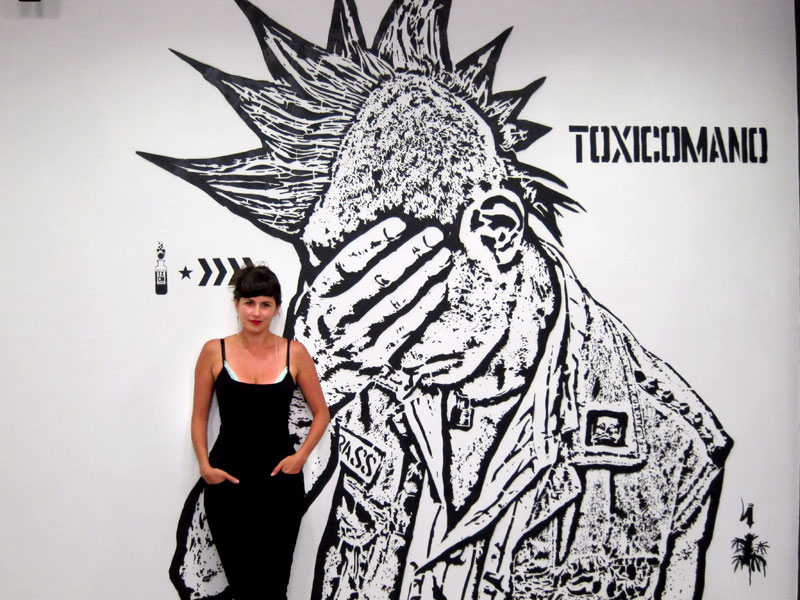 It never ceases to surprise or fascinate me to walk into a small town and see a proper, thriving gallery in existence. The questions that most often pop into my head typically lay in the realm of "How did this get here?" or "Why is this here?" Working for Juxtapoz, we typically get to hear directly from the established galleries or the newly opened spaces in places like San Francisco, NYC, Los Angeles, London, Chicago, Berlin... places that have come to be synonymous with contemporary art.
More often than not, the gallery owner is either a hobbyist or someone that just really loves being around artists and that energy of opening shows and discovering new talent that collectors connect with. Nothing is wrong with any of these motivations. After spending the past week traveling in the mystical city of Medellin, Colombia, I ran into one of these galleries.
Bestia Extraña Gallery isn't too far off the beaten path. When I approached it, it seemed quite unassuming on the outside. But upon entering, I could have time-traveled to LA or NYC. The space was not huge, but was expansive enough for emerging artists, primarily Colombian but also international artists, as well, to present a significant exhibition. A small corner was built out as a store/gift shop. The presentation, lighting, wall space, and overall visual experience and layout were well-executed. Simple, but elegant.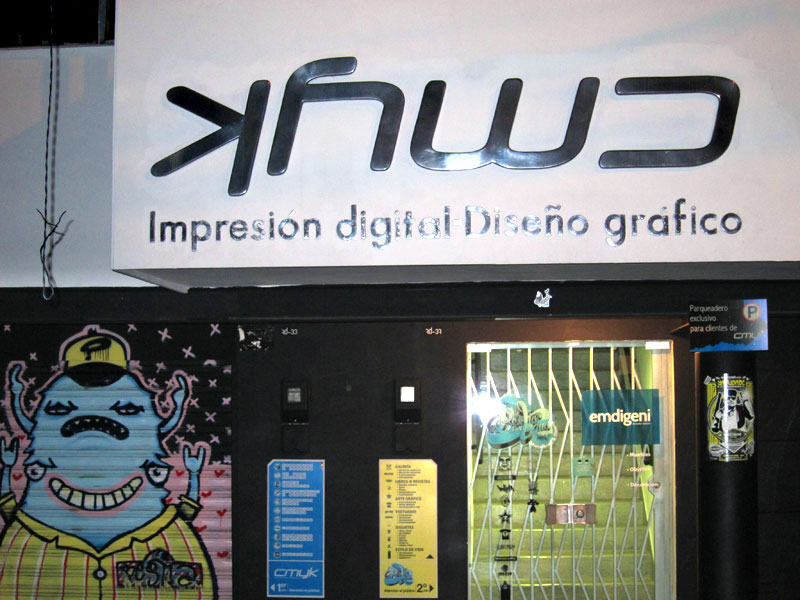 (Outside the gallery)
I met Bestia Extraña's gallery owner, Tatiana Gomez, and quickly realized that she did not fit into the box that I had previously discussed of either the hobbyist or art groupie. On the contrary, when I asked about her motivations of opening and operating an emerging art gallery in Medellin, she gave me a very interesting answer: Her motivation to keep the space was so the kids in Medellin and surrounding areas like Cali could participate and engage themselves with art. She explained to me how excited they were to have the space in their community, that it gave them hope and joy, and maybe the most important thing a young adult could want, it gave inspiration.
The thing that I think sets people like Tatiana apart is that there are many people that would love to give the gift of art and an artistic life to the kids in their community, but few have the tools to figure out how to give it to them. Through a combination of business and creative financing, she has been able to execute the seemingly impossible: a successful, profitable gallery in a small art market.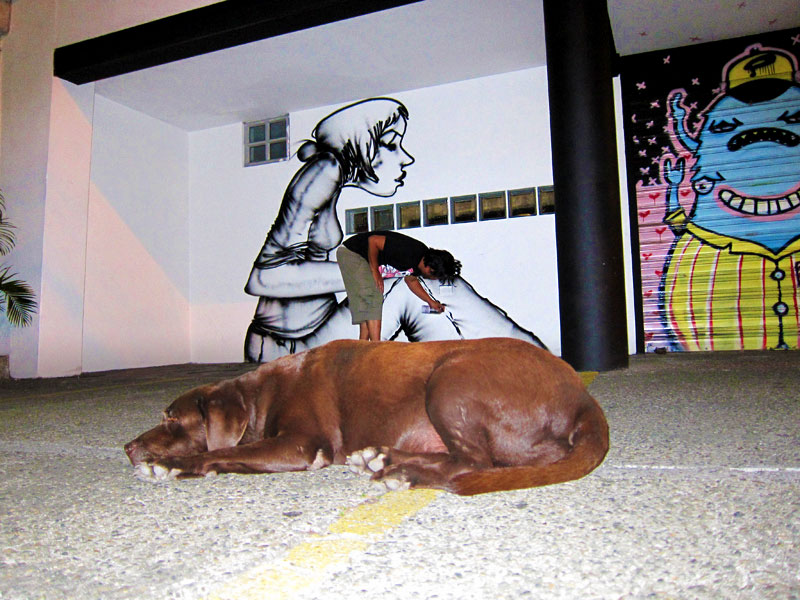 (David Choe painting outside the gallery)
During the past few weeks, I asked every artist, chef, and creative person in the city whom I could find numerous questions about Medellin, and they all tended to give me same consensus: Medellin has been experiencing a cultural revolution. What used to be stories of crime and drug trade are being replaced with a feeling of hope in the community. From the Medellin Museum of Modern Art to Bestia Extraña Gallery, a feeling of excitement for the future is widespread, and the arts have made a major impact.
I have seen communities like this in the past, where artists and creatives are the trailblazers, and the futurists who support these people with economic and infrastructure resources build a sustainable ecosystem of creativity and progress. It is a blueprint that I have always wondered why more cities and communities have not copied or borrowed time and time again; allow for the creative community to build the most base levels of community experience. It develops pride. It fosters imagination. A cultural awakening takes time, but the necessary steps begin with people like Tatiana that put in the years of hard work and patience to build a better society for those around them. Not for dreams of money, but to walk around her neighborhood and know that she gave back more than she took in. In the end, the gift of living in a place where creativity flourishes has no price. —M. Revelli


http://www.bestiaextrana.com/home