From Philly to NY: A Love Letter to Syracuse by Steve ESPO Powers
Juxtapoz // Tuesday, 07 Sep 2010
1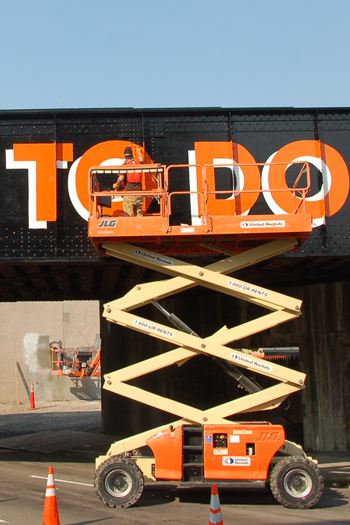 ESPO's at it again. Building on his now famous mural project in Philadelphia, Stephen ESPO Powers (
Juxtapoz #83
) and his crew of painters have come to Syracuse to transform what has been a colossal barrier between two very disparate neighborhoods into a point of interest, a gathering spot, and a conversation.
In case you don't remember, ESPO's huge Love Letter to Philadelphia project last year involved the artist painting large scale murals around town with phrases of love (such as "I Had A Nice Dream About You," and "Prepay Is On, Lets Talk Til My Minutes Run Out"). He now adapts the concept for Syracuse, New York.
Phrases like "NOTHING TO DO IS EVERYTHING WITH YOU," and, "I PAID THE LIGHT BILL JUST TO SEE YOUR FACE" are now painted on the surfaces of three formerly rusty, forgettable train bridges in Syracuse. Powers created these messages through conversations he had as his crew went door to door and attended community meetings to ask people about the city, all in conjunction with Syracuse University Chancellor and President Nancy Cantor's visionary projects, the Near Westside Initiative and COLAB.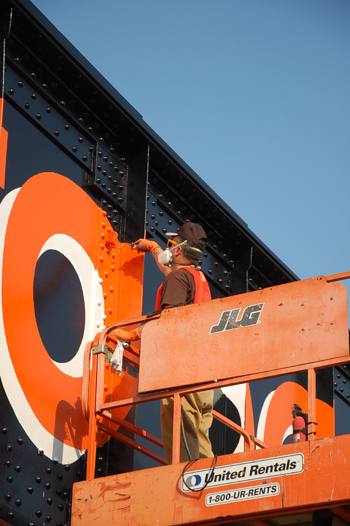 The goal is to use public art as part of a plan to revitalize a city neighborhood — and in the process reexamine the traditional relationship between university campuses and their surrounding neighborhoods. Powers' hand-painted signs draw on years of his own work as a painter and graffiti artist, but also on a long tradition of making, advertising, and handcrafting. Coming to Syracuse, a city that exemplifies the model mid-size, post-industrial rustbelt city under reinvention, is part of a national movement of change, a Rustbelt Renaissance, driven by a creative economy.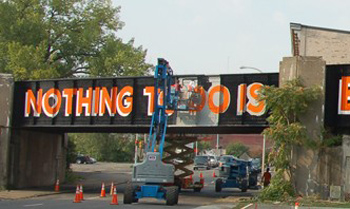 "The goal of the project is to ultimately bridge the Near Westside community to downtown, which will give access to new markets and resources for residents in the neighborhood," says Maarten Jacobs, director of the Near Westside Initiative. "When conceiving this project, we knew we had to commission an artist who could bring both the talent and social consciousness needed to make the intersection a celebrated space that no longer acts as a barrier, but instead bonds neighborhoods and people together."
The Near Westside Initiative, working in concert with the Connective Corridor, which aims to better connect Syracuse University to downtown and the cultural, civic and business sites in between. The project has been conceived and facilitated in partnership with COLAB [collaboration laboratory], a visionary initiative by Chancellor Cantor that acts as a hub between the University, industry and community. COLAB is housed in the College of Visual and Performing Arts.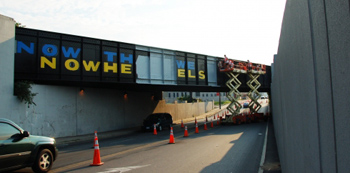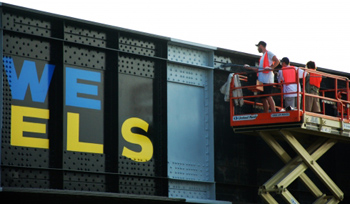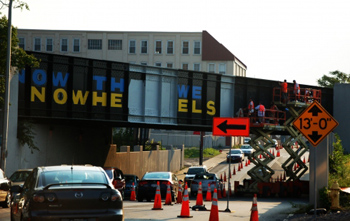 In addition to the Love Letter to Syracuse murals, COLAB has brought to the city documentary filmmakers Faythe Levine and Sam Macon, of Sign Painter Movie Productions, to document Powers and his crew during the installation process for Levine's new film about the American tradition of sign painting. Levine is best known for her documentary "Handmade Nation: The Rise of DIY Art, Craft and Design," which explores the new wave of art, craft and design capturing the attention of the nation. Levine traveled to 15 cities and covered more than 19,000 miles to interview artists, crafters, makers, curators and community members for the film. Levine is an author, artist, curator and prominent figure in the DIY Ethic indie craft movement.
More on Love Letter to Philly here.
Official Love Letter to Syracuse website: lovelettertosyracuse.com