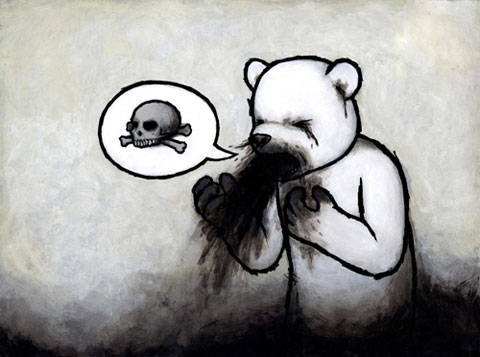 From Light Cometh Darkness, the highly-anticipated exhibition of new works by Los Angeles artist Luke Chueh, (Juxtapoz #91) will take over Corey Helford Gallery starting next Friday, March 20th, 2009. Get ready. Blood-soiled rabbits? Vomiting polar bears? Yes, meet the master of "balancing cute with brute."

Capturing Chueh's dark humor, his first solo show at the Gallery will feature paintings and drawings that are as sweet as they are vicious. Adorable bears, monkeys and rabbits find themselves in disturbing and ironic narratives that playfully weave light and dark elements.

For From Light Cometh Darkness, Chueh pushes himself technically, stylistically and narratively to produce some of his most explorative paintings to date, including the sequel to his painting Bear In Mind, the humorously introspective self portrait, My Ball & Chain, and a 'remix' of the Francisco Goya masterpiece, Saturn Devours His Son.

On top of all the visciousness, upstairs in the Gallery loft Thomas Han will unveil a new series of illustrative works.

From Light Cometh Darkness is open to the public and the reception will take place on Friday, March 20 from 7 to 10pm. The show will be on view until April 10, 2009. Oh, and did we metion that the gallery will be open on Sundays for this special exhibition? Sweet.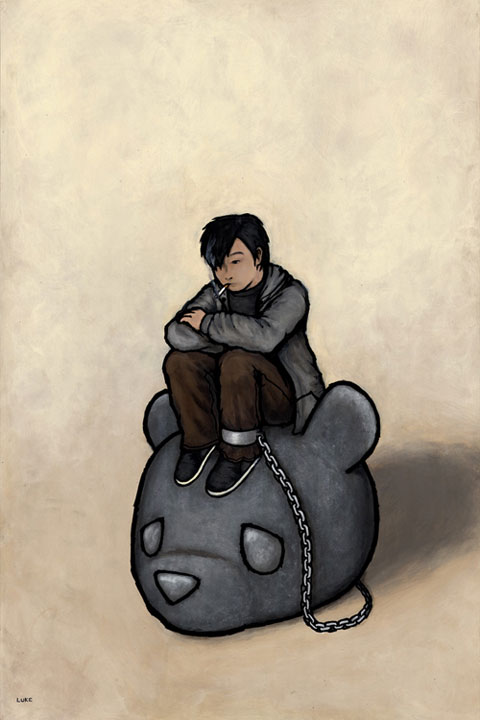 About the Artist:
Luke Chueh was raised in California. Motivated by his interest in the visual arts, he earned a BS in Graphic Design at Cal Poly and moved to Los Angeles, to pursue a career painting.

Chueh's highly-collectable work is influenced by his life experiences, connecting the synergy between Pop Culture, Street Culture, and Geek Culture. He has exhibited at Mauger Modern Art in the UK, Gallery 1988 in Los Angeles and San Francisco, and at Copro/Nason Gallery in Santa Monica. Chueh will be featured in an upcoming issue of Nylon magazine, and in August 2008, we showcased his art in a ShowStoppers review.

Additionally, numerous magazines and websites have published articles about his work, including Entertainment Weekly, Clutter Magazine, and Daily Candy. Chueh's paintings have also been reinterpreted into the popular art toy/urban vinyl format by respected producers such as Munky King, Intheyellow, StrangeCo, GelaSkins, FullyVisual, and Kid Robot.
For more information about the artist, please visit lukechueh.com.