Fly Away with Kate MccGwire: Exclusive Interview
Juxtapoz // Wednesday, 24 Mar 2010
1
Katie Zuppann: Your latest work often utilizes bird feathers. Why feathers? What meaning do they hold for you?
Kate MccGwire: I deliberately choose materials that possess a beauty and power when used in abundance and in a context beyond which they can popularly lay claim. The common pigeon is considered a pest, dirty and feral. The dove however, is the symbol of purity, peace and hope. Cherished, they are given their own dovecotes to live in yet they are exactly the same type of bird as the pigeon just with white feathers. Pigeon-fanciers would indeed disagree with the opinion pigeons are "rats with wings", and that dual perspective adds another 'layer' to the feathers meaning.
I find it compelling to work with feathers that connotations are 'loaded' and find it fascinating that each bird has its own mythology and presence. The magpie is regarded as the bearer of bad omens (one for sorrow, two for joy etc), the thief and collector of the bird world. Similarly the crow too has certain associations, seen as a symbol of witchcraft particularly when feathers are found vertical, pointing quill down into the ground.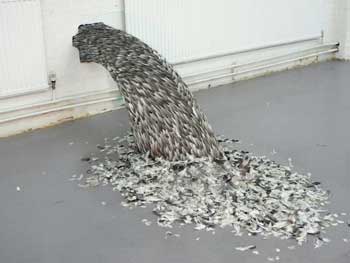 Heave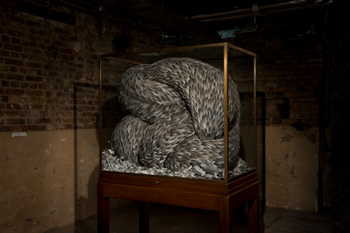 Vex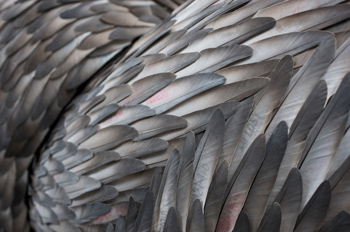 Vex (detail)
Where do you get your feathers?
I started to pick up molted pigeon feathers in the park around 2007 within a couple of months I had a collection of about 400. I realized quickly their potential for a larger scale piece where I would need thousands.
I contacted pigeon racing clubs and racing enthusiasts throughout the UK, asking them to send me their molted feathers that would normally be discarded as rubbish – now three years later, I have approximately 200 individuals who regularly send me envelopes full of pigeon feathers. I frequently keep them updated with images of my work and have been delighted with the incredible support they have given. This collaborative aspect of collecting to acquire materials has become an integral part of the process of making my work.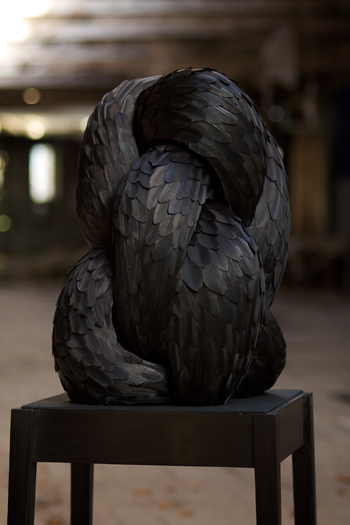 Gag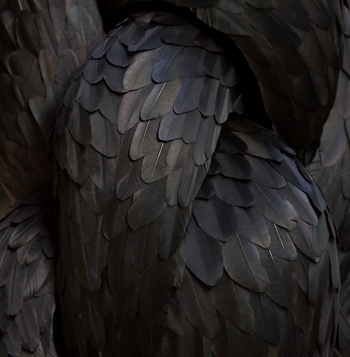 Gag (detail)
Approximately how long does it take you to complete an average sculpture?
This depends hugely on the types of feathers I am using and how I am collecting them. All feathers have to be cleaned and sorted into types and only when I have enough of a particular type can I consider making a piece with them. I started collecting magpie feathers years ago and only have enough this year to make a piece of work using them.
As described in the answer above, the process of collecting pigeon feathers also takes time; added to this, the birds only moult in spring and autumn so I receive a large quantity during those periods. Different feathers behave differently so their method and speed of application can affect timescales as too does the size and nature of the final piece. In short, it is hard to measure with so many variables and it never feels like there is enough time!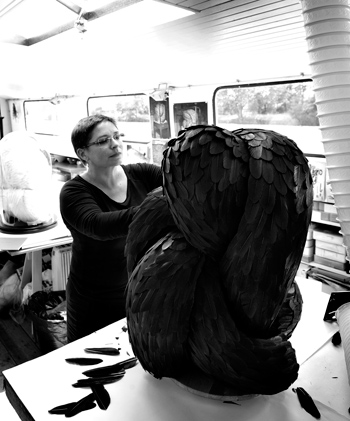 Kate working in her studio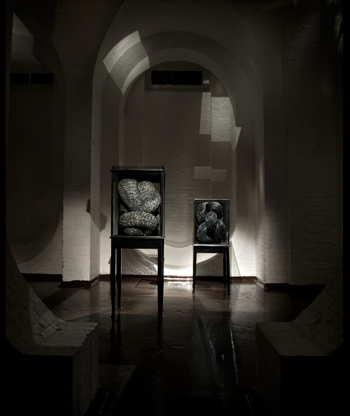 Vice & Gag
Your work, particularly between 2004-2007, utilized many irregular materials like chicken bone and noodles. What draws you to these materials and why did you move towards using feathers so often?
Again, these objects have such an innate identity, a personality and a history that makes working with them so intriguing. My choice of materials is also in response to the world around me, noticing feathers, starting collections and relishing seeing them in such large quantities again heightens their meanings.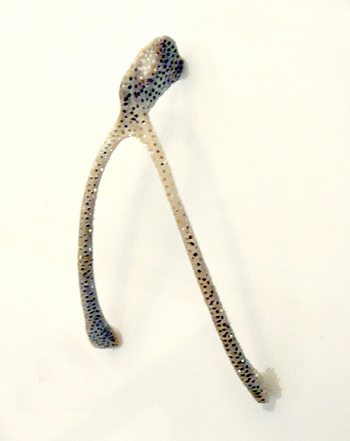 Illusion/Delusion
Best mistake you've ever made (art or otherwise)?
In November 2007 there was a severe fire in my studio, started by a welding spark. The majority of my work was destroyed. Not only did this act as a cleansing experience, forcing me to leave old bodies of work behind and start afresh, it inspired new ways of working.
Left amongst the charred remains was a large stack of paper, which although charred on the outside remained a brilliant, perfect white in the centre. I was fascinated by the possibility that this eminently flammable material had not in fact burnt. I started making work where I literally controlled the destructive force of fire on paper.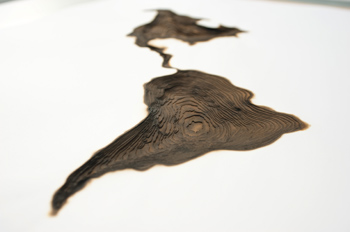 Insular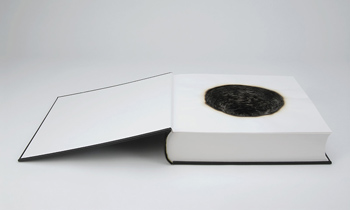 Fume/Seethe
Your upcoming show, Dead or Alive, at the Museum of Art & Design in NYC is set for April 2010. What do you have planned for this exhibit?
'DISCHARGE' will be a vast site-specific installation erupting from the signature window cuts of the Museum of Art and Design. Nearly 4 meters tall, a torrent of over 10,000 pigeon feathers will form a projectile waterfall into the gallery.
How has your work grown and progressed in the past decade?
As I now look back, I was still at college and painting 10 years ago. I realized pretty quickly that making object/sculpture and installation was where my passion lay. I feel as if I am just getting started and with slight trepidation the work just keeps getting bigger as new materials are explored.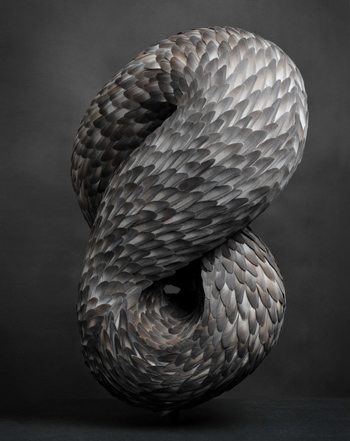 Wrest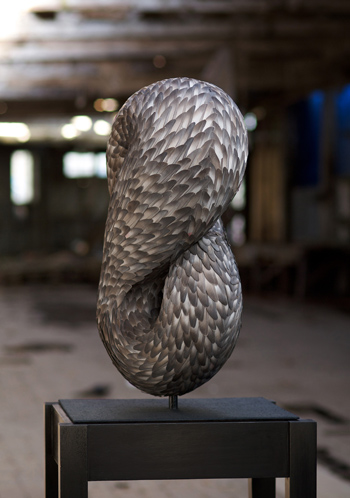 Wrest
Where do you gain inspiration?
My inspiration is gleaned from multiple sources - definitely bodily, animal and human and ultimately the world around me. My studio is on a Dutch barge moored on a semi-derelict island in the river Thames. When I walk over the pedestrian bridge in the mornings it is as if you are entering a different world.
Nature has claimed back its space and apart from the occasional visit of a bird of prey, there are no predators for most of the wildlife on the island. Walking past, I hear the eerie echoes of the large flock of pigeons roosting in the disused warehouse. They frequently leave their feathers for me scattered on the ground.
Being on the water I am acutely aware of the weather conditions and the ever changing ebb and flow of the river, sometimes calm and so clear that you can see fishes at others black, turbulent and treacherous. A found feather or bone, each with their own stories and incidental qualities of design and then the process of collecting, gathering multiples and the new life taken on when these materials appear in abundance.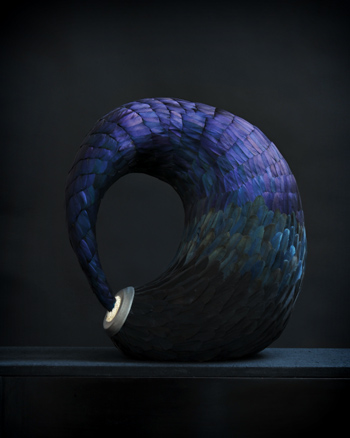 Urge
Where do you hope to take your work in the next few years?
My constant fascination and passion is with site-specific installation responding to architectural detail and peculiarities. Developing work within the context and constraints of unusual buildings and spaces continues to be a real source of inspiration.
I have recently completed a piece for the Tatton Park Biennial in Cheshire, England where I have made a large-scale installation in the beautiful 300-year-old kitchen of the stately home. Using feathers of the birds that would have been cooked in the oven over the history of the kitchen this work is an eruption of pheasant, woodcock, pigeon, peacock and goose, the space becomes integral in informing and enriching the narrative of the piece. The Tatton Park Biennial opens on the 7th May 2010.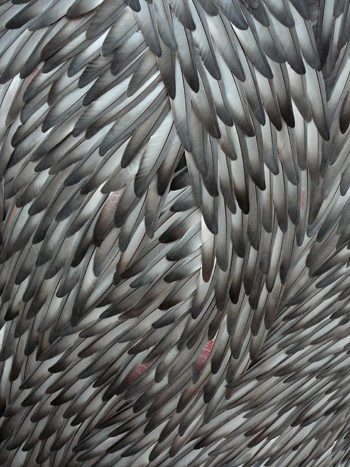 Discharge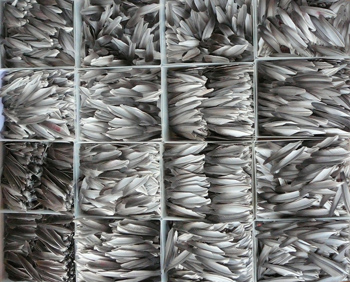 Discharge (prepping with 10,000 feathers)
More info on Kate at www.katemccgwire.com
Gallery: All Visual Arts
22 Warren Street,
London
Tatton Park Biennial
Opening May 7th 2010
Knutsford
Cheshire
WA16 6QN
UK
'Dead or Alive'
Opening 27th April, 2010
Museum of Art and Design
Columbus Circle
New York, NY