First Look at Lola's Ipsum Factum
Juxtapoz // Tuesday, 23 Feb 2010
1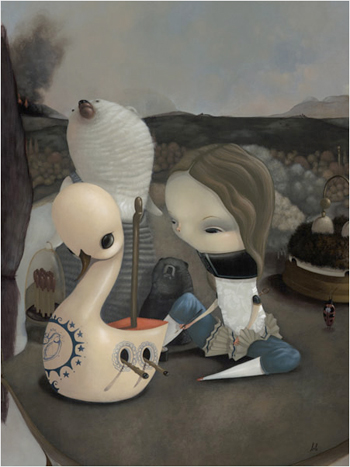 "I have been hard at work over the past couple months preparing for my upcoming solo show at Corey Helford Gallery," writes Los Angeles painter, Lola. "And now it is my great pleasure to announce Ipsum Factum will open March 27th."
An opening reception will be held from 8pm to 11pm on March 27th, where Lola will unveil new paintings.
"i'm painting luminous edges, of slightly fractured spotlights," Lola writes on her blog. "putting myself there with every stroke, holding on to the haze and making my own conclusions. this calendar day passes on to the next. i glare at the numbers with contempt, but feel a thrust of energy transcend me into a pace of substantial acceptance.
"contradicting every word a thought, denying my lust for fingertip bliss only for real growth amongst advisories, patrons, and critics. real growth. evolutionary uplifting which seeks the heights of potential fear inducing levels. each moment is more vulnerable than the last as this particular visual story unfolds. we can all stare into the eyes.. those eyes..the kind that reach deep and envelope your soul, melting words like parfait desert eagles. all i hear is music, and i'm moved into sideways on the red chair hard plastic outline of where i reside.
"yes, i have grown one more day."
More on Lola at www.lolafineart.com