First Details on Chloe Early's Upcoming 'Birdsong and Machine Sounds'
Juxtapoz // Thursday, 23 Sep 2010
1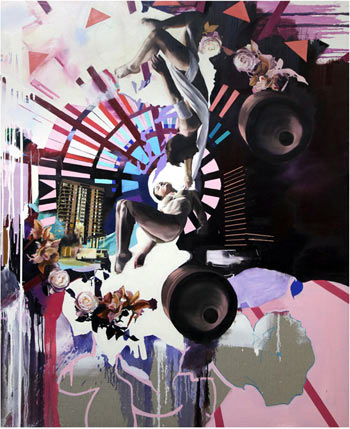 London based painter Chloe Early (Juxtapoz #99) creates unique, beautiful pieces blending her mastery of both figurative and abstract styles with an endless curiosity of the theory of balance. Birdsong and Machine Sounds is the title of her highly anticipated next solo show.
This new body of work consists of twelve oil paintings on linen, aluminum and perspex. The artist states, "In my paintings I am aiming to create a new kind of gravity where I can examine the potential for good and bad, light and dark."
Within this new body of work the archetypal couple is explored in relationship to its environment. With inspiration taken from Classical art, literature (Milton's Paradise Lost), myth, and memory. These paintings tell the story of a contemporary Adam and Eve caught between the beauty of nature and the fallout of post industrialization.
The figures sit within an energetic abstracted background, washes of colors and shapes collapse and merge encompassing the feelings of beauty and decay, spillage and wreckage.
Flying machines and suspended figures are incorporated as a metaphor for otherworldliness. The figures are suspended within the world of the paintings and within this space the dichotomy between utopia and dystopia is examined. Floral wreathes curl around the figures and beyond them, machine parts and engines float and decay, bullets fly and buildings collapse.
Be sure to view our studio visit with Chloe Early, which shows some in-process work of pieces for this show.
Chloe Early
Birdsong and Machine Sounds
Saturday, October 23 – November 10
With special guest artist Amy Sol in the loft
Corey Helford Gallery
8522 Washington Blvd
Culver City, CA