Find 3 Eggs In Our Easter Egg Hunt Contest to Win Ana Bagayan's "Chelsea" Print
Juxtapoz // Friday, 10 Apr 2009
1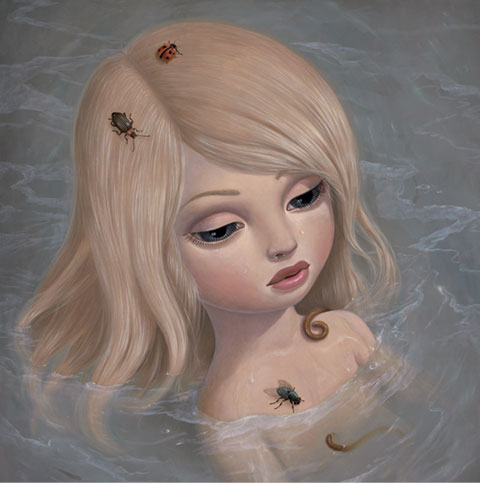 Ana Bagayan just released this fresh print, Chelsea, with POV Editions and has made 3 out of the very limited edition run of 30 prints (valued at $100) available to Juxtapoz readers! But not just any Jux reader; a clever one. Naturally we assume all Jux readers are clever, but playing a lot of hide-and-go-seek could help you, as it's an Easter Egg hunt themed contest!

Considering Easter is coming up this Sunday, Ana has hidden 3 little Easter eggs on our website. All you have to do is find all 3 eggs, clicking on each egg as you come across them. Upon click of the final third egg, you will be provided with a secret word for you to email to us.

The first 3 players to find all 3 Easter eggs and hit us back with the secret word wins their very own copy of Ana Bagayan's beautiful signed and numbered Chelsea print, seen above.

We're sending you on a fun Easter egg hunt, not a wild goose chase, so to help you out a bit, we've given players a clue to the location of each hidden Easter egg on our website:


1) This lady has a Rabbit-themed show opening tonight, featuring her very own Easter Egg hunt contest. Looks like she's taken to decorating eggs while she sets up for her show as well.

2) This man is definitely one of the movers and shakers of the NYC contemporary art scene and proves it by dressing to the nines and partying with the best of them- most recently at his 'Frosty' opening. Everyone appreciates a good whiskey at a gallery opening.

3) This mistress of sultry paintings on wood has her highly anticipated show opening tomorrow night. Good thing we brought her back from the 'muertos' to answer a few (or perhaps 20) questions for us. This egg sure is safe in her subject's hands.
You have the details and even some hints, now hurry up and get to seraching for those 3 eggs because the first 3 Juxtapoz fans to find them will be our lucky winners.
More on Ana Bagayan at anabagayan.com
Didn't win? No worries, you can purchase Ana's Chelsea print, and many more, at POV Editions.com