Final Scion Installation 5 Tour in Los Angeles
Juxtapoz // Friday, 11 Sep 2009
1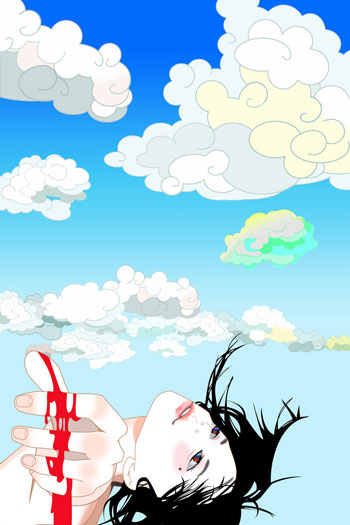 Scion's Installation 5 national art tour is wrapping up with the final show at the Culver City gallery, opening this weekend, September 12th. This year's theme has been self portraits and has yielded considerable talent, attention, and fun.
The Installation 5 Tour collection features literal and non-literal self-portraits of varying cost by international art luminaries, with 100 percent of the proceeds aiding Creative Capital, the premier national artist support organization. Audiences around the world can begin bidding Sept. 12 when the Installation Tour auction goes live on ArtNet at www.ArtNet.com/scion.html. The auction closes on September 30, 2009.

After traveling through Detroit, Art Basel in Miami, Phoenix, Minneapolis, New York, San Jose, Philadelphia and Portland, the tour concludes at Scion's 4,2000 square foot gallery in Culver City. The exhibition will be available for viewing and bidding from the gallery on September 12 through September 30, 2009. Artwork values range from $100 to $17,000 and bidding will begin at 25% of the art's estimated worth.

"It is an absolute honor to work with these incredible artists in support of visionary arts non-profit organizations," says Jeri Yoshizu, Scion sales and promotion manager. "Since we launched the Installation Tour in 2003, we've raised more than $190,000 for art-related charities and look forward to continuing our support of exciting and impactful contemporary art."

"Scion Installation 5: Self Portraits" features established and respected artists, including the godfather of stencil art, Blek le Rat, and Devo's Mark Mothersbaugh, alongside other notable and up-and-coming photographers, painters and video artists.

Artists include:
AJ Fosik (3-D painting)
Alex Hornest (painting)
Andrew Schoultz (painting)
Angela Boatwright (photography)
Asylm (painting)
Blek le Rat (painting)
Christina M. Felice (photography)
Codak (painting)
David Choe (video art)
Edwin Ushiro (painting)
El Yem (video art)
Eriberto Oriol (photography)
Eye One (photography)
Francesco LoCastro (painting)
French (painting)
Geoff Oki (video art)
Ian Lynam (video art)
J. Shea (painting)
Jamel Shabazz (photography)
Jeff Soto (painting)
Kelsey Brookes (painting)
Kofie (painting)
Lisa Alisa (painting) [work shown above]
Logan Hicks (photography)
Mark Mothersbaugh (rug)
Nicholas Harper (painting)
Patrick Martinez (painting)
Peter Beste (photography)
RETNA (painting)
Rick Rodney (photography)
Rob Abeyta Jr. (painting)
Ron English (painting)
Saber (photography)
Sage Vaughn (painting)
Skypage (painting)
Stormie Mills (painting)
Tessar Lo (painting)
Too Tall Jahmal (photography)
Usugrow (painting)
Will Barras (painting)
Yoskay Yamamoto (painting)

The opening reception takes place on September 12 from 7 pm – 10 pm at the Scion Installation L.A. Gallery, 3521 Helms Ave. (at National), Culver City, CA 90232. The reception is free with complimentary valet parking and an open bar.
The exhibit will run until September 30, 2009. Gallery hours are Wednesday through Saturday 11:00 AM – 6:00 PM and by appointment - 310.815.8840.
For more information, visit www.scion.com/space.