Field Notes ____ Edition
Juxtapoz // Thursday, 24 Mar 2011
1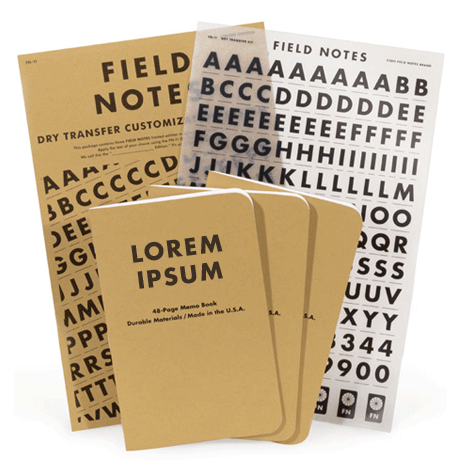 As technology has gotten increasingly dominant in the way record information with different "pads" and whatnot there seems to be a movement toward the analog. Field Notes has been making waves with their different editions and color ways, their newest edition does not fall short. Field Notes just released their
Dry Transfer
Edition
.
Typesetting is something everyone can admire so why do some typesetting of your own. Field Notes has made it easy and awesome with their dry transfer kit. Field Notes writes "Spring brings a new limited FIELD NOTES COLORS edition. These new notebooks look like ordinary kraft-cover FIELD NOTES, with the notable absence of our brand name. This "________ Edition" allows you to customize your FIELD NOTES with any phrase of your choosing with the included authentic dry-transfer lettering!
Relive the golden age of graphic arts and command the power of 36-point Futura Bold using our FN-11 Dry Transfer Kit and the FN-11B Application Template. Kern and align carefully for the authentic FIELD NOTES look, or go crazy with "creativity" and make the damn thing look like a Bay City Rollers fanzine. No one can stop you."
Get your Field Notes here.
Also see one of Juxtapoz's in-house designer's very own Field Notes Edition here.
Field Notes: Dry Transfer Edition Instructions from Coudal Partners on Vimeo.