Feature: Perry Farrell at Art Basel for Precision Guided Musicians
Juxtapoz // Thursday, 02 Dec 2010
1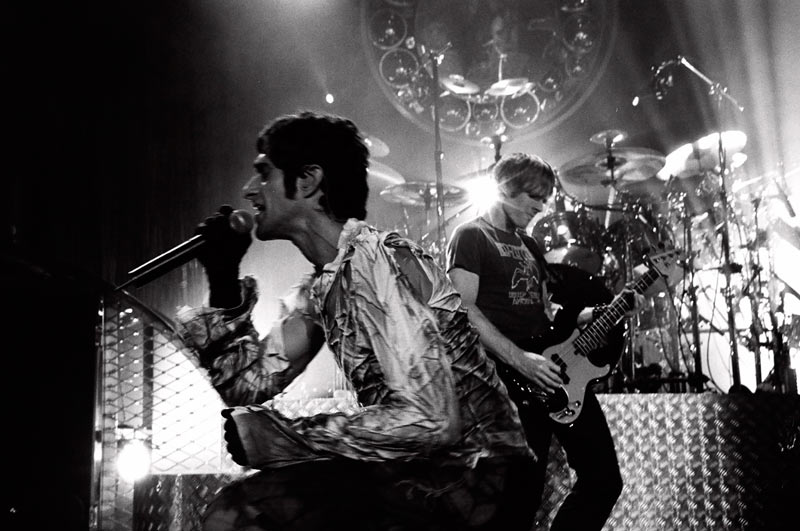 Perry Farrell has long been regarded as a pioneer in the world of modern rock.  Call it alternative, or anything you wish, Farrell has had a heavy hand in modern music's development into the incarnation of now.  Whether it be pushing the envelope with provocative "banned" album cover art, fronting Jane's Addiction, or creating a cast-iron mold of the new American music festival, Farrell has been at the apex of innovation.  The present has never been more exciting.



Perry and Etty Farrell hosted dinner at BONDSt in the Townhouse hotel, and a cocktail reception on the rooftop bar while in Miami for Art Basel.  They will perform (as I write this) tonight at Bardot, Perryetty vs Chris Cox as Precision Guided Musicians.



I sat down with Perry in Miami to hear about what fuels his work, and the grant he is giving through his new project, Precision Guided Musicians.  What I found was a warm, innovative all-around artist; and 2011 is sure to be very busy. —Noel Nocciolo



(All photos courtesy of
Lindsey Byrnes
)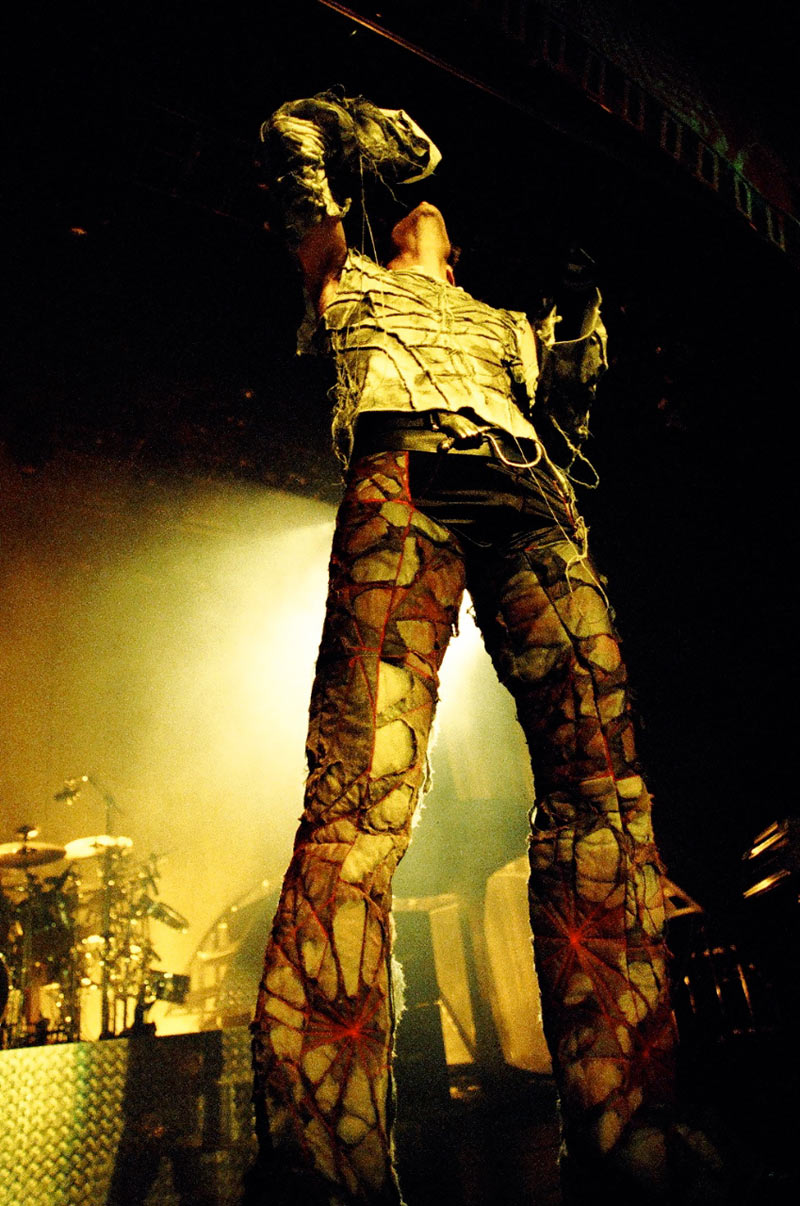 What was your favorite birthday celebration to date?


Well, I've never been huge on birthdays, and in the past, my birthdays used to consist of getting really high and holing up, you know? And I looked forward to it. My wife, Etty, loves to celebrate birthdays. When I started to go out with her, when I married her, she insisted that I celebrate my birthday, other than holed up with a bunch of drugs, get out and socialize and let people honor me. For my fiftieth, she put together a party in Las Vegas, where I had Jane's Addiction and Porno For Pyros perform, obviously I performed with them, and with Deborah Harry and bunch of other friends. I guess, that would be a highlight, 5-0 is a big one.


Looking at clothing choices an artist makes when they perform, I think choices onstage convey something to an audience; clothes are like wearable art. To me, it's very obvious to me that you've had a vested interest in the visual arts, in the way you put yourself together onstage. When did your love and appreciation of the visual arts and fashion begin?


I had an older brother and sister, and they really hipped me to rock and roll and soul music, my sister was into the soul music, the funk, my brother, the rock and roll. When I was a little kid, the first piece of clothing I remember were these little Beatle boots. I was born in 1959, so it was probably 1962, I was wearing Beatle boots and had my hair cut like the early Beatles, the mop-top. I guess that's where it started. Do you know what Dickey's are? The fake turtlenecks? I used to wear those with my Beatles boots and my velour shirts. I remember my favorite was blue. Even as a little child, I was always conscious of what I wore.


That doesn't surprise me at all! It makes sense to me that you want to explore and expand your scope in the visual arts. Do you paint?


I used to, I don't paint any more. I do so much less visual art (than I used to) at this moment. My development has gone so into the hearing aspects of art that my visual has kind of atrophied. That's why I'm here, giving away an art grant, because I still want the art to be great. Everyone's been pushing that I do another album cover for the new Jane's Addiction, and for Perry-Etty, which is our dance project, so I'm going to go into it again. When I was young, I wanted to be a graphic artist. I left here; I spent my high school years in Florida. I started making skateboards and surfboards as well as being a graphic artist. And I ran off to California, on a Greyhound, to be a graphic artist/surfboard shaper/skateboard designer. And I did. My Father was a jewelry designer, I grew up with lost wax-casting as a talent, and as a trade, and I would design jewelry for people all over California, and I would pick up graphic artwork, too. I would say, going back to it, what I'm going to get back to, is the way I ended up doing the Jane's Addiction covers, which was not graphic, it was sculpture.


That's funny you bring that up, I have been so amused at the hullaballoo surrounding this new Kanye West album art. Do we have such a short attention span in this country that we don't remember the album art twenty years ago in the same position with Jane's Addiction?!


Haha! Doesn't it look like a girl farting? Isn't there something coming out of her ass? What IS that? It's not cool!


Precision Guided Munitions are intended to precisely hit a specific target. Art and music are broad and fantastic and reaches millions. How did that turn into the play-on words of Precision Guided Musicians? Who were you talking to that this idea come up?


I was working with a guy who was working to bring technology to Lollapalooza. I've always been into a gaming aspect, of Lollapalooza using cell phone technology. He was helping me bring that about. In 2003, we had gaming going on the fields where you'd get a text, and win a keg of beer, for example by answering a music question. It could be that easy, of course, it was more intricate than that, but it's just an example. So anyways, he was talking about Precision Guided Munitions and I thought he had said "musicians" and I thought it was so radical. I love that! And I thought, how can I somehow wear that?


You're providing an art grant, a gallery series, and music festivals. Can you tell me about this person who receives this grant, where their work is going to be? Is it integrated with a tour like the original incarnation of Lollapalooza? Or a festival?


In this case, it's not Lollapalooza, it's the spin-off of Lollapalooza, it's the Precision Guided Musicians event, we're building in Southern California, we're building internationally. It's going to be in two scales, one is going to be these beautiful artistic parties, about a thousand people or so, with fashion and art and music, and then it scales up to a hundred thousand people. We have property that is able to contain and hold a hundred thousand people comfortably. I have some artwork that I've done, but as I say, I've dedicated to music, I went so hardcore into it, that I lost my skills, visually. And I know that there are people putting so much time and effort into the visual arts. And I want to collaborate and to include such people makes it more powerful.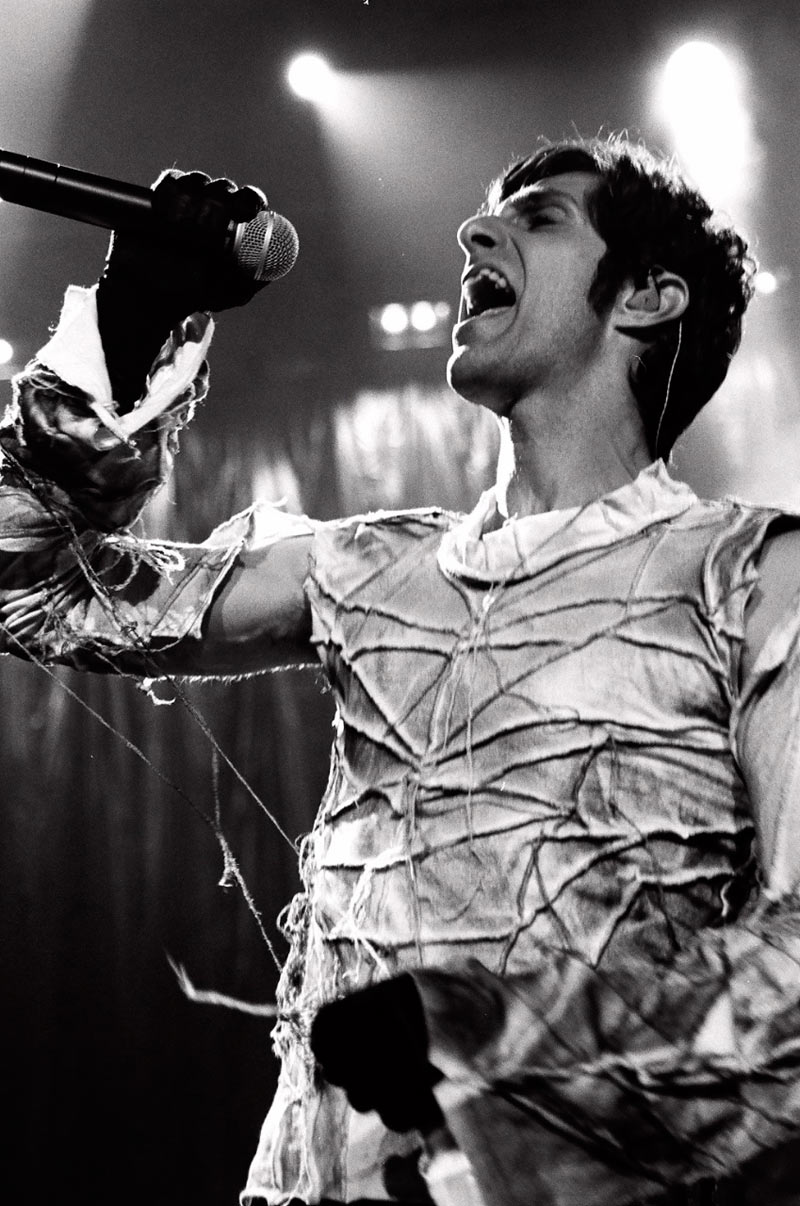 Lollapalooza is the only major American music festival that I have not attended, and it makes me really sad that it's the case. However, there is a visual art element at all other festivals that I've seen, and I know that stems from you.


All the original Lollapaloozas all had art galleries.


And now we see the visual arts present at places like Coachella and Bonnaroo….


But that's wonderful.


Who will be selecting the grant recipient? You and a group of friends?


Donnamarie Baptiste of the Art Basel committee who is working with us. There's a company in Los Angeles, Box 8. They're an interesting group. I'm trying to include Paul Tollett, who is going to be partnering with me on PGM; he puts on Coachella. I'm trying to keep it small and simple, counted on one hand how many people would select (the recipient). There are a few people I haven't asked yet. I'm not big on contests; that's why we're not calling it "an art contest." I hate the idea of tying art to being judged, so it's not really that. We're a company and we're looking for someone to create iconography and logos, and then I happen to have friends who will want to help me. And Art Basel has been so inspired that they've said they'd want to do it every year, which I love, so then you're able to have a new artist. Most people would say that when you have an icon, you stick with it. In this case, the icon is really the name, not so much a flat logo. Or, maybe the icon would stay the same, but the posters would obviously change year to year.


The world itself changes year to year. Things that are going to inspire you, will be constantly evolving; how you are, what you play, how you create your work as a musician. It constantly evolves.


Yes! And there actually comes a point where the logo is stale because the world changes. I find people after a time don't want predecessors. America is the first people to discard you; we live in such a discard-able society. I've been looking for a pair of contemporary jeans for the last year. When my wife asks me what I'd like for my birthday or for Hanukkah, I want contemporary jeans. Because I just don't want to wear jeans from three years ago.


Isn't it funny that jeans have become that? Wouldn't Levi Strauss be surprised that much fashion talk revolves around jeans?


What's funny, too, are all the knockoffs of what Levi's jeans are. And that's the coolest thing.


We plan to include fashion in the project, as well. We would love to sell clothing at the event. I want to develop clothing, but I want to do it right. So many people have clothing lines that don't really have an eye for fashion or don't dress themselves well. Who needs another line? If we're going to do anything, we want it to be important, we want to make sure there's what I call a blue ocean for us. A red ocean would be where there are a bunch of sharks, and we don't need that. If we're going to have a business, it should be a blue ocean business, I want there to be a place for us. I think there is a place for us with fashion, in dance. My wife is dancer. So you come to the events, and it will all be integrative.


What gets you up in the morning? Literally? Figuratively?


Oh my gosh, there is so much going on. My kids really, truly get me up in the morning, they're the voice I hear and it's not by my ear saying "Good Morning, Daddy, I love you," they're beating each other up, they're fighting over whatever. My boy came home with a plastic hockey stick; he's starting to use this thing as a weapon around the house. Grandma bought him an L.A. Kings hockey stick and he's been wacking everyone with this thing!


We're getting into different media. Etty and I now have a television show on E! It's a reality show, I guess you can call it that, wink wink, nudge nudge.


It has to have been obtrusive…?


Not really, because Etty is a very strong woman and what she doesn't want you in on, you're don't come in on.


Good! More people need to have those boundaries.


Her boundaries are "I'm not taking my top off" and "you're not coming into our bedroom." Period. And limited times to see our children, but you're not making whole episodes, and other people aren't taking our children and doing things (that we're not comfortable with). So we have that going, and it's been fun. I've never been in television, aside from having MTV back in the day, and they ripped us off, they didn't care about the musicians, they were the first people to not give residuals, if they use your songs. So as a result, I didn't care about television, because I felt like, I'm not going to let you rip me off, fuck you. But now, we're at this time of life where I'm interested (in other things.) And I like acting, it's fun, so I think about that sometimes. Lollapalooza is expanding internationally to Chile, and we've been on the phone getting our line-up together, the location is there. I get these emails all days and night, going back and forth with agents and promoters, so that's being set. And of course, there's Chicago. Let's not forget it's our twentieth anniversary of Lollapalooza, and it's coming out great. And then, there's PGM, which is the next step in music events. It is beyond; it's really where I see music today, and it usually takes the world five or seven years to catch up to what is really going on in the underground. But we're setting it up now, and part of it is this connection with Art Basel in Miami, we have the dinner tonight. I'm looking forward to seeing the submissions, people are asking where they can submit to. It's really exciting! The world of music, for me, has never been as exciting.


How wonderful to feel that, as many years into the career that you've had.


I don't see it as tragedy, I only see potential.


-----------------------------------------------------------------


From the PGM press release: "Artists should maintain the honor, intelligence and might of music: articulate musical techniques and its ability to destroy bad moods and bring peace upon planet earth. The idea is to challenge/subvert the concept of precision guided munitions aka smart bombs: imagine 'the military being used for peace and entertainment.'"


Lola Ink Media will book a gallery series for the artist in major markets.


All street and fine artists are encouraged to apply for the PGM Art Project Grant by submitting a 300 DPI Hi-Res scan of artwork along with their contact information to: artproject@pgmfestival.com.