Image Gallery
Feature: Bold Hype in Conversation with artist, Rafael Santiago
Juxtapoz // Saturday, 02 Jul 2011
1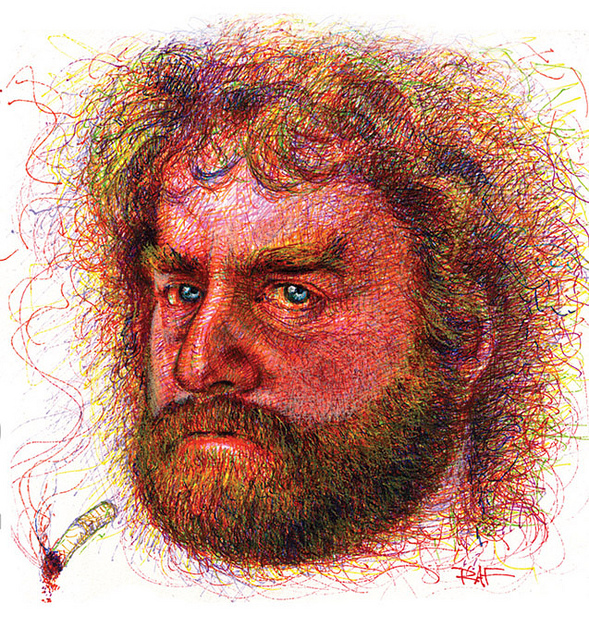 Bold Hype Gallery opened artist Rafael Santiago's solo show Size Matters early last month, while gallery owner Eric Althin recently sat down with for a little interview about the artist and his new work, a guy Eric told us "who I actually discovered in Juxtapoz's reader art section a few years back!" Good lookin' out, Eric. Eric Althin: How long have you lived in Brooklyn?
Rafael Santiago: I am a native New Yorker… I've lived in Williamsburg, Brooklyn for the past 10 years.
How has it shaped you as an artist?
Moving out here allowed me to work in a larger studio. I also think, witnessing the evolution of this neighborhood has made an impact on my work. The progressive changes that culminate all around me have made me appreciate the freedom to expand my medium, make films, and document every day happenings.
Tell us a bit about your different processes and techniques.
I started using inks and pens from the "instant gratification" point of view. It was quick, clean, and it forced me to make permanent decisions and to keep looking forward with every stroke of the pen rather than amend brushstrokes like when using oil paint or a pencil and eraser. The process of using the pen also created a "weaving" effect that plays with the idea of color theory and saturation. I choose not to blend color but rather, I let the weaving process create an aura and inner glow. This allows the line work to breathe. Color affects color and it is this game that intrigues me.
Many artists tend to stick to mostly female figures, but with you it's almost the opposite, what is it about doing male portraits that fascinates you the most?
Well, actually I extensively studied the female figure for many years. My work for the documentary, "Beyond Black Rock" was a sculpture of a female. Many portraits from this time period featured all types of female figures. The male face is a fairly new subject to me. I did not do this consciously; it just worked out that way. The portrait of "Steve McQueen," ignited the fire for me. Characters like Steve McQueen intrigue me. It's that intensity and passion for life, the ability to bypass obstacles and living in the moment that I can relate to.
What I love about your work is how you manage to transcend mere portraiture, capturing more than just the subject's physical appearance, you capture the essence or 'soul', if you will, of your subjects. Looking at your portraits is like looking at a living entity, how do you manage to create this spark of life in your portraits? How do you connect with your subjects?
Wow, I could get really heavy trying to answer this question (laughs.) First of all, I often feel like the subject chooses me. It can be a person I know or a photograph. I just connect and I feel like I know them as an old friend from my past…. And that is how it starts. The artwork is just an extension of this moment and I try to capture the feeling that the individual makes me feel. It is about connecting to that person for whatever qualities they conjure within me.
What artist(s) inspire you?
Sheila Hecht she was my art teacher from 7th to 9th grade. She taught me a lot! I first learned portraiture and color theory from her. Irwin Greenberg ,Max Ginsberg, Steve Assael, Marshal Arisman; I studied with these artists during my college career. They were very instrumental in shaping my foundation. Bob Peak and Drew Struzan, these guys just kick *ss. Whenever I look at their work my adrenaline rises. I love their use of experimentation with medium, composition, color and their ability to capture the spirit of the image.
For your latest show 'Size Matters' you created your largest portraits to date. How has your experience been working on such a large scale?
Well, trying to see how it feels to expand the drawing. It made the images more diaphanous. It expanded the weave concept. The viewer can approach the larger pieces and explore the work in a new way.
Your subjects range from legendary icons, famous writers and pioneers, to friends and random people on the street. What would you say is the connection or common thread that relates them all?
A sense of familiarity, re-igniting a forgotten memory from a movie, or a song, a feeling from days gone by…
Who is the little parachuting teddy bear that sometimes appears in your work?
He made his first appearance in the "Smokin' Aces" show in the triptych for, "The Good, The Bad and The Ugly." His name is "TEO" and he serves two purposes: He is a time traveling Teddy Bear and there are no dimensional barriers that can block his journey. He is an explorer like Magellan. Secondly, when witnessed by his subjects he serves as a source of inspiration.
What is the story with the floating cigarettes?
The portrait, "Kool Enlightenment," started it all. I bartended when smoking was allowed here in NYC and everyone that smoked had their own way of smoking their cigarettes. At the end of the evening, after a night of drinking and smoking, the cigarette buttes left behind seemed to portray a personality, a signature, if you will, of the person who smoked them. The floating cigarette in the drawing creates a sense of motion and a symbol of 'personal vices.'
Rafael Santiago
Size Matters
Through July 30, 2011
Bold Hype Gallery
New York, New York