Feature: Adam Wallacavage at Corey Helford Gallery
Juxtapoz // Friday, 25 Mar 2011
1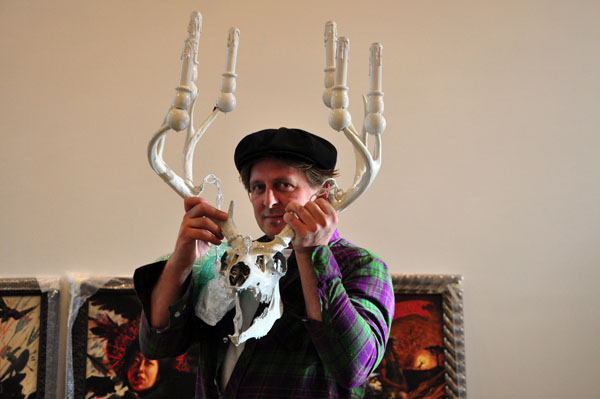 Adam Wallacavage: Inspired by Decay and Opulence
By Trina Calderon
My take on the gorgeous chandeliers Adam Wallacavage creates is that somewhere along a road in a parallel fantasy universe, a Funeral Director in an old Cadillac hearse picked up a lovely Victorian lady hitch-hiking and they shared a love for creatures of the sea and imagined a giant octopus chandelier to light their foyer in both Goth and luxury. Of course, this isn't exactly how it happened, but for the last 10 years Adam has been creating this very chandelier, inspired by the decay and grandiose of decommissioned churches he used to document in his hometown of Philadelphia.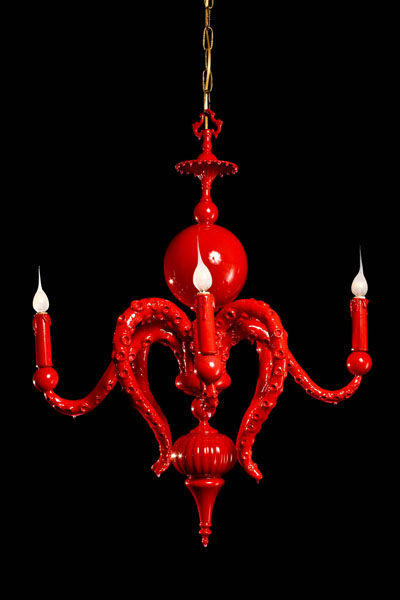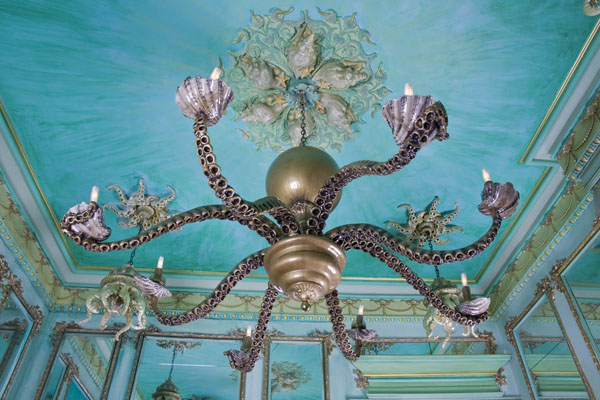 "These churches in Philadelphia were being taken apart because they were basically decommissioned from the archdiocese. We would go see these beautiful, beautiful churches and people would be inside taking everything out. Some of it was being sold to different denominations, or some would just get torn down, and the people that went there were just gone. It was sad to see these really beautiful places decay."
Adam bought his own house, a brownstone Victorian, and longed for the same opulence he saw in those churches, so he took the matter into his own hands and started creating his own décor. "I would just find pieces of moulding and make molds and stick them to the wall. I just kept doing that, over and over. I got better at it and better at it, and I just went crazy. I was really excited because instead of being sad about this thing being lost, I figured out how to do it myself… and then I started to work on this one room in my house that was themed - 20,000 Leagues Under the Sea."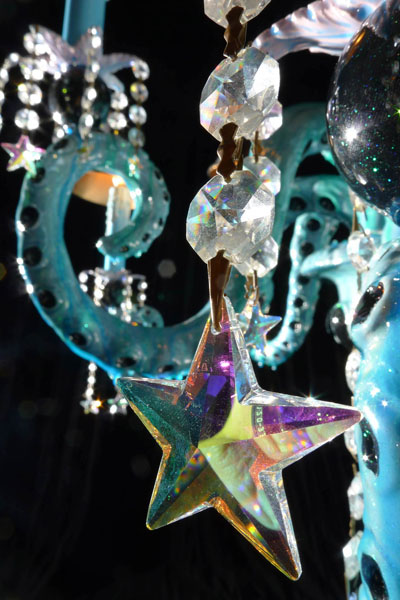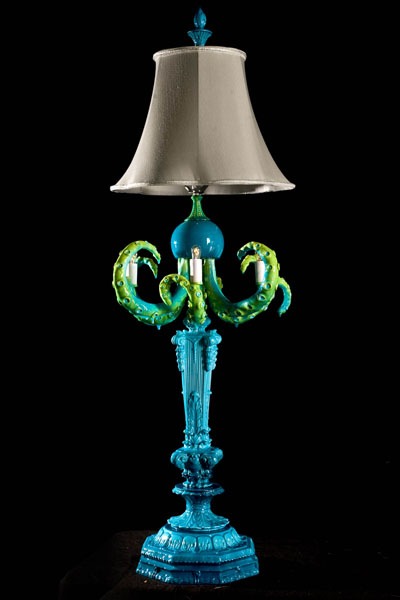 Yes, he has a whole room in his house inspired by the Jules Verne novel! "I do a lot of diving, and there was an Art Nouveau style aquarium in Milan I saw that just blew me away. I didn't go inside, it wasn't even open actually, but the whole exterior was covered in fish, nautical life, and animals. It was beautiful. I just thought it would be fun."
Adam grew up building skate ramps and all kinds of weird things in trees. He was also way into collecting strange things like lunchboxes, 50's and 60's style monsters, and anything Victorian. This may have fueled his affinity for the 1959 Cadillac. "It's the ultimate." All of this adequately accounts for his dark and striking style. He creatively titles his octopus chandeliers with names like "Disposable Darling," "Bleeding Chandelier," and "Negasonic Teenage Warhead." In recent years, he has mixed up his materials and has fashioned animal skulls and antlers into other chandelier designs. Those titles are along the lines of "Ship of Fools" and "Guided by Fairies."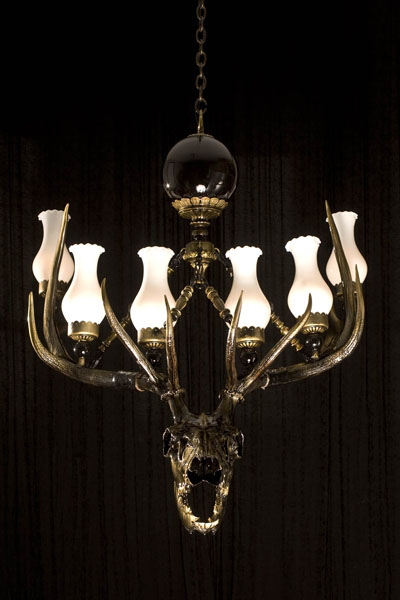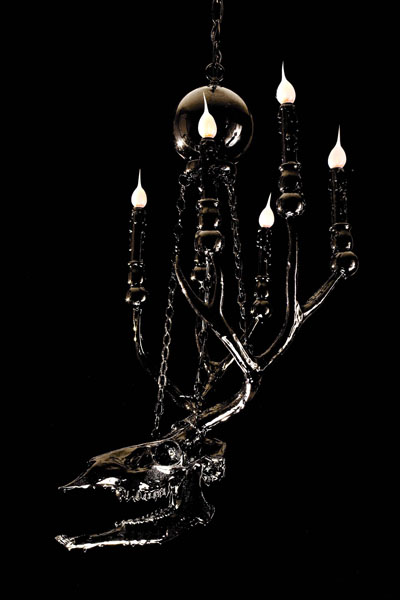 Corey Helford Gallery features Adam's new chandeliers and lamps in "Dreamhome Heartaches" along with the very complimentary works in "The Absence of Light" by painter Henry Lewis. Although, Adam is also widely known as a photographer for his work in Swindle and Juxtapoz, he is indeed a unique craftsman that delights in the lavish and the gloom. The exhibit is on view March 19 – April 6, 2011.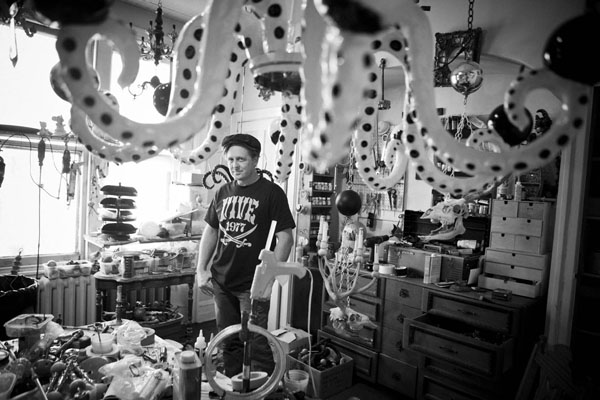 (Photo by Christopher Gabello)

Adam Wallacavage
Dreamhome Heartaches
Through April 6, 2011
Corey Helford Gallery
Culver City, California