Fashion's Little Darling: Tavi Gevinson
Juxtapoz // Friday, 17 Sep 2010
1
Aside from her almost poetic descriptions and knowledge of couture fashion (in her posts, she regularly injects references to 90s TV shows, 60s fashion ads, mythology, and advanced literature – making you wonder, 'how the hell did she know that?'), one of the most intriguing things about Tavi is her refreshing look at an artistic medium that is arguably one of the most pretentious - with its extravagant parties, runway shows, eccentric designers, models, eating disorders, and amazingly costly items that may be worn only once. Essentially, Tavi keeps it real. And smart.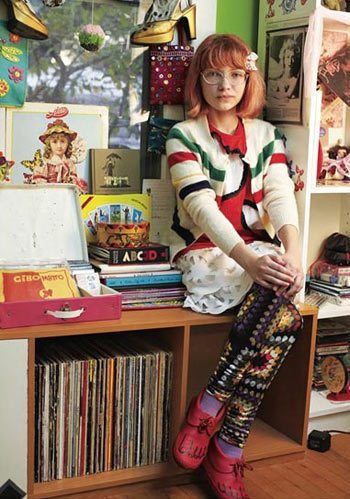 She's aware that her youth allows her to say and get away with things that veterans of the fashion world cannot and embraces the ability to sport unusual outfits that even sometimes confuses the fan base that follows her. She also remains surprisingly unfazed by all the attention she's received. She turned down interview requests from Oprah and The Today Show. She lives with her parents in a suburb of Chicago in a tiny bedroom plastered with posters, knick-knacks, and magazine cutouts. She almost exclusively shops at The Salvation Army. She made a hilarious rap video about one of her favorite designers, Rei Kawakubo. Talking about her social life she said, "I go between a Daria mind-set and Atticus Finch."
It's exciting to watch someone discover something for themselves, and then get better and better at it. This is why so many older readers find her blog so endearing. She's a kid growing into a highly creative person, which is a process most children do not do under the public eye and are then are so well-received while in the midst of this development.
Naturally, not all those involved in the fashion world admire or even respect Tavi, but luckily the young teen hardly seems to care. She's still out of her mind with excitement at simply being gifted a pair of tights from Rodarte…while being consulted by the likes of BlackBook, Pop, Barney's, Vogue, Style, and others. Here's to the future of creative minds.
The full article on Tavi is in the September 20, 2010 edition of The New Yorker.
Photos by Josef Astor for The New Yorker.