Faces of Death 2010 T-Shirt Now Available
Juxtapoz // Friday, 17 Dec 2010
1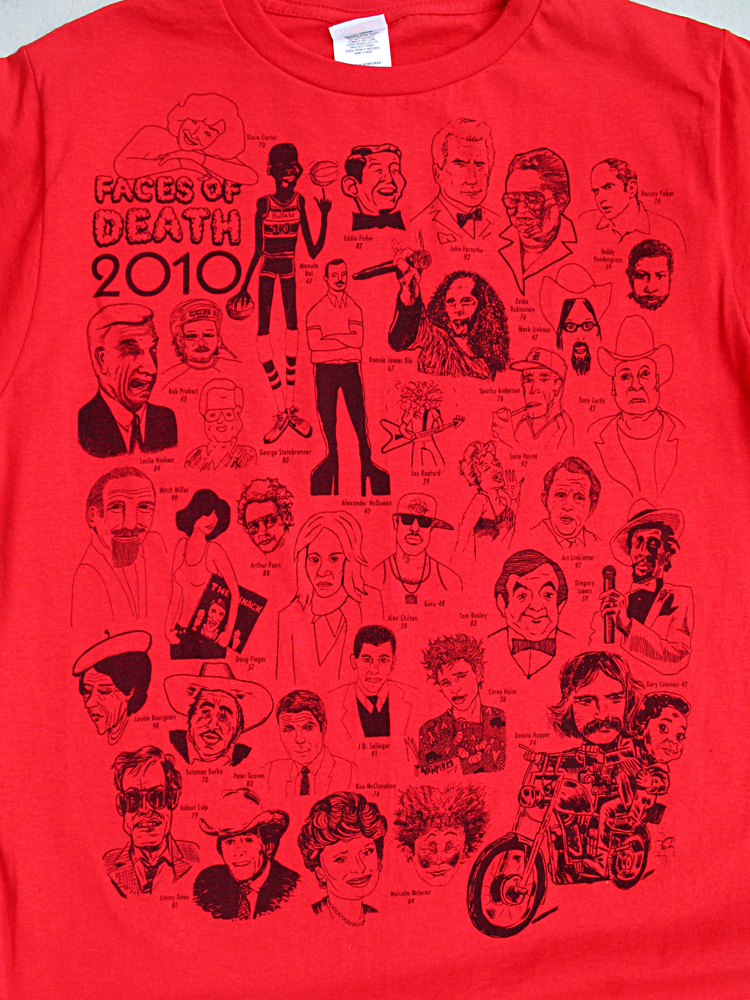 Milton Carter
has it on
People
Magazine and their list of who passed away over the course of the past 12 months. He made a t-shirt, quite current actually seeing that Leslie Nielsen is on there. But can you name some famous people and icons who passed away this year? Nielsen, JD Salinger, that Golden Girls lady,  Louise Bourgeois, Malcolm McLaren, Tony Curtis, Corey Haim, Jimmy Dean, Gary Coleman, and George Stenbrenner are top of our list.
All in good, tribute fun, right?
And a lot of people put forth drawings for Faces of Death 2010. Contributing artists to the shirt include Patrick Delaney, Jeremiah Stewart, Eleanor Friedberger, Donald Stahl, Aine Vonnegut, Paul Conrad, Hope Gangloff, Jolie Mayers, Derick Holt, Eva Struble, Neil Merideth, Caroline lee, Leslie Siu, Hugh Hayden, Matt Z, Anis Crofts, Jason Wyatt Frederick, Christie Young, Kelly Dunn, Songe Riddle, Gretta Johnson, Camille Boyd, Erosie, Katrina Vonnegut, Jonathan Gould, Katy Porte, Melissa Brown, John Mathias, Lina Hellde'n, Justin Tesa, Mike Reddy, Nathan Gelgud, and Momo.
Buy the shirt here, make it a Holiday present.