Exhibit x NYC Mural: Lifecycle with Jeff Soto
Juxtapoz // Thursday, 03 Jun 2010
1
Through his work, Soto conveys narrative subject matter with dramatic lighting and textural richness in detailed and dynamic compositions. His pieces often communicate themes of nostalgia, fear, hope, and environmental issues.
On the subject of his new series of paintings, however, the artist says:??
"My work has always indirectly told bits and pieces of my own story, my thoughts and past. This new body of work is still autobiographical without being self-portraiture, but whereas previous exhibitions focused on current events, environmentalism, politics, and war, this show deals with themes that are more personal, emotional and timeless."
As the show title suggests, works in Lifecycle refer to birth, death, and the voyage in between. The artist's interest in time, mortality, fatherhood and generational relationships—within his own family and humankind in general—are explored through visual metaphors and symbolism.
Soto's work exudes tension as his signature iconographic imagery continues to evolve. With background environments full of old machinery and industrial decay, Soto's creatures inhabit desolate, forgotten spaces. The artist creates ominous worlds where quasi-divine apparitions with organic tendrils writhe from the cavities of smoking, robotic shells, as their lumbering frames preside over sprawling urban landscapes. Figures duel, wild flowers bloom and rainbows thrive, as dark smog and storm clouds loom amidst floating skulls.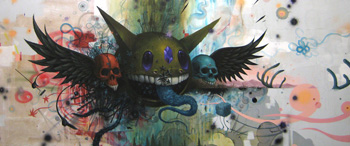 ABOUT THE ARTIST
Jeff Soto was born and raised in Southern California, where he currently resides with his wife and daughters. In 2002, Soto graduated with Distinction from Art Center College of Design in Pasadena, California. In 2008, his work was the subject of an exhibition at Riverside Art Museum.
He has published multiple books on his artwork, which has been exhibited in galleries and museums around the world. The artist's distinct color palette, subject matter and technique resonate with a growing audience: inspired by childhood toys, skateboarding, graffiti, hip-hop and popular culture. His bold, representational work is simultaneously accessible and stimulating.
Jeff Soto www.jeffsoto.com
Lifecycle
Solo Exhibition
June 26—July 24, 2010
Opening Reception:
Saturday, June 26, 7—9pm
Jonathan LeVine Gallery