Exclusive Video Preview: Mike Shine's Surf Shack
Juxtapoz // Monday, 02 Mar 2009
1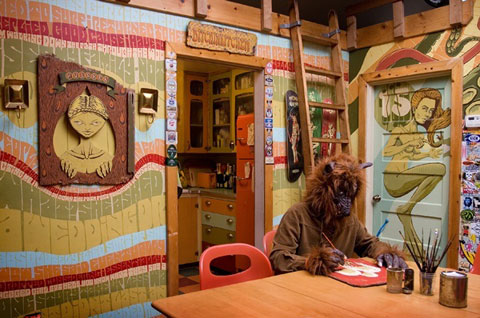 This weekend we stopped by the Museum of Craft and Folk Art in San Francisco to get a sneak peek at the progress of their latest exhibition with Mike Shine. Shine took us on a walk-thru of his amazing new show, Inside/Outside: Artist Environments, where he is literally rebuilding an old school surf house inside of the museum.
Sine's brightly colored drift wood paintings line a replica of the personal surf shack that the museum asked Shine to recreate for this exhibit. Weathered planks bearing Shine's signature paintings will adorn walls of the home's fully stocked kitchen and furnished living room (complete with werewolf, mid-painting!) The effect is both stunning and creepy, just as the artist intended.
From folk art environments to homes, Shine is definitely one artist who blurs lines and pushes the boundaries of how we define art.
Inside/Outside: Artist Environments will be open from March 5th thru May 24th, 2009, with an eclectic opening reception planned for the evening of Thursday, March 5th. Shine told us that a few bands will accompany the art unveiling, including one composed of friends of his teen son! It doesn't get more grassroots that that, and we like it.
More info on Mike Shine at www.shinelounge.com