Exclusive Preview: Whirl Trade by Fahamu Pecou
Juxtapoz // Friday, 28 May 2010
1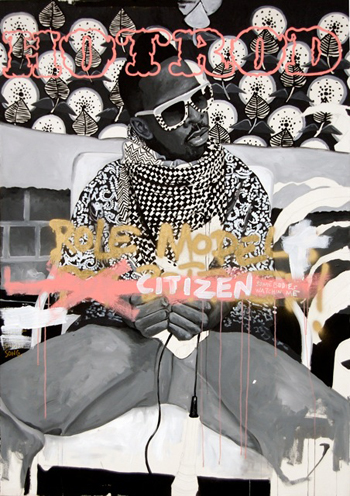 Pop culture. Race. History. Mash this all up and you'll begin to understand the work and intention of Fahamu Pecou. Take a look-see at what we're talking about in preview images from his upcoming solo, Whirl Trade, opening at The Shooting Gallery.
Fahamu Pecou (b. 1975) is an American painter based in Atlanta, Georgia whose intention is to comment on contemporary and hip-hop culture while simultaneously subverting it to include his ideas on fine art.
His new collection, Whirl Trade, exhibition addresses issues of misguided cross-cultural perceptions and international black identity. The opening reception, on June 12th, 2010 from 7-11pm, will feature a performance by legendary Hip-Hop group, X-Clan in celebration of the 20th anniversary of their album, To the East Blackwards.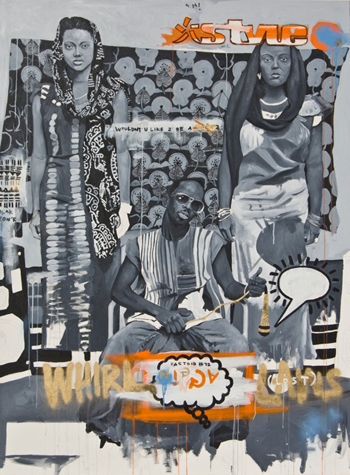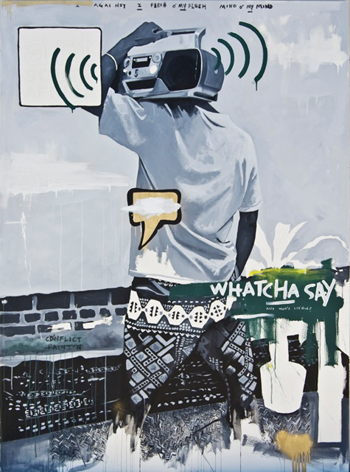 Whirl Trade will offer a cultural exchange where exported ideas of African identity are misinterpreted across borders. Just as African American hip hop artists hold the microphone on an international stage, Fahamu Pecou paints his hypermasculine alter ego onto magazine covers to achieve the same platform.
However, his microphone hangs limp to critique the commodified stereotype of young black men being projected by media. Equally misconstrued are American generalizations of African culture, creating a whirl of fallacy around international black identity. Fahamu exaggerates such typecast generalizations, challenging his contemporaries to project more positive images of African American men while pushing the audience to reevaluate their own expectations.
Fahamu Pecou stages photo shoots with poses drawn from influential African photographer of the 60s, Malick Sidibé. In this series, Fahamu and friends model with clothing and set design that mimics perceived African styles. Pecou references these photographs to produce larger than life acrylic paintings that appear to be unfinished in certain areas, hinting at the "larger picture" beyond said imagery.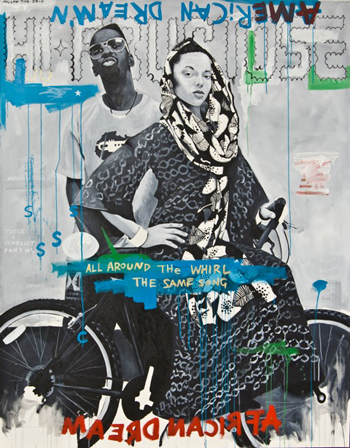 About the Artist:
Fahamu currently resides in Atlanta, Georgia. He earned his BFA from Atlanta College of Art in 1997 and has since completed residencies in Panama's Taller Portobelo and The Caversham Center in South Africa. In 2008 he received the Fulton County Arts Council Caversham Fellowship and in 2009 the Artadia Award of Atlana, GA. He has exhibited in Cape Town, Basel Switzerland, Atlanta, GA, and Lyons Wier Gallery (New York City) and Conduit Gallery (Dallas, TX).
Whirl Trade at The Shooting Gallery
Opening reception: June 12th, 2010 from 7-11pm
The exhibit will be on view through July 3rd, 2010 and is open to the public.
More info at www.fahamupecouart.com