Exclusive Interview with Usugrow
Juxtapoz // Thursday, 23 Jul 2009
1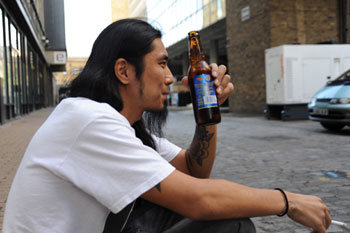 Exclusive Interview with Usugrow
By Chris Osburn.


On the debut night of Shinganist, the intriguing look into works of some of Japan's up-and-coming young artists, we caught up with the lead artist Usugrow (Juxtapoz #77) to chat about his latest work and the differences between the UK and Japan.


Chris Osburn: How did you get started as an artist?

Usugrow: This is a very difficult question because I was always drawing since childhood. It has always been a part of my life.

What can people expect from the Shinganist exhibition and what was the inspiration behind Shinganist?

The group behind the Shinganist exhibition is all really good artists. I have a lot of respect for them. What's most important about us, as a group, is that we have strong Japanese elements in all our work. We were influenced by graffiti, skate, punk rock and hip-hop. Those cultures were spread to Japan in the 70s. We are the second generation of people influenced from them. When we started creating our art, we began to consider mixing not only those influences but also Japanese culture with the work. The Shinganist exhibition is my way of introducing our style to the world.

Did you know the other artists involved or did you seek them out for this project?

We are friends before starting this project.

What does Shinganist mean?

It's a combination of the words, SHINGAN (mind's eye in Japanese) and –ist. The meaning of the word is people who create by seeing things in their mind's eye – people that don't get bothered or influenced easily by things around them.

Will Shinganist show in other cities?

We've already done a show in San Francisco before London. Our next show will be in Tokyo.

Have you ever been to London before? What do you think of the city and its art scene?

This is our first time to visit London. There is as much history here as in Japan. It is very beautiful. We've met a lot of great artists at StolenSpace and got inspiration from them. I feel that art takes root in daily life here in London.

How does London and the UK compare to Japan?

Language and currency. The climate is different. However, I don't think there's a big difference between the people in either country.

Usugrow's Shinganist opens tonight, Jult 23rd at StolenSpace Gallery in London. The show will remain on view through August 9th, 2009.

More on Usugrow at www.usugrow.com