Exclusive Interview with Thomas Campbell x Video Release
Juxtapoz // Thursday, 04 Mar 2010
1
{mov}ThomasCampbell_16x9{/mov}
Evan Pricco: Can you give me a little background on the show? V1 is such a great venue in Europe, and they really have fantastic shows. How did it go there? How did they take the Bonny Doon vibe?
Thomas Campbell: Um, let's see. Mikkel at V1 contacted me 5 years ago wanting to do something, but my old gallery never passed on the note until way later on.
I heard other artists had really good experiences at V1, and for some reason the Scandinavians really tend to like and buy my work. So shit, it seemed right, and we hade been working together for the last few years.
V1 had been showing my work at art fairs in Europe, and that had gone well. I think, besides New Zealand, Denmark has got to have one of the friendliest populations I have come across in my wide and varied travels, so it was super fun.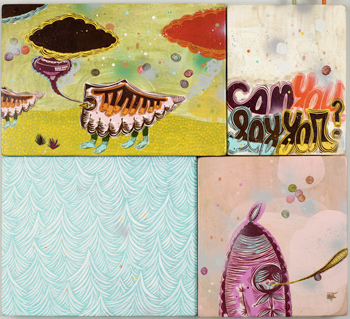 So who did the video, and curated the music on the video? I know you are involved in music, so are you a responsible party? I really like it. And who's the band at your opening?
Alex Kopps made the video piece about the making of the show. I work with the shoe company Gravis being an artistic ambassador, and they funded the making of the piece. Alex filmed it all, we edited it, and figured the music together. As well as being a great artist in general, Alex can make really cool video stuff. He is really talented.
All the music is from Galaxia, the record label I do with my friend Greg. The first song is Ray Barbee and the Mattson 2, a drum solo with Jonathan Mattson, then one with the whole band, called "Speaker Breaker." Tommy Guerrero and Money Mark played on that track. Then there is a Black Heart Procession track from an EP they did with us, and the final song is a Mattson 2 track from there Introducing EP.
Oh, and the band in the making of video at my show was Ray Barbee and the Mattson 2. They were in Holland playing a few dates with my last surf film, "The Present," and we ended up tacking on the show in Denmark, which turned out awesome. They played a few times in Copenhagen and people were really excited. They were ripping. They are super fun to see, like modern punk jazz live.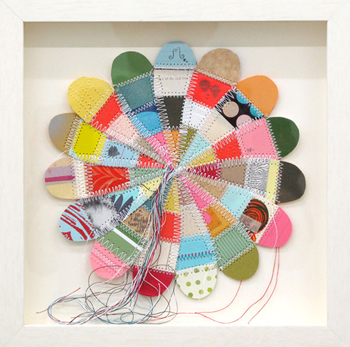 You've had very successful shows in Europe, whether its the Netherlands, France, or now in Denmark. What is the connection that you feel there?
I am not sure, but I'm thankful they seem to enjoy it. I guess I don't question it, just try my hardest and things seem to happen and work.
Who is the guy in the video who is casting those figures for you? Where was that?
That is Shawn Manoghan. He is my bronze master and has a foundry near were I live in Santa Cruz. I have been working with him for 4 years now, and he is a super cool, talented cat. Funny enough, he is a long-time Burning Man participant, and he always shows me his pictures and explains everything to me about some of what goes on there.
I have never been there, but it seems like people are really going for it on big art installations way out there, and then burning the shit down. I enjoy living vicariously through him.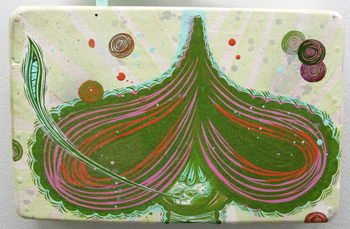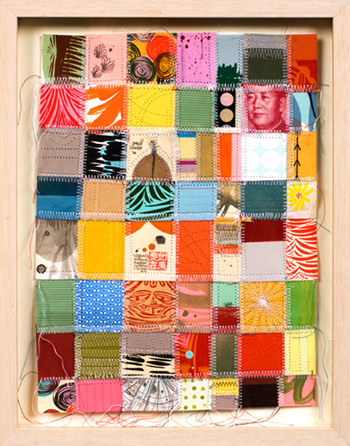 Okay, when I stayed in Copenhagen for two weeks, I ate a lot of seafood. How about you?
I like the funny little sandwiches they have with pumpernickel bread, mayonnaise, and shrimp or fish, but shoot they're not cheap. But they're so good and make you feel great for breakfast. The food is super good there, and the skate park.
Is that surf in the South of France? Was it any good? Was the South of France just an inspirational stop over, or do you go there to paint often?
Yes there was and are really fun waves in the south of France. Sometimes I like to go to some places like that to try to get in the water and focus on working on smaller pieces and work on paper before a show. Actually I'm in mainland Mexico right now with my wife doing the same thing, getting in the water a little bit and focusing on some of these new cut out wood piece I have been doing. I just travel with thin wood vinears.
Currently I am getting ready for a solo show on April 1st at the Gregory Lind Gallery in San Francisco, so these little get-aways help create a focused situation. At home in my studio, the bigger piece or sculptures are calling to me, so it's nice to have fewer options and just get down to business on the little stuff. Oh, and go surfing too. It's mostly a good balance.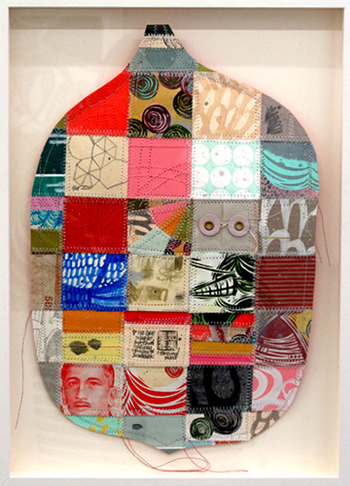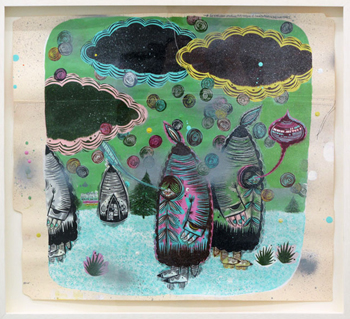 Are you going to have Alex Kopps do more videos for you?
I am not sure about that, but he has been making a surf movie for the last few years called "Displacement" that I think it is gonna be really amazing. His humor and sarcasm really translate in some of his video work. He made a really cool music video for the Japanese Motors for their song "Better Trends" —I think you could see it on YouTube or the band's MySpace page.
Any parting words from Mexico?
Ummmmmm, ahhhhhhhhh, yeaaaah.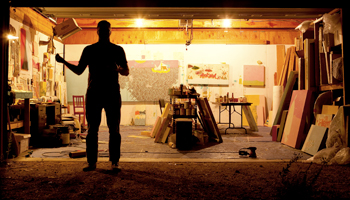 Read another great feature by Mark Whiteley and see more artwork from our sister magazine, Slap.
All photos by Mark Whiteley.