Exclusive Interview with Rocky Grimes
Juxtapoz // Wednesday, 15 Jul 2009
1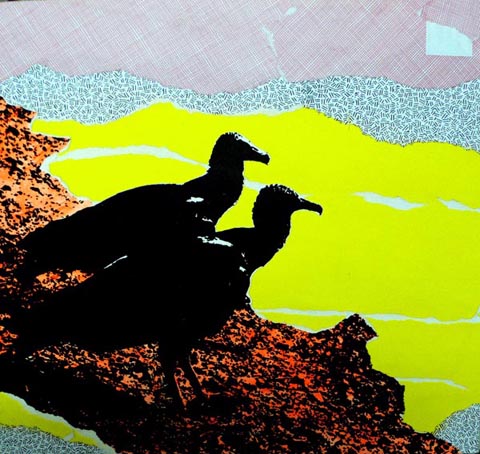 Rocky Grimes is a self-taught artist whose methods of creation may seem archaic to some. His do-it-yourself methodology is one that is becoming rare in this day of the quick buck, mass efficiency and max profit. He is all about the process.
And he brings process to the people.
For 2008's Art Basel, Grimes took to the streets and performed live screenprinting as part of an interactive installation called RAW. Live creation is something that R. Grimes continues to do regularly (currently eight to fifteen times a year) effectively inserting the human element in his craft.
Read below for an exclusive interview with the artist, and make sure to check out his profile in the brand new Juxtapoz Poster Art book.
Interview and intro text by Elise Hennigan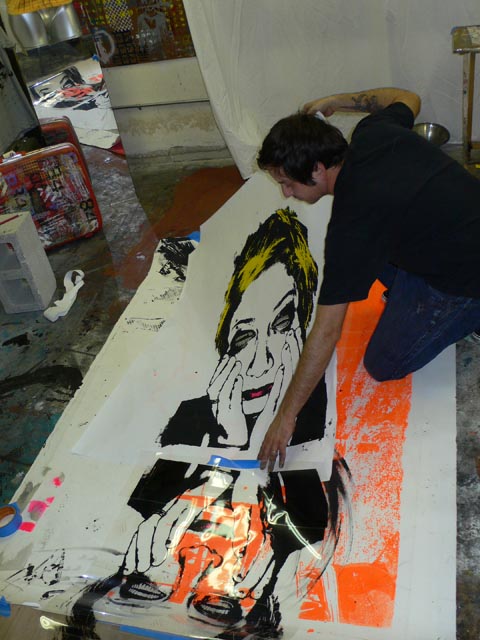 How would you describe your methodology for creating art?
I would have to say it is personal, unorthodox, yet simple. I don't really follow the rules of screen printing. I build my own frames that are often warped. I transfer my own images to my screens through a rather archaic method without the use of expensive high-powered machines. I use images that I produce from photographs of my own vs. sourcing material. I have very hands-on approach.
What is lost when prints are mass-produced?
Spontaneity. Happy Accidents. My criticism of mass production lies more on the side of production and consumption and the side effects of living in a society based on mass production. Not so much whether or not a print is mass-produced.
I look at my project, Faction, as a challenge to structure and monotonous outcome of mass production. Continuing, mass production is ingrained in our society. So, unless I choose to live off the grid I will always be a part of a world based on mass production.
However, I will continue to confront the concepts of mass production through live interactive screen-printing and my project Faction.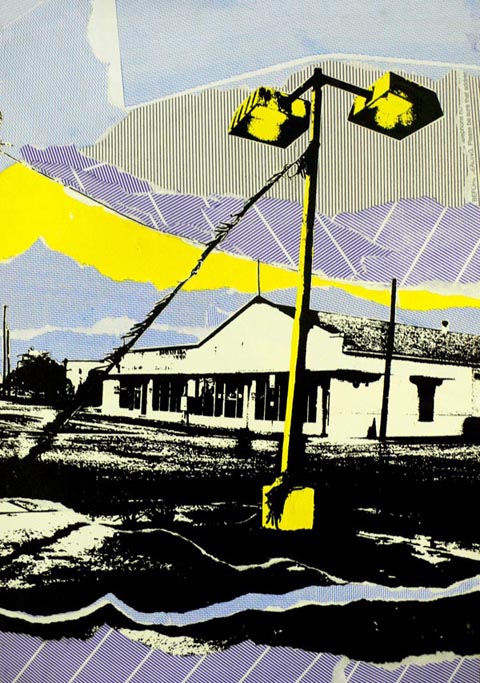 Tell me more about your project Faction. How and when did it come about?
Faction spawned out of the death of, Trash Rape, another project I used to do with my friend Dustin. I was moving and it was not going to be logical to keep the project going over a long distance. So, I believe that was around 2003.
At that point I started to print stuff that I would go and buy at the thrift store. I would buy up vintage handbags, ties, suitcases, vintage shirts etc. and print on them and sell them in boutiques.
The goal of Faction has never been to be this huge line of clothing and accessories. Rather, a concept. It is a resistance to mass production or the means and paradigms set forth by the repetitious system. Each piece (t-shirt, handbag, and tote, whatever…) are treated more as a part of a concept rather than an end product.
It is the methodology that makes Faction what it is.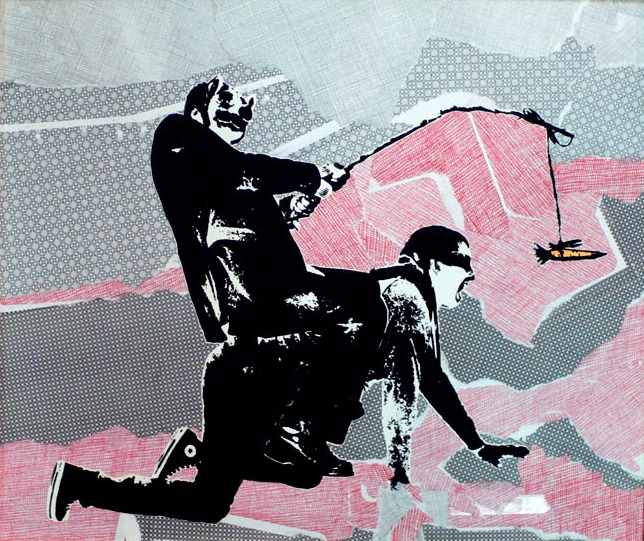 Who is involved now?
From making the images, to building the silk screens, to printing the pieces, to tagging and shipping the stuff out, I do it.
I do sometimes get a little help from my wife, but only on the tagging of items. There was one point where 7,000 shirts had to be printed and then I had to call all the friends I had to help me. They were all hand printed without a press or a dryer and each shirt got three different images and three different colors of ink. It was a very physical experience.
What is unique about your process?
I suppose I am a bit stubborn. I like to personally build the silk screens I use. I also like to transfer my images to the silkscreen using a method I like to call "slow burning" vs. paying for my silk screens to be made.
This way I have control over whether or not I should interfere with any flaws that may occur in the process. Whereas, if I were not involved in that process, I would be left out of part of the decision making process.
When it comes to printing live in an interactive environment I do not use a press and therefore use the silkscreen more as an extension of my body. Thus, causing each piece I print to be a spontaneous unique piece vs. a rigid and formulaic piece.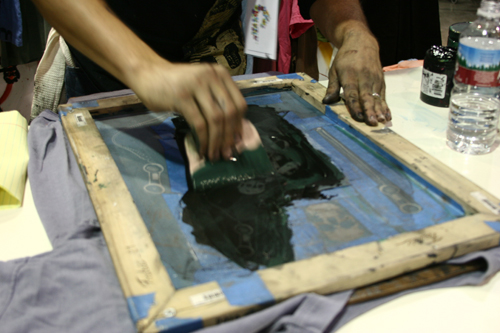 How often do you put on live screen-printing events?
It has varied over the years. Currently, between eight to fifteen events a year. It has been more and less in the past. I seek to print live in boutiques, clubs, tradeshows, and galleries that aren't going to try and dictate what art is going to be used or how the printing is going to be done. Or I will just wheel around in the streets and print. I am currently working on starting a monthly printing session at the Vagabond in Miami. Hopefully, it will start in August or September.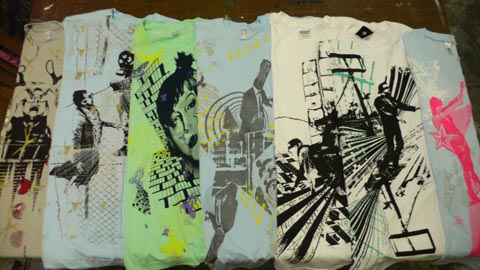 What about live, interactive printing appeals to you?
The ability to demonstrate the process of production with the barriers removed from producer and consumer without the expectation of all those who observe will consume monetarily.
I approach the act of screen printing live as an art installation where those observing play an active role in the experience through dialog, criticism, praise, questioning, consuming, avoiding, etc.
What are you influenced by?
I am influenced by my external and internal world. My family. Foreign and Domestic policy. The experiences I have on a day-to-day basis and the emotions elicited from those experiences. My past, present and future.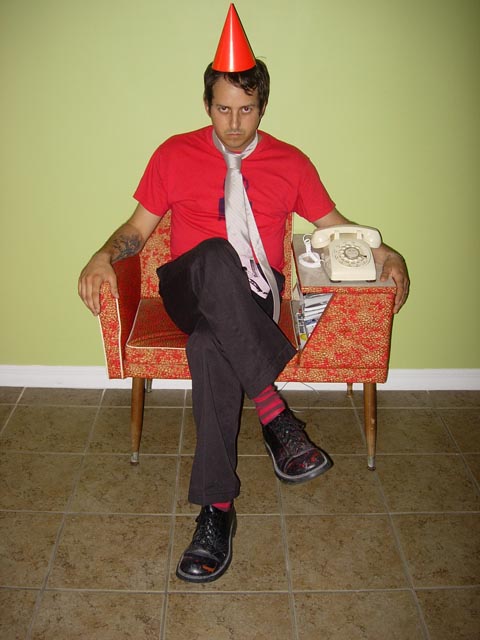 Do you try to convey a message with your art?
Usually I do. However, it is usually done in some subliminal way. Furthermore, images are so open to interpretation. When I share my artwork, I don't expect everyone to derive the same meaning that I do. I hope my work causes people to think rather than feel as though they are being dictated some meaning. That said, my work usually does address some concept and is represented visually through images. The concept and message is not fixed on any one subject.
Is there a certain type of subject that you like to portray?
Mostly I like to portray human conflict. I suppose my art is like creating a fictional world based on experiences in a more tangible world. Thus, applying the literary concepts of conflict: Human vs. Self, Human vs. Society, Human vs. Nature, Human vs. Supernatural, Human vs. Machine / Technology.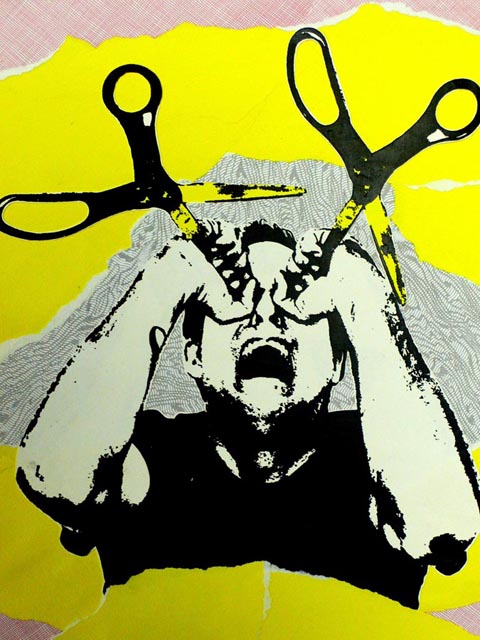 What is the most important thing that you did to launch your career as a screen printing artist?
Put a hand-printed vintage handbag into a small independent boutique in Miami called M80. It is long gone. Also, to continue to build relationships and constantly work.
What direction do you see your art going down the road?
I see my art moving in a more diverse direction, utilizing motion with images, pushing the medium of silk screen printing, and actually reproducing some of my design work, but not a mass produced scale. I do have some limited prints coming out later this year with Poster Child Prints. I see myself continuing the conceptual side of my live interactive screen printing, but see some experimentation in the future.