Exclusive Interview with Poster Artist Steven Harrington
Juxtapoz // Thursday, 09 Jul 2009
1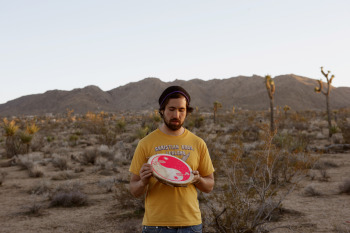 The Juxtapoz Poster Art Books are fresh off the press and look f***ing awesome.
To give you a little taste of the artists featured within the book's 208 glossy, attention-demanding pages, we are going to be delving into the hearts and minds of some of the book's featured artists. First up? An exclusive interview with artist Steven Harrington.
In Steven's work, mismatched illustrations of spider webs, ampersands and fruit combine to form colorful patterns that playfully address social ties. The objects, drawn inside triangles and square, occasionally spill over and are laid out in a way that recalls a puzzle or a game of "Chutes and Ladders"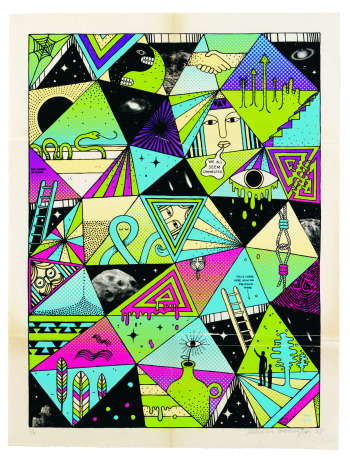 Although he does often do work on his computer, (especially when drafting for his design agency, National Forest), Harrington prefers to keep pen and notebook within arm reach. "I feel it's very important to always let my viewer know that there is a human being behind the work."
Viewing his work you can definitely see the human element. Whimsical, winky faces, bright colors, and hand-crafted figures all nod back to a man who is passionate about connecting people through his work
Read below to check out Jamie Kim's exclusive interview with Steven Harrington.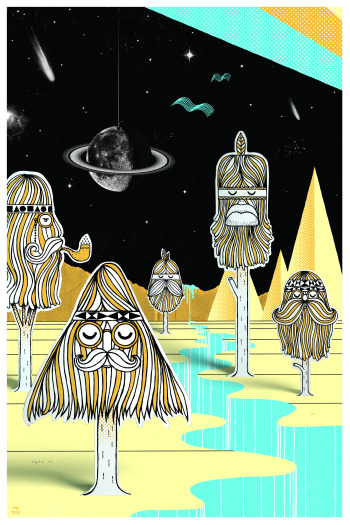 LA life. Love it? Hate it? Can't get enough of it?

Ah, L.A. life…
Los Angeles, like any other metropolitan city has its pros and its cons, despite its drawbacks, it's still home to me. Aside from the unpractical urban planning and public transportation system, it has a very unique landscape.
The vastness and sprawling culture of L.A. hold a particular mystique and charm that is close to me. With its convenient geographic location and radical weather, there are always new destinations to be discovered. The sun is shining most of the year, the ocean and mountains are 25 minutes away, and there is such a thriving mix of cultures. That's all I need; I'm not complaining.
Three words to describe your art:
You and I.
How did you end up in the land of art? Did you have any childhood dreams that were completely opposite than your current reality?
To be quite frank, I'm still trying to make sense of it all. I constantly find myself wondering what 'the land of art' is. Since I can remember I've always drawn or painted. I have always had 'side projects,' it's just my personality to keep busy. I kept on living and constantly made things, this is of great significance to me. Finding that personal time to reflect and question things is really important and keeps me grounded as a human being. The result of that personal time in my life turned into making images. In my younger days, I dreamt of everything but art; being in a band, being darth vader, wondering how it would be to meet my dad when he was my age…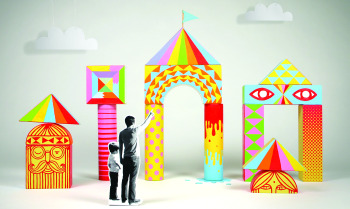 There are many unique faces and characters in your artwork. Do you have any fun pet names that you refer to the individual, reoccurring characters? Where did they originate?
A lot of the faces and characters represent a general sense of optimism.
Much of my most recent work loosely revolves around the idea of connectivity and community. The characters also represent the various cultures and personalities within my life. I have named several of the characters due to the fact that I have to come up with file-naming conventions and whatnot. One character is named Eli (after my sister), another character after my old liquor store cashier "lew' and so on….you get the idea.
From artistic conception to the final product – what is your creative process?
It depends on the project, sometimes I prefer a more tactile finish and in other moments I prefer a cleaner, more simplified image.
In terms of process, really, all I need is a pen, a piece of paper and a table to start my projects. Some ideas are scribbled in a sketchbook I keep next to my bed. Most of the work I make at the design studio (National Forest) for clients is created within the computer, so I love being able to make things for myself by hand. By the time I get home to work on my own art I reach for a pen before a keyboard. I'm not saying that I don't use the computer for personal work; I've just recently made an effort to try and do more drawings instead. The balance between the digital and the analog is a fine line. I feel it's very important to always let my viewer know that there is a human being behind the work.
Your art doesn't always stick to the regular canvas. Prints, t-shirts, mugs, plates, skateboards, USB flash drives—are there any other surfaces you'd like to use but haven't had the chance to?
I've always been a real fan of the screen-printing process and aesthetic. A lot of my work is color-separated and designed for screen-printing. I don't mind embracing the fact that my images can be printed over and over or on various surfaces. I like the idea of printing my images on different media aside from just a simple canvas. In terms of other surfaces that I haven't applied imagery to, I'd be really interested in creating three-dimensional sets for a large-scale fantasy play or story. It would be radical to build a life-sized world of fictional environments using old world wooden gadgets.
I'd also like to design a really large public art installation.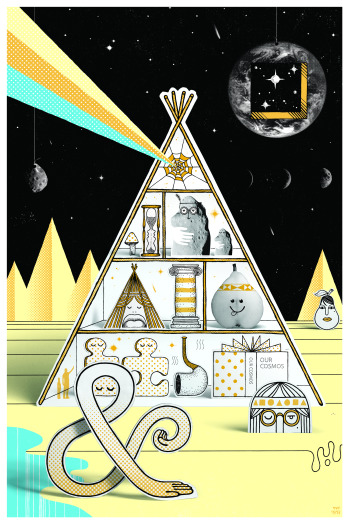 Does your artwork tell a story or have a specific message?

My childhood has had a tremendous influence on my work so it's an ongoing personal theme. I constantly find myself digging back into 'memory banks' for inspiration and ideas. I feel that young people have a natural ability to see the world around us; they relate to objects as if they were alive with character.

As an adult you are taught quite the opposite: wood is dead, fruit cannot breathe, the wind isn't a person, the only thing of relevance is a human. I want to see the universe with youthful eyes. A time before reason, logic, and science were a part of the equation. It seems like somewhere along the way most of the westernized world has lost the sense that fire, mountains, water, rocks and the whole of nature is a dynamic living organism.

My process is very intuitive; the messages or philosophies I work on are constantly evolving as I continue to grow as an individual. At the moment, I prefer creative freedom in my personal work so the concepts and ideas are different from piece to piece. Many of the meanings or messages are often revealed after the piece is created. When creating personal works, I like to keep most of my ideas fairly subtle or ambiguous. I think it's essential to let the viewer make their own assumptions about what is conveyed within a body of work. Another person's interpretation, according to the individual's experience, is very interesting and significant to me.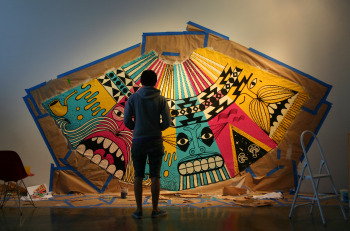 Is it challenging to juggle projects for National Forest and your personal art? How do you find time to kick back and relax?

It can be extremely difficult. it's easy for me to engulf myself in a "work world." I used to work 12-14 hr days consistently for several years straight. If I don't get away from the studio enough, then I just end up making art about art, which isn't very interesting. Now I've set up a schedule where I force myself to get out into the real world to experience things. It helps to keep things exciting and engaging. It sounds pretty simple, but can be very challenging.


Craziest, most interesting place that your art has taken you?
Last year I went on a month-long, European art tour through Paris, Berlin, Milan, and Barcelona supported by Sixpack France and Element Skateboards Europe. We had to screen-print all of the artwork in editions since the show hit so many different places. Since it was primarily a print show, the pieces had to be able to be packed up and shipped easily. It was really amazing to get out of the U.S. for a series of gallery shows. It's easy to get wrapped up in a comfort zone at home. It was nice to travel to a different continent and have my work embraced by a completely new audience. The food was a plus….


Who is your favorite artist of all time?
My mom.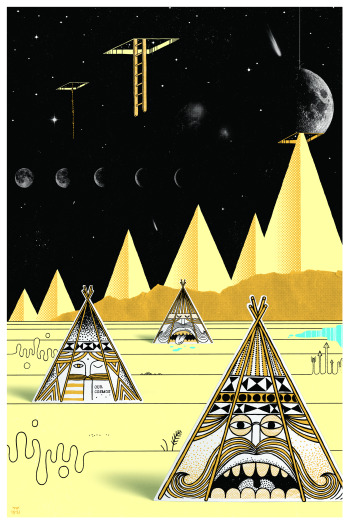 Do you jam to any musical beats while you're working?

Definitely! Most of the time I find myself wishing that I were physically jamming (dancing!) to musical beats rather than just listening. As far as recent musical interests go… I've been on a consistent David Byrne streak for some time now. I'm really digging all the Talking Heads albums, specifically the 'Speaking in Tongues' material. The 'Stop Making Sense' film is epic too.
I'm also a massive fan of Jamaican tunes, so dancehall and reggae are on heavy rotation.


Lastly, what's next? Do you have any interesting projects that you're working on and want to share with us?
It's hard for me to decline interesting projects so it seems I'm always working on something. I'm slowly but surely making new work for an upcoming art show scheduled for September. I have some really big plans with the ever-growing Arkitip publication later this year (Possibly with Paris being involved?). I am constantly making new things for 'Sixpack', the French clothing line, and also working with Jamie Strong and Chris H. over at Stones Throw records on a limited 'Do-Over' release scheduled to hit this summer in Los Angeles. I'll also be releasing a special project with the radical dudes at Kidrobot…. And still trying to learn Spanish?

--Interview by Jamie Kim
--intro photo by Brigitte Sire
For more on Steven Harrington's work, check out his site...