Exclusive Interview with Mode 2 Part II
Juxtapoz // Thursday, 01 Oct 2009
1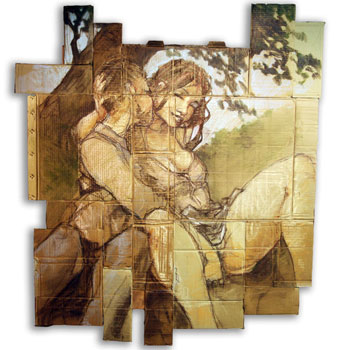 European graffiti legend Mode 2 (
Juxtapoz cover #77
) is known for his erotic imagery that teases, shocks, and tempts in more ways than one. Mode 2 has changed the face of street art and graffiti through years of hard work and dedication. His latest show,
Reality, Fantasy, and The Web,
is now on display at Lazarides Newcastle. Learn more about this bold artist in Part II of a revealing interview. [Caution: the following feature contains mature imagery that may not be safe for work or young eyes.]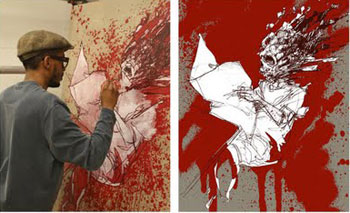 Chris Osburn: Care to talk a little about your artist-in-residence stint at Coco de Mer, where you painted customers from the vantage point of a cubby-hole in the changing rooms? How did that gig come about? How was it similar/different to working on a piece of street art?

Mode 2: My relationship with Coco de Mer goes back to December 2004, when I made a proposal to Samantha Roddick about doing some art projects together. We never had any definite ideas of what or where, but it started out with these artist-in-residence sessions, where I would do sittings with some of their clients or some members of staff, in the larger one of their two changing booths; making drawings of them in pastel on colored A2 paper.

The room itself is very small, and it's hard to get any distance from the model, unless each of you tucks themselves into diagonally opposite corners. It took me a while to get used to, but some of the sittings turned out quite nice; not necessarily because they were longer or more recent one from another. Sometimes the flow and the feeling between the model and yourself is just more fruitful in some way, and the chats that we have tended to have a mildly therapeutic touch to them; for me at least anyway. It's strange to listen to what some guys think goes on in these drawing sessions, but how far away from their fantasies the truth actually is.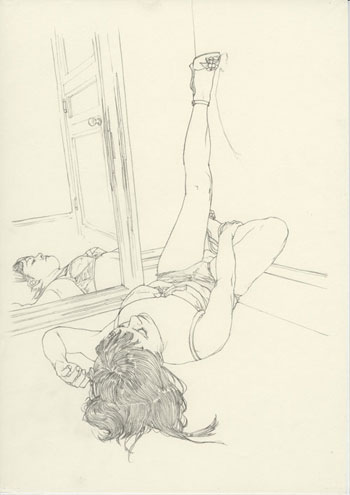 In reality we are both there looking to end up with an end image that we're both happy with, that the model has enjoyed the sitting, and that during the process itself we managed to deal with such things as tired limbs or strained muscles, or even moments of fainting, from the fact that certain positions cannot be held for long periods, especially when you're standing in heels and so on, in this small room with little ventilation.

The pastels themselves are not that small, those "Carrée Conté", so there's not that much definition that you can actually get anyway; and I also had problems with some models being too fidgety, or else some needing to have their mobile phone on, and answering calls from their next meeting, their employer or their landlord and so on. We could only work during the store opening hours, so this was quite tricky to manage.

These are the factors that make this so different from any "street art" action; as street art in itself is something of its own, and open to a whole other spectrum of determinant factors and parameters, to do with available lighting, accessibility of the target, the weather, and the level of illegality.

We have been trying to get a calendar together of a selection of these sittings, but have again not been able to meet the deadline with the printers, with the available budget for what could be a risk-taking venture affecting this project. I'm hoping at some point during 2010 to make a collection of boxed limited edition prints from the best of the sittings, with the help of the Lazarides gallery.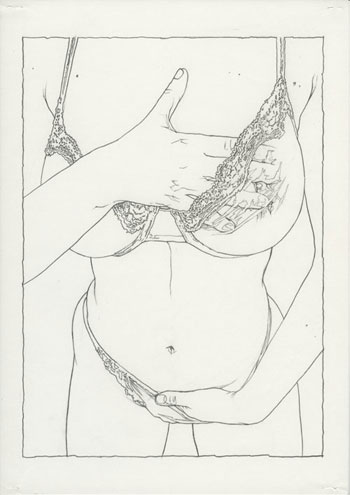 Do you have any special shows, projects or events lined up for the near future?

I just finished a show called "Reality, Fantasy, and The Web", at Lazarides Newcastle; where I have again been exploring my own boundaries with regards to eroticism, sexuality, and the rapport between the two sexes around these themes. I also decided for the first time to put drawings up for sale, as I began to realise that for many people, buying an actual painting is out of their budget range, or buying anything erotic in nature would be more "practical" for them if it was small in size.

I have begun using cardboard as a medium for painting or pastels, recently, as it just seems more fun and appropriate, as well as being readily available at no cost. The thick cardboard boxes, once opened and flattened, can be cut up into different shapes, because of their panels, and used in a modular way to build a surface of whichever size or shape would work best with the subject matter.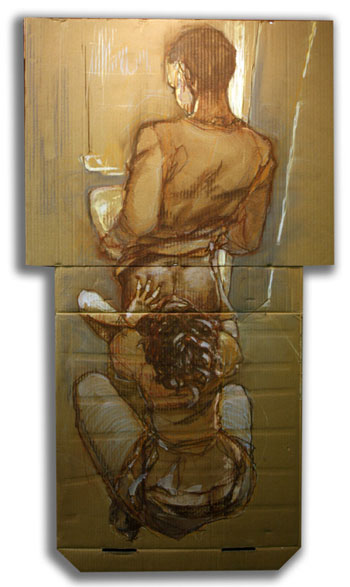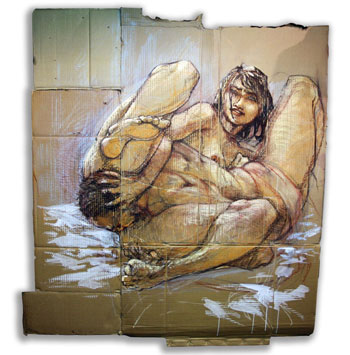 Other than this, I work still, as every year, with the Battle Of The Year, in Branschweig (Germany), making the poster and helping out on the organisation and the concept of this international b-boying (break-dancing) competition.

At the moment, I'm about to release some new limited edition hand-finished prints with Lazarides, while also preparing some work for their upcoming group show in Madrid.

Still, I would rather be getting commissioned work rather than just doing shows and exhibitions; though painting performances like the Latitude Festival or Way Out West in Gothenburg are still very interesting. Commissioned work however, means that you have a client with a set brief for you, as well as an agreed price; and you must find away together for both parties to be happy with the result. Given the fact that there is a whole range of products and brands that I wouldn't work for, this automatically excludes me from a lot of potential work that's out there.
Such is life though, and you can only stick to your principles, keep on going, and try to innovate in whichever way you still possibly can.

If you didn't yet read Part I of this interview with Mode 2, do so now here.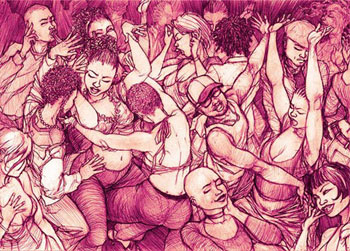 Reality, Fantasy, and The Web runs until October 10th, 2009 at Lazarides Newcastle.

More on Mode 2 at www.mode2.org