Exclusive Interview with Mike Kershnar
Juxtapoz // Tuesday, 14 Apr 2009
1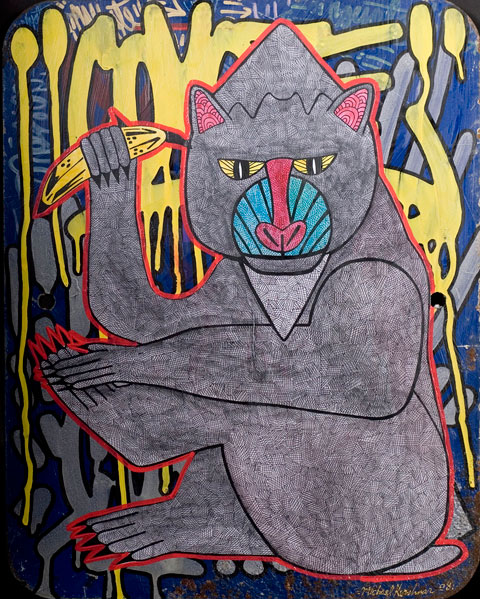 Whether Mike Kershnar's artwork graces canvas, skateboard, paper, or sneakers, one thing is for sure: this guy's organic imagery speaks to us (and not just because it often includes monkeys.)
You may recognize his work from some of Element's graphics, as well as from the front of a new Juxtapoz tee. Get to know this artist and find out why he has been drawing with his left hand for the past 5 weeks in an exclusive Juxtapoz interview with Mike Kershnar below:
So you just got to do a shirt for Juxtapoz. Tell our readers about the concept behind the graphic.
The concept was the current movement of art that Juxtapoz represents. The mandrill ape picked up Warhol's Banana and is menacing it like a knife. It is post-pop neo-primitivism, with a nod towards street and folk art. The crosshatching is the meditative aspect and pays respect to classic illustration styles. In short it was my take on the current young contemporary art movement that I see in the mag. I was really stoked to get to a shirt for Juxtapoz.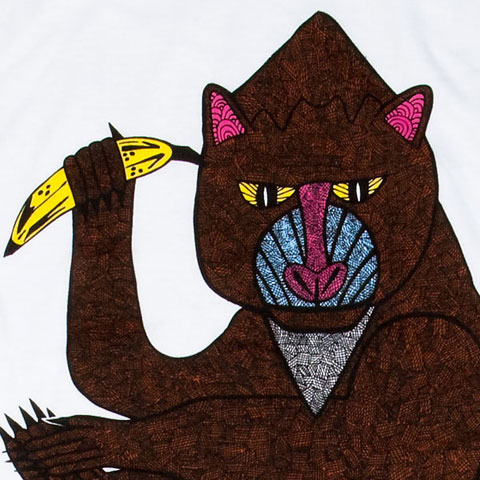 You just moved to Berkeley, California. How do you like the East Bay?
I really dig the lifestyle up here. There are so many rad coffeeshops, places to eat, and a killer skate park, all within biking distance. The art scene seems pretty tight knit as well. There is a cool little artist gallery/ collective called Firehouse North and they have a pretty groovy little spot two blocks from my pad. Those cats got me involved with a figure drawing group that meets at UC Berkeley, and that has been super fun and inspiring. My new goal is to get a MFA from the University.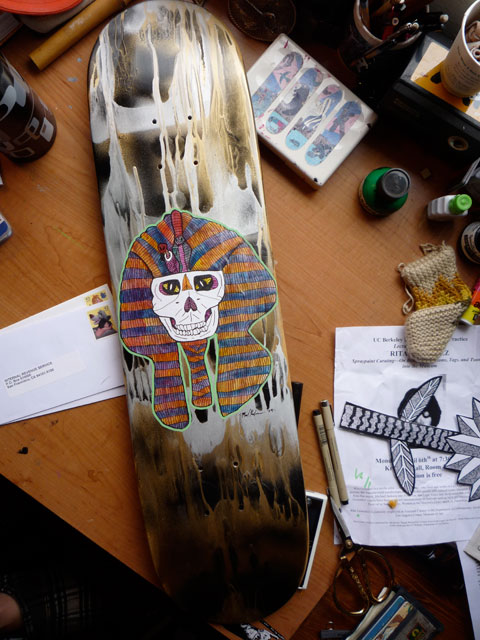 How is life as an artist with a broken clavicle?
I was down south biking to Element to pick up a tee I illustrated with a motorcycle on it, when I hit a big crack and my quick-release wheel popped off. I flew over the handlebars and broke my right collarbone in half. I am just thankful there was no brain or spinal damage.
So for the last 5 weeks I have been doing all my art left-handed. It has actually been pretty fun. I did figure drawing with brush and inks switch stance, illustrations of a king tut skull, a unicorn, and even a painting called Sacred Canine all left handed. It has been pretty crazy, a kind of in utero feeling. Like waiting to be born and do art normally again. I just try to see it as a gift and opportunity for growth. Sometimes wonderful things need to be sacrificed in our growth processes.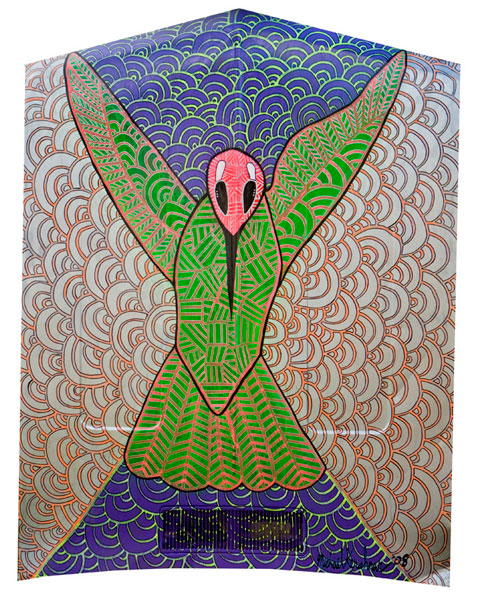 Who is your favorite artist of all time?
Robert Crumb without a doubt. He is a master storyteller and illustrator. Crumb is not afraid to put it all out there and have it be funny, beautiful and provocative. I appreciate all his facets, his obsession with the act of drawing, and his deep questioning of the spiritual, sexual, and mundane, as well as the art he does with his wife Aline. I would love to meet him someday. He would probably be more interested in me though if I was a young co-ed with powerful legs and a shelf-like butt that defied the laws of gravity.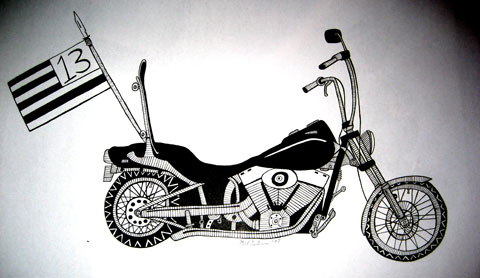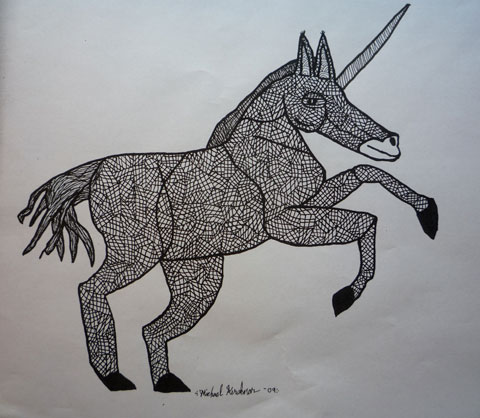 What exciting projects do you have coming up?
Johnny from Element hit me up about a pretty amazing project that would involve a few of my artist friends and I going deep into the mountains and creating art out there. It would be art in the literary tradition of Therou, Whitman, John Muir, and Edward Abby. Art created deep in the mountains while cooking food over an open fire and sleeping under the stars. Not to reveal too much but it would be documented in video form and have a physical gallery opening that would incorporate the film, photography, and some of the original pieces created out there. I am really excited about this project and we are set to film in August. Until then I will just continue my healing process, create, and stay inspired.
Bless.