Exclusive Interview with Liz McGrath: Women In Art and More
Juxtapoz // Friday, 09 Apr 2010
1
Katie Zuppann: Your latest project involves work for SUBject/subJECT, a group exhibition opening April 10, at LA's Subliminal Projects. The show is unique in that it's an all-female lineup. What inspired you for your piece(s) in this show?
Liz McGrath: Often times the themed shows are the hardest for me to come up with anything for, because when it comes down to it I'm not really an artist, I'm more of a craftsperson. I can't always defend the things I make with some kind of philosophical reason, but with this show I felt that it was asking for the artist themselves to be the role model, so for me it was the act of making the art and knowing that I have come so far in my life to even be here to do this.

I got married when I was I was 18 and was involved in a very abusive relationship and I actually went to a battered women's shelter when everything seemed so hopeless. There was no where else to turn and they gave me the courage to completely change my life, so for me this was a really special show to be a part of.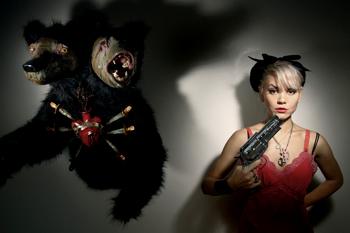 Part of the show's focus is on women's role in mass media, an area that continues to be hotly debated. What are your views on the depiction of women in the media? Does this translate into your art generally, or did you try to target it for this specific show?
I think that now there's so much selection of where and how you can spend time in the mass media. You can avoid or indulge yourself in the lives of different women, from Paris Hilton to Hilary Clinton. I think that especially in the last 10 years or so women have really exerted themselves in leadership positions in the media, Oprah Winfrey being a very good example.
I mean, there is a lot of frivolity in the media and that makes everyone mad, especially when there are people dying all around us, and the media can be evil.
But the media has also taken time to expose crimes against women. I feel like the media is ours and we can control the media. We have the power to give attention to it or not (and I got that from a teenage girl!)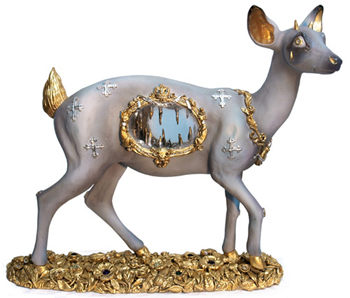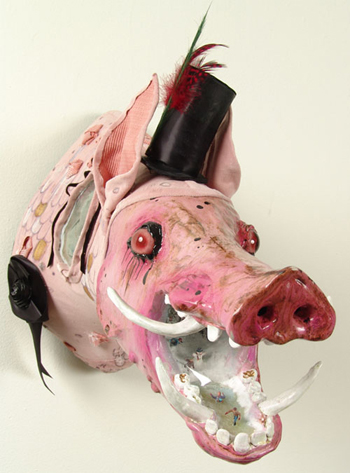 You husband, Morgan Slade, is also an artist. His photographic work typically involves sexy, scantily clad women with various masks on. What's your take on his work- both in the context of this show at Subliminal, as well as on a larger scale?
The female body has been celebrated forever in art and I feel like he's been able to explore this in a taste full way. The photo shoots are really fun and I think that because the photos are coming from an environment where everyone is having a good time and people feel anonymous, because their faces are covered, they come out really natural and playful.
Without relying on facial features to express an emotion, he is able to have the body to express it, which is hard to do with a giant head on! He doesn't Photoshop their figures; it's all them so I feel like everyone comes away feeling more confident about themselves, and hopefully that makes the viewer feel less intimidated by the female figure. He's not only shooting women though. We just haven't found any guys who wanted to pose. So if there are any guys out there who want to do it email him!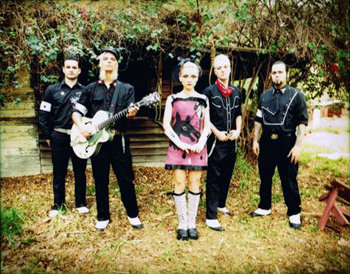 Liz and Morgan's band, Miss Derringer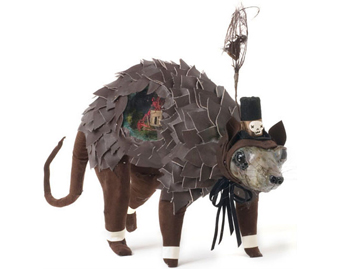 Your work maintains a macabre air. Do you see this mood as a translation of anything (emotionally, mentally, or anything else) inside of you? Do you use your work as a sort of purging force for any negativity inside you or is it just your preferred aesthetic?
If I have a lot of tight deadlines, like this last week, I'll go on deadline autopilots panic, and it's almost as if they just make themselves. I kind of go into a trance and when I come out of it, there they are.
I think it's because all the Catholic kids were Goths, so from as early as Sunday school it was a heavy influence. I grew up in the Tim Burton era-and my dad worked for the LA county morgue and never missed an episode of Elvira. My aunt was a witch, so I think my perception of macabre is like faces of death over the top, compared to maybe what most people are used to.
I think it's more of a style thing over an emotion but I'm not purposely trying to steer it there. In fact, when I have time to really sit down with a piece, I try to purposely not lean on that aesthetic, and its really hard for me!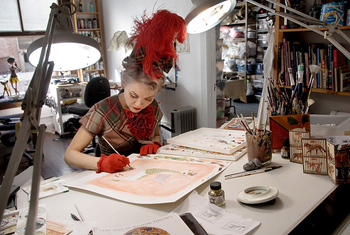 Last year saw you on tour for months with your band, Miss Derringer. What do you have planned for the rest of 2010?
I'm working on a series of animatronic installations with artist Brian Poor around locations in Los Angeles. I'm in a few group shows. In May we're going on an East Coast tour with the Reverend Horton Heat and Cracker.
Then in August I'll have some watercolors at the Roq la Rue gallery in Washington, and we're working on an animated video that hopefully will be done by the end of the year!
For more information on Lis McGrath, visit www.elizabethmcgrath.com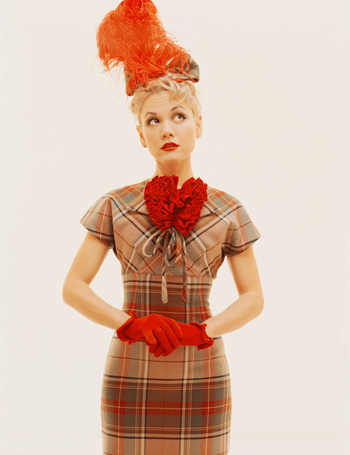 SUBject/subJECT
An exhibition of female artists benefiting the Downtown Women's Center
Opening Reception: Saturday, April 10th, 2010 / 8-11PM
Exhibition Dates: April 10th - May 8th, 2010
A closing event will be held on Saturday, May 8, featuring performances and more.
SUBLIMINAL PROJECTS
1331 W Sunset Blvd
Los Angeles, CA 90026
T: 213.213.0078
www.subliminalprojects.com