Exclusive Interview with Korin Faught
Juxtapoz // Friday, 26 Jun 2009
1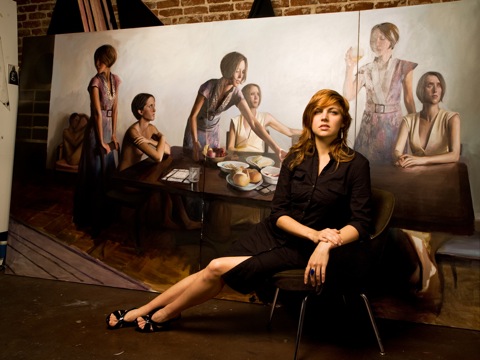 In anticipation of Korin Faught's solo show, Echo that opens this Saturday, June 27th at Corey Helford Gallery, Juxtapoz contributor Elise Hennigan caught up with the leading lady to discuss mood, space and process.
Korin Faught produces hauntingly beautiful oil-on-canvass portraits. Ambiguity and displayed restraint—both on the part of the models and the artist—allows a sense of mystery to shroud her works.
Faught elegantly layers narrative, texture and mood, capturing intimate moments of her subjects. Nothing is overt or one-dimensional. A visit to Faught's work is a glimpse into a world of beautiful, puritanical beings that do not allow their expressions to betray emotion. It is a mesmerizing place that you will want to visit again and again.
For Korin, the painting step of her creative process is the "long and tedious" part. Although her finished products are clean, skillfully rendered works, it is clear that she shines in the stages leading up to the final product. It is the work done beforehand—costume design, staging of models, digital manipulation—that distinguishes Faught's work as uniquely her own.
Read on to discover more about this alluring lady.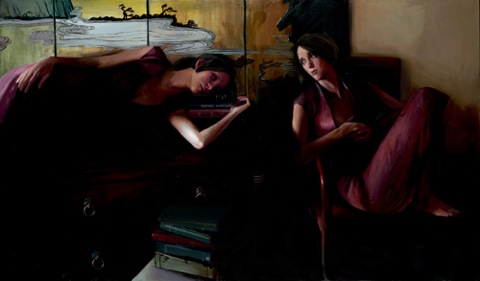 How are you today?

I'm good! I'm very anxious to hang my show.

Can you describe your creative process?

I work in two parts: the first part is photography. I'll start to plan a photo shoot as I gather inspirational clippings, collect fabrics, make drawings and find models. After the photo shoot is finished, I manipulate the photography digitally, making dozens of compositions to choose from.

The second part is painting. This part is a long and tedious process. I follow the photography very closely. I usually do not deviate from my photo reference after it's been manipulated.

What is it about multiples that intrigue you?

My process of digital manipulation lends itself to multiples. For me, it happened organically. Also, they're creepy…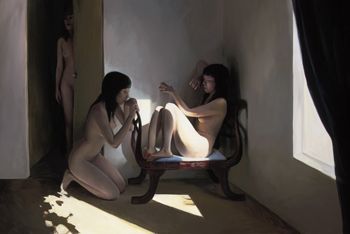 Viewing your work, I see an obvious flair for fashion. Would you say this has a major influence in your paintings?
Yes, the photo shoots are staged and styling my models is a major part of my process. I make most of the costuming by hand, so yes the fashion is something that would stand out as uniquely me.
What are some of your other influences?
I might be obsessed with Dutch painter, Johannes Vermeer.
A lot of your subjects are posed in stark, minimalist spaces. Is there something about indoor spaces that appeal to you?
Location is very important to my paintings. Doorways, dark corners, and light give mood, context and compositional elements to all my paintings.
You predominantly feature women in your works. How do you choose your subjects, do you know them?
Yes, they are my friends and family. I am very close to my models.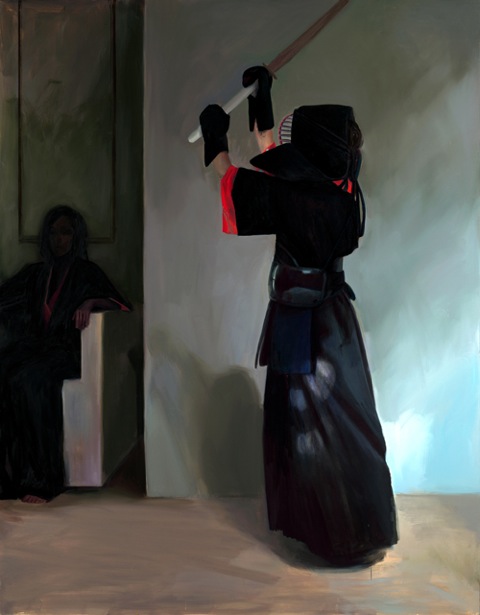 What do you do when you aren't creating art?
Either watching films or entertaining friends at my home.
What can we expect to see at "Echo", your upcoming solo show at Corey Helford?
Nudes, interiors, multiple figures, Asian influences.
Preview Korin's solo show Echo at Corey Helford Gallery here…
Studio portrait of Korin by Roman Cho.