Exclusive Interview with Jon Burgerman, Part Deux
Juxtapoz // Wednesday, 12 Aug 2009
1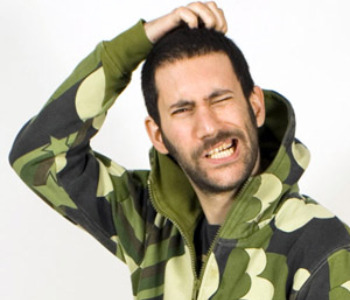 Interview by Cheree Franco
As promised, here is the second part of the Juxtapoz exclusive interview with Jon Burgerman. Previously, the master of doodling enlightened us about his work methodology and content. Today we catch up with Jon about his current gallery work and projects around Brooklyn.
As Jon enters his third decade of doodling (Jon just turned 30 on August 8), he's more focused on gallery work than product endorsement. In the past two years, he's exhibited in four countries, and he has fall shows scheduled for both Newcastle and Beijing. He also has two shows that open this weekend in New York—a group show at Factory Fresh and a solo show at Giant Robot.
Did you already have the New York shows planned before leaving the U.K.?
The Factory Fresh show was planned, that's a group thing that Jim [Avignon] is curating. The Giant Robot show wasn't organized until I was in L.A. And I didn't get to meet Eric [Nakamura] who owns Giant Robot. He had some kind of cat emergency, I don't know if that's a really good excuse—is that code for something?—but we were meant to meet at the L.A. store, but we didn't and it was fine because I bumped into Matt Groening, who created the Simpsons. He was just in the Giant Robot store, buying comics and stuff, so I chatted to him for awhile, he told me where I should go in LA, and I showed him my book because I had a copy on me. It was amazing. Very fortuitous.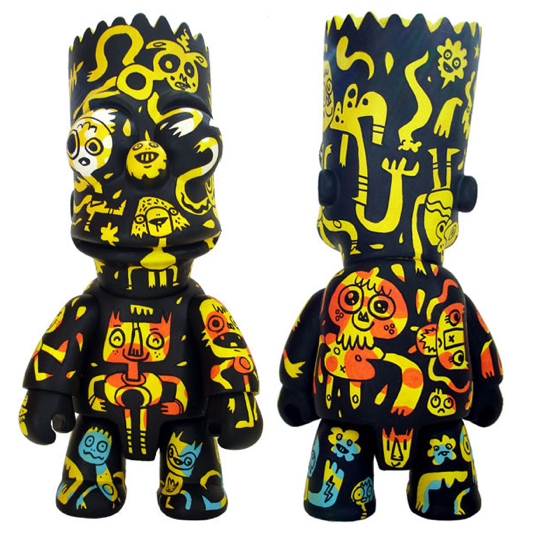 You recognized Matt Groening on sight?
Yeah, I am a bit of a nerd. That was good, so I met one of my heros in L.A. So Eric and I caught up by email, and he said, 'do you want to have a show in New York while you're there,' and I said 'ok,' so by the time I was going to New York, I knew I'd have the show at Giant Robot. But my whole summer's been unplanned, really.
Being in the band was unplanned. Jim and I, we'd done this song at the closing of Anxiety Room at Factory Fresh in February. I was back in Nottingham, but Jim wanted me to record something so I recorded this little poem about Factory Fresh, using my Mac microphone, and sent it to Jim. And he put it to music and played it as part of his live performance. He said everyone came up to him and said they liked my voice. And I said, 'they were winding you up Jim,' and he was like, 'oh no, no one said that about my voice, girls said you had a sexy voice.' I was like, 'I'm sure it's the accent,' so Jim said maybe we should do some more stuff. And I'm up for that, because I really like Jim's music anyway, so he lent me his ukulele. I spent a few days in the flat where I'm staying, learning how to play a ukulele, writing some stuff, going round to Jim's house and really embarrassing myself by performing it for him.
When I draw, I try to make things rhyme and hang together like the lines of my work—I think that's how I think, so when I write prose it's in a similar way. The songs are very pleasing, I try and rhyme, the words should flow and spiral off and be easy on the ear. And at the same time, some of the lyrics are a bit silly and obvious, and at other times they're weird and abstract and that's again, like one of my drawings. There are sometimes very recognizable symbols and icons within the work and other times it's looser and weirder, and you're not quite sure. Someone once called it the jam that sticks elements of my stuff together, like I have all of these weird intestines and bits and bobs and spaghetti and other stuff that's keeping my compositions together.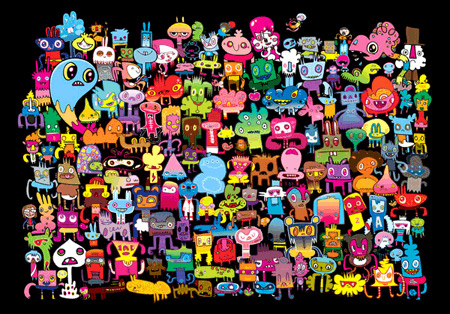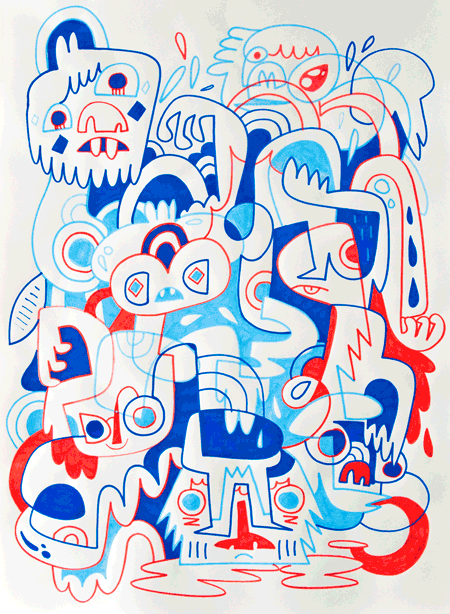 How did you end up painting the wall in Williamsburg, Brooklyn?
I put this thing on twitter a few weeks ago because I was worried I would be really bored this summer—it doesn't really happen like that does it? So I said, 'hey, if anyone's got a wall, I'll come and draw on it, in return for lunch or something.' Steve from Brooklyn Street Art and Jamie, those two guys have walked around Brooklyn, and they know what's happening in the street art world, so they know when a wall is empty. And I was actually proposing any kind of wall, it could be outside, it could be an office, could be a living room, and they were like, 'it's this wall outside the Front Room gallery on Roebling. You want to do it?' So I came over and did it yesterday. I got there at 12:30pm and ended at maybe 4pm.
The wall is technically "street art," but you got permission from both Front Room and the city, right?
Yeah, I'm not really a street artist. It was fun doing that wall, but it brought back these memories of 'aw, man this is why I never really got into this.' The surface is all broken and bubbly and uneven, and you're outside, people are talking to you, people are walking down the street. It's all kind of uncomfortable. I'm lazy. I like things to be comfortable. Working outside on the street is hard. I get distracted so easily. I feel a strange pressure when people are watching, like they've got nothing better to do or they're just hanging around. It's very sweet that people are interested, but its not conducive to concentrating, to making a lot of work…I didn't have it in my mind that I would go there and entertain people with the painting. When I do it in galleries, its normally easier. It's on a smooth surface and it's a different sort of premise altogether.
So you painted the wall in a few hours. How long does it take you to do a whole room?
It was a small wall. But when I work, I do try to do it in one go. I find I get better results. If you have an idea, you want to see it through. I like to finish things. I started several paintings before I went to L.A., and I didn't finish them. I don't know if I'll ever go back and finish them. You're in a frame of mind when you work, if you lose that train of thought, what you were originally intending to do with those pieces, you can often lose 'what was I mean to be doing with these, I can't quite remember.' Sometimes you have to move on.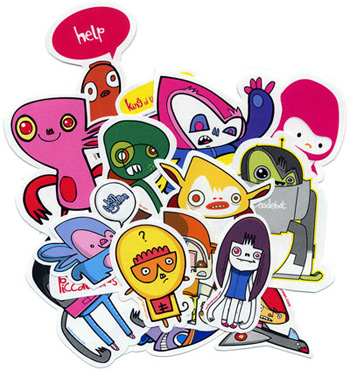 Generally speaking, do you 'live in the moment'?
I'd like to think so but it's probably not true. I'm neurotic, careful, boring and grumpy.
When I'm making the work, I think that allows me to be the kind of free, happy person that in the real world, I can't manage. When I'm working, I feel genuinely relaxed and at ease. It's like a little safe space to put your brain. Which is why it's difficult to be interrupted all the time, but when I'm in my studio or doing a big piece in a gallery and there's no distraction, that's the best state of being I can be in. Even if you might be worried about the exhibition or thinking about other stuff in your life, you feel protected in this state of mind that you manage to get yourself into. Like 'everything's lovely, that's how I want to live.' Whenever I'm painting or making stuff, I always say 'why don't I just do this all the time?'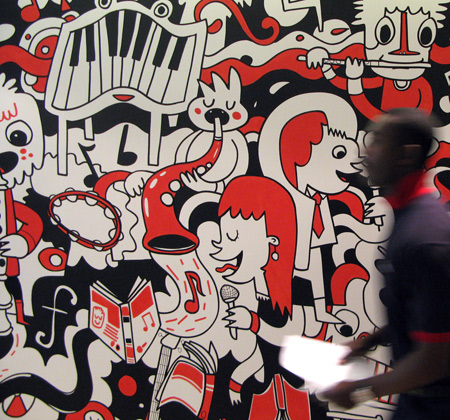 If you missed Part One of this interview, you must check it out here...
More on Jon Burgerman here.