Exclusive Interview with Jason Jagel
Juxtapoz // Wednesday, 31 Mar 2010
1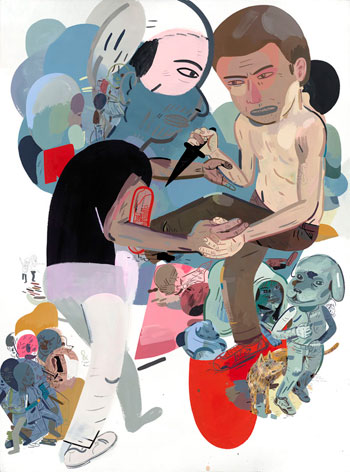 Tomorrow marks the grand unveiling of Jason Jagel's (Juxtapoz #108) solo, I'll Fly (Into Your Heart). As per usual, we couldn't wait to see one of our favorite artist's new works, so we bugged him for preview images and threw a couple questions his way while we were at it.
Katie Zuppann: Your upcoming new series of works is titled I'll Fly (Into Your Heart), which strikes me as quite a romantic phrase. What's your projected theme with this new collection?
Jason Jagel: I'll Fly (Into Your Heart) reminds me of the style of certain '60s soul songs where the inserted parenthesis creates multiple, simultaneous titles from one. It also appears as a statement of first-person dialog, leading the questions: Who or what is flying? To whose heart? For good purposes or ill?
The romantic part comes from this being a show in my home area, so naturally I feel sentimental about that. I'd like to think that someone could come see the show and it would open up, meanings expand, and it wouldn't need classification as this thing or that thing.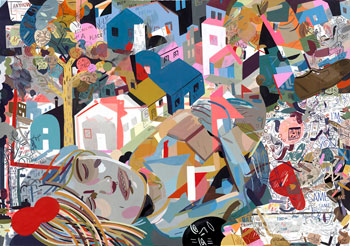 You've designed album covers in the past (notably for MF DOOM, Madlib and more). Do you collaborate with the music artist to create a look you both can work with, or are you given free range? What do you try to convey via album covers and their artwork that you don't in your own work?
Definitely all the work I've done has been hands off and my own thing to explore.
For some of the album art pieces I wanted them particularly graphic, while some have followed my usual methods. In fact, I've made more fictional record covers than I have real ones. Does it really matter that they're not real? I'd like to see them published, but the making of them is the "why" of it. I call them fictional since they don't simply feel like a work of fandom, though I am a fan. They exist as a marker of a conversation I'm having with those artists and their greater artistic connectivity.
Your personal painting and drawing seems to sort of fall into busy character-filled scenes or simpler graphic representations. Can you comment on your style?
They're all the same style. If we could pan back from 100 years in the future it'd be more evident. I can't have one without the other.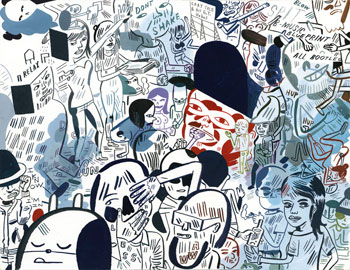 You've stated you "pursue fictional autobiography" through your artistry. Would you agree with this statement and how is your work autobiographical?
An artist like Chris Ware makes a kind of fictional autobiography as does Will Oldham (as Bonnie 'Prince' Billy and other names) as well as Madlib and DOOM.
I want to make a story that I can believe in. Color, composition, pattern, text, image all play a part in conveying a feeling to me. In order for it to be a story that captures me, it needs to be of me. There are other voices I can inhabit, friends and family for the most, but in the end it's just myself. Then again, who is me? Our personas and identities are not so singular as Western Civilization and Media Capitalism would have us believe.
You're based in SF with your family. What does living in the Bay Area lend to your creative process? Where do you frequent in the city? (So we can stalk you...just kidding).
Skate park with Suki the dog and Nika the girl. Dynamo Donuts. Pal's Take Away. Blue Plate. Southern Exposure. Bi-Rite's meat counter and wine shelves. Rainbow. The Bay is full of great and interesting folks. I like that.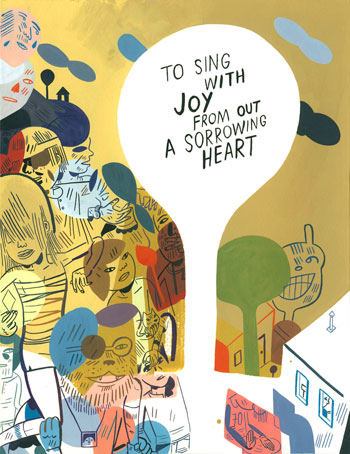 You've taught at the California College of the Arts. What do you teach and why? Do you gain inspiration from your students and where do you see the future of contemporary art heading?
I'm not being offered any classes right now. I've taught at CCA, the SF Art Institute and UC Berkeley. Students can be great and they can be a pain. Sometimes the pain is a gift too.
The future? Unknown, but the low economic times are a good thing as far as my opinion goes. There's not as much advantage being taken of lucky or easy money. There's a lot of people doing things they care about, taking chances and it feels like folks can earn something with hard work, uniqueness and quality.
I'll Fly (Into Your Heart) features works by Jason Jagel on display at FIFTY24SF Gallery April 1—May 26, 2010.
More on Jason Jagel at www.jasonjagel.com