Exclusive Interview with Inkfetish
Juxtapoz // Monday, 07 Jun 2010
1
"This prolific artist is taking London by storm right now and he is definitely an artist that we will be hearing a lot more from. I arranged to meet Tom Blackford for a coffee and a stroll in the pouring rain in central London."
Helen Soteriou: Can you tell me about your background and how you got into graffiti?
Inkfetish: I've been drawing pretty much non-stop from a very early age and have always been fascinated by underground art and subcultures. I suppose you could say that my background is in illustration, as I studied it at university although feel It didn't really influence the personal style of work I had nurtured throughout the years and that working on corporate design jobs was definitely not a direction I was interested in pursuing.
I was, and still am, more interested in 'art for art's sake' - an idea that perfectly seemed to fit the notion of spending a day painting a wall only for it to be gone within a couple of days. I love the instant gratification graffiti can offer. I also feel a proportion of my work can really benefit from the different kind of environment, texture and scale that painting on walls can allow.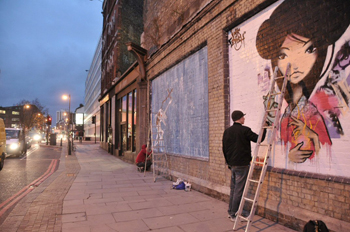 Do you remember the first piece you put up on the streets- where was it and what was it of?
In my teen years, I went by the name 'SHADE'. My first piece was a piece based around these letters in an alleyway. Unfortunately I hadn't quite worked out how much paint was needed in such a case and only managed 'SH'!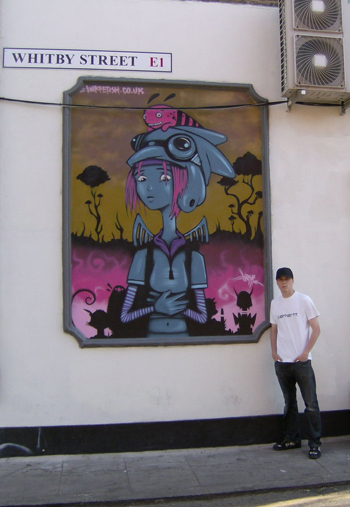 Where was your last piece?
I painted the character 'AKUMA' from Street fighter 2 over the weekend in Stockwell on a wall based on the game.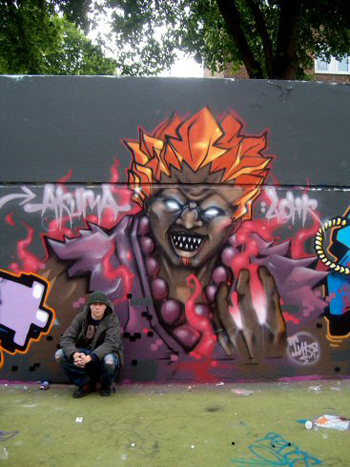 Do you have a favourite or most memorable piece?
Not really...some stand out better than others. Usually my latest is my favourite until the following week.
You are prolific in London, but do you ever tire of spraying here because of the sheer number of graf artists?
London keeps me motivated. I think the number of artists here simply make me more determined to stand out from the crowd. Visiting artists are often surprised by the short amount of time pieces last here. I don't think the quality of the work is as high as a bunch of other European cities but I think our determination is one to be reckoned with.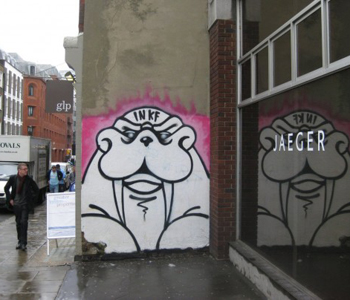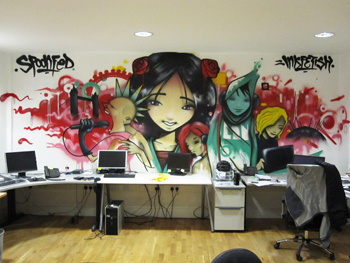 Do you ever wait and watch peoples reactions to your work?
I'm usually pretty exhausted by the end of a piece so I don't tend to hang around. Most of the places I paint are pretty removed from public sight. I suppose sadly most reactions usually appear on the Internet after the photo has surfaced.
You are also an illustrator; can you tell me about some of the other projects you are currently working on?
I've just completed the cover artwork and video featuring animated graffiti to accompany a certain record coming out this summer- that was a lot of fun and hard work...I can't really say too much more about that just yet.
Where do you get your ideas from?
The voices in my head.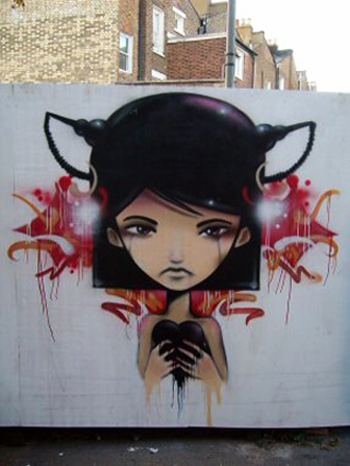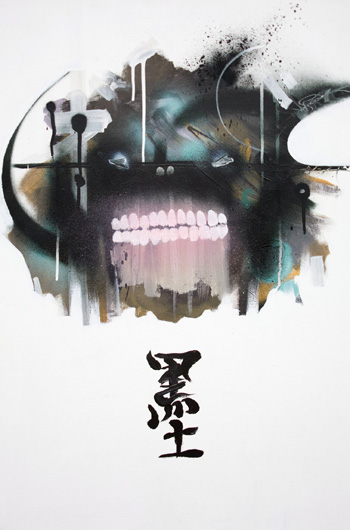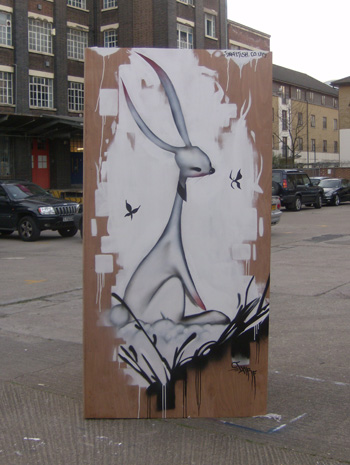 Your graf pieces are incredibly detailed and precise, how long, on average, do your pieces take to create and do you ever worry about getting caught?
My work is of a legal nature so the only thing that's going to stop me is the weather! As for time, it all depends on the size of the piece...they probably average at about 5-6 hours each. I'll basically work on them for as long as I can and am usually the last to finish if working with a group.
Are there any street artists that you look up to?
I wouldn't say 'look up to' but there are definitely artists I admire and respect...that's a big list.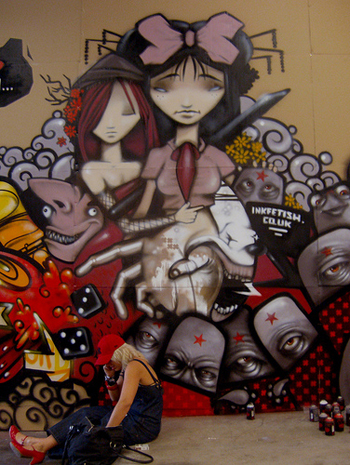 What was the best piece of advice given to you by another artist?
I remember 'DREPH' advising me that whatever path I choose to be 'honest' about it...that stuck with me.
What would you say to people who think that spraying walls is the only way to get their work noticed?
In the surge of street art's popularity in Britain, It's become a bit of a gimmick to a lot of up and coming artists to try and brand them selves as 'cutting edge' by dabbling in street art. A good artist will be recognised as one regardless of the medium.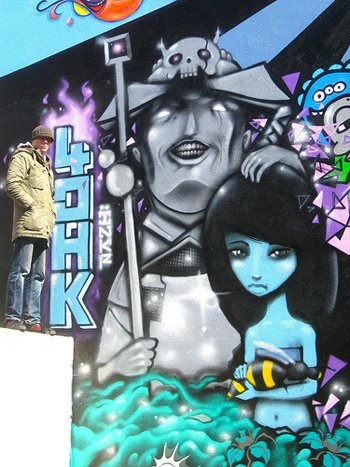 What is next for Inkfetish? Do you have plans to go out to the US?
I exhibited some work for an art based auction at the Pixar animation studios a few years back which was pretty exciting. I managed to paint Venice beach and check a load of galleries. I love what goes on in LA in the street and in the galleries so another visit is definitely in the cards. Painting and exhibiting abroad is something I feel I'd like to do a lot more of.
More on Inkfetish at  www.inkfetish.co.uk