Exclusive Interview with Imminent Disaster Part 1
Juxtapoz // Monday, 27 Jul 2009
1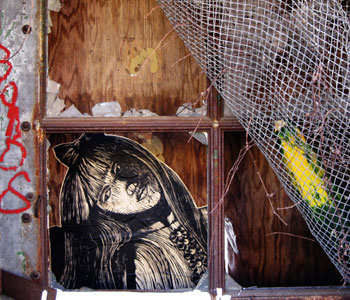 Interview with Imminent Disaster, Part 1
By Cheree Franco

Brooklyn-based artist Imminent Disaster, has been wheatpasting the streets of New York with historical characters since mid-2006. She lists the New York Department of Archives, Luc Sante's Low Life: Lures and Snares of Old New York and the work of 19th century journalist George Foster among her influences. Her life-sized, linoleum prints of Victorian composites, exhibited last summer at Ad Hoc's "Poets of the Paste" show, illustrate her fascination with the ephemeral nature of urban culture. This fragility is further reinforced by her medium—paper works destined for city streets.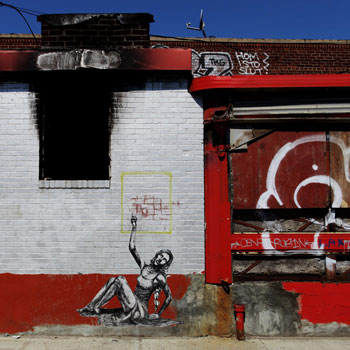 Disaster's work ranges from accessible to ambiguous. At one end of the spectrum, there are the Red Hook (Brooklyn) collages, created with scraps of articles on New York housing issues and strategically bolted to street signs in the fall of '07, at the height of New York real estate inflation. Then there are overtly narrative pieces, such as "Ophelia," the listless young woman in the ruffled blouse of another era. Resting her head against a high-backed chair, hair tumbling like tentacles, in some instances she lifts the corner of a rug to reveal carefully cut words: "going back in time…secrets…forget the way fingers pried and plied…"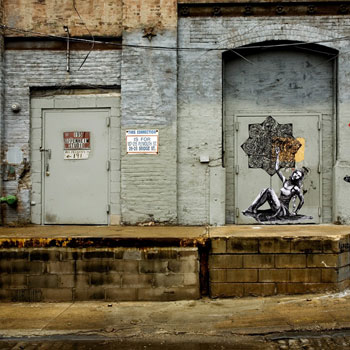 Shakespeare's Ophelia, betrayed by father and lover alike, enjoyed a Victorian revival and has become a Western symbol for feminine adolescent crisis. Intended or not, Disaster's take on Ophelia accesses this archetype. Despite the fact that the casual passerby may never know the piece's title, Disaster communicates indefinite despair through the woman's context and demeanor.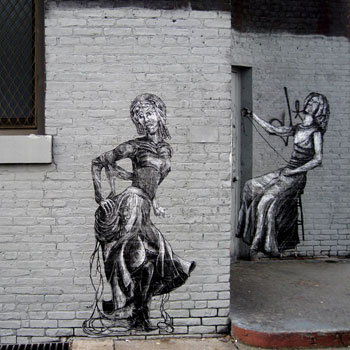 Disaster's earlier work brings to mind Lynd Ward and the Expressionist woodcutters, but her latest work, displayed at her second major Ad Hoc show (which closes this Sunday) is more gothic and less illustrative. Moving into the realm of instinct and suggestion, the show's centerpiece is a huge cut-out of Persephone and Hades, swathed in a foamy sea of snakes, steeds and ominous winged creatures. Parts of the piece are posted around town, most notably occupying an entire side of a Red Hook boxcar. While more delicate than her prints, Disaster's cut-outs have the same elegant, weighty aesthetic, primarily because she uses black rather than white paper to anchor the image in space.

In the past year, she has totaled six galleries shows in New York and California. Now firmly entrenched in a commercial art system, Disaster remains committed to the streets. Here she answers some questions about creating for the street versus creating for a gallery.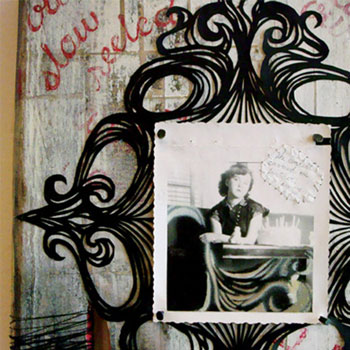 Cheree Franco: Are you trying to accomplish something different with your gallery shows than with your street work?

Imminent Disaster: Yes. On the streets, the texture and patina are given to you by your environment, whereas in the gallery, you are given blank space that you have to build up yourself. The street sets certain contextual elements for you…in the gallery the work has to stand alone. Some street artists try to recreate the street in the gallery, in a more curated fashion, as a way of dealing with how their work translates in the gallery. Others produce very different work when given the opportunity.

My work seems like it's trying to explore more sculptural elements with paper, which would be impossible on the street because of weather and traffic.
[This is evident with Persephone and Hades. The piece is layered over a long, muslin tent and lit from inside.]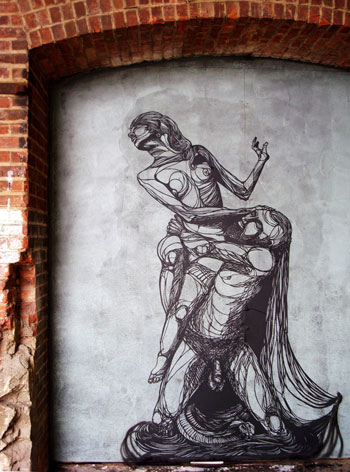 Your titles add exposition to your work. But outside of a gallery (or an online gallery), no one sees these titles. Do you have any thoughts on relinquishing or regaining control of the viewers' experience?

People going to an art gallery or museum generally expect to be told what to look at and what to get out of the art. From overwritten artist's statements…there's not much of an expectation that the audience will be able to understand the work without considerable guidance. Part of this problem lies in the education of [both] artists and audiences—a relationship which, in the contemporary world, seems to have been adequately substituted by the business-client model, where it's the artist's job to produce quick and immediately communicable work for a fast-paced and over-occupied recipient who seeks brief, pleasurable relief from his everyday life.

Having said that, the fact that there are no accompanying artists' statements or titles on street-work is in its favor. Putting things up on the street is about relinquishing control of the works, to the weather, to the city buff, to the hipsters who will scratch out the eyeballs of wheatpastes because of drunken fancy, or proto-intellectual judgment, or some sort of gentrification control motive. For me it's become a kind of public abandonment of work that otherwise would be privately abandoned.
Part 2 of this interview with Imminent Disaster lives here.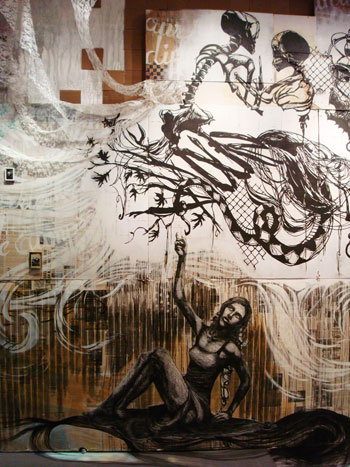 Photos courtesy Jake Dobkin and Sabeth718.