Exclusive Interview with Greg Gossel
Juxtapoz // Friday, 10 Jul 2009
1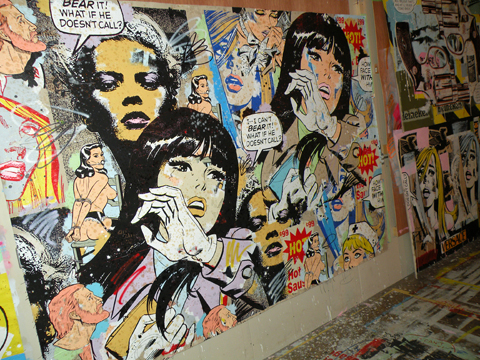 Minneapolis based Greg Gossel creates pulsating, visually arresting collages that at times look like someone gathered up all of the American pop culture characters from the 50s and 60s, put them in a blender, and layered them onto canvas.
He achieves vibrant works this through the interplay of many diverse words, gestures, and images. The process behind each piece is integral, building up a surface, layering it with a variety of mediums; spray paint, paper-collage, serigraph, ink, acrylics and oils. His work appears loose and spontaneous. When complete, Greg's works illustrate a visual history of change, process, and expression.
In anticipation of Greg Gossel's group show (with Greg Lamarche and Steve Powers aka ESPO) "Get Over It" that opens at the Show & Tell Gallery on Saturday July 11th, We caught up with Greg to discuss the method behind the madness.
Interview by Elise Hennigan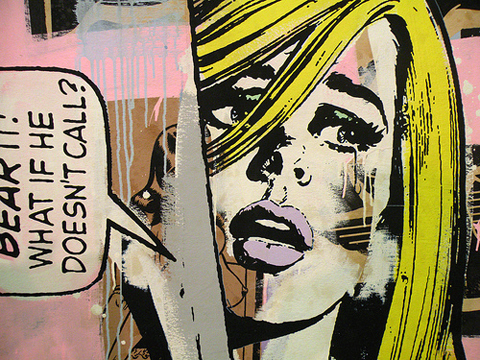 You're showing with two prominent graffiti artists at the Show & Tell Gallery this weekend. Any background in graffiti yourself?
I personally don't have any background in graffiti, but find a lot of inspiration in graffiti culture, and have been a fan of both Greg Lamarche and Steve Powers work for a long time, so I'm really looking forward to having the opportunity to show alongside them.
Who are some of your favorite contemporary artists?
There are a ton of really great artists working today. I guess right now some of my favorites would be Richard Prince, Ryan McGinness, Arturo Herrera, Jason Jagel, Phil Frost, José Parlá, Chris Johanson, Cum Collective, and Barry Mcgee to name a few.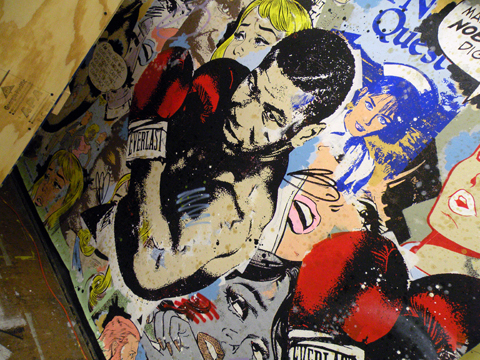 Do you plan your works before the execution or would you say they are spontaneous creations?
I generally have a rough idea of where I'd like to go with each piece, planning some of the main imagery and color palettes, but for the most part it's a pretty spontaneous process.
What can we expect from your show at Show & Tell Gallery?
I'll be showing nine new original mixed-media works on canvas, which will range from medium sized works to a piece upwards of 7 feet. I'm incorporating an entirely new set of imagery into the works, and experimenting with a lot of cut and paste xerox work. I'm also using some new media, gouache in particular, which I haven't used in a few years.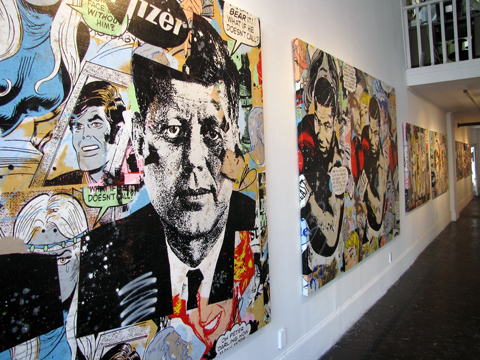 Your art is layered and typically has a lot going on…how do you know when a piece is done?
I guess its mostly just a feeling when a piece is complete, sometimes if I'm unsure if I want to take a piece further, I'll let it sit for a few days, then come back to it. For the most part I build up and rework each piece until it reaches a fullness and depth that I'm satisfied with.
What are some of the methods that you use?
I use a variety of mediums and methods within each piece. Most recently I've been using silkscreen printing quite extensively in my work, but I also incorporate mediums such as acrylic paint, xerox transfer, spray paint, graphite, marker, and watercolor. I tend to vary my application of mediums; printing, hand painting, stencil, dripping, sanding, and staining among others.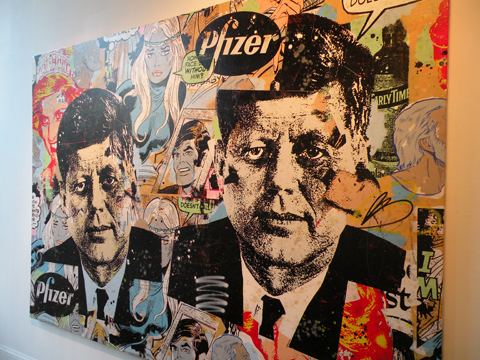 What is the motivation behind your art?
I guess there is definitely a selfish element of motivation in my art, this ever present personal need to create work, to keep myself sane if nothing else. But aside from that, within my work I try to reflect and question elements our contemporary society, while also referencing our collective history. With each new body of work I create I learn something new, and through that am constantly motivated to keep exploring and creating new work.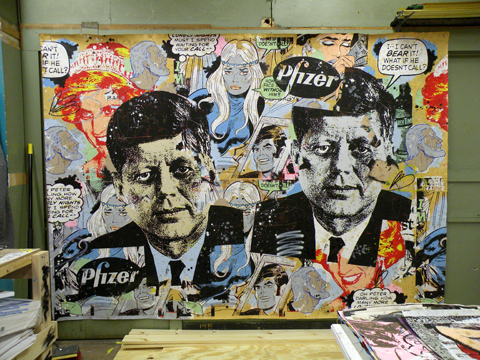 When did you know that art is something that you wanted to do/could do as a career?
I've drawn and painted ever since I could remember, so I've always known that I wanted to do something art related. I went to school for graphic design with plans to pursue a career as a designer, but it wasn't until about four or five years ago that I really began to focus on my personal work, and pursue the possibility of a career as a fine artist.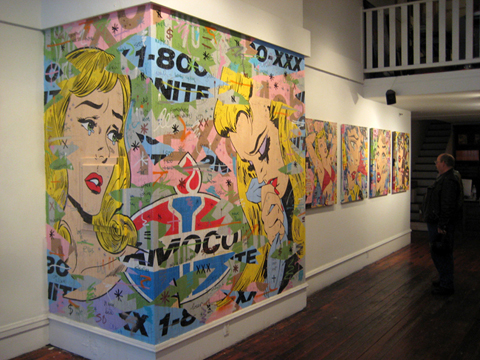 Any plans to relocate from Minneapolis?
Yeah that's something I've been thinking about more and more as of late... I enjoy Minneapolis, but am ready for a change sometime in the near future. I've been tentatively looking into either San Francisco or New York as possible destinations. I just moved into a new studio in Minneapolis earlier this year, so I will probably be here for a bit yet, but definitely looking to relocate from the Midwest sometime in the near future.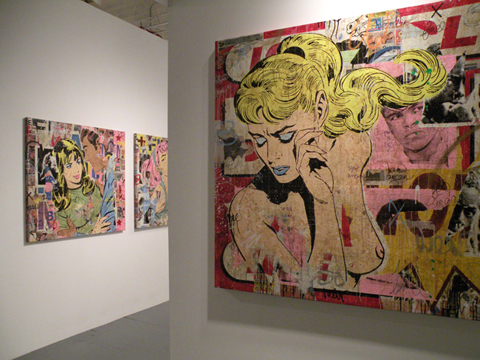 Where do you see yourself down the road, say in 10 years?
Hopefully still learning, creating art, and just enjoying life in general.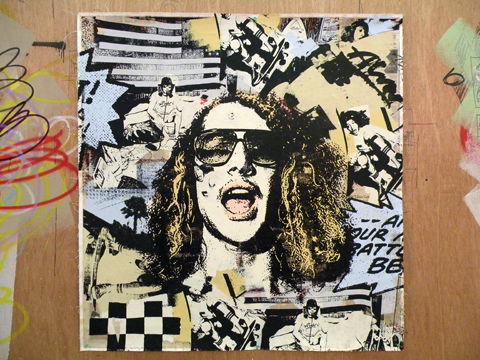 Get Over It runs July 11 - August 9th