Exclusive Interview with Gary Baseman in Anticipation of "La Noche de la Fusión" - Part 1
Juxtapoz // Tuesday, 28 Apr 2009
1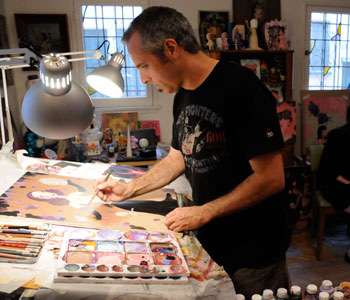 Juxtapoz Exclusive Interview with Gary Baseman in Anticipation of "La Noche de la Fusión", his upcoming show at the Corey Helford Gallery in Culver City on May 2nd, 2009.
It's no secret that La Noche de la Fusion, Gary Baseman's latest solo show, opens this Saturday, May 2nd at Corey Helford Gallery. In a rare opportunity, we caught up with Mr. Baseman in between his world travels, artistic exploration, and endeavors as one of the contemporary art movement's leaders, to talk with us about his artwork and the inspiration for his upcoming showstopper. And by 'showstopper,' we mean 'totally epic gallery opening gala.' Without further ado, read Part 1 of our interview with Gary Baseman in a series of 3 to be published every day up to the opening of La Noche de la Fusion:
Gary Baseman's request that gallery-goers arrive at his upcoming art installation dressed as their TRUE FANTASTIC SELF was the first indication that this would be no ordinary gallery show.
For those of you unfamiliar with Gary Baseman's prolific work, he often works in the realm of mystical existence. His characters are iconic. Sticky sweet (seriously—most of them have goo running down their belly-buttons). Cutesy at first glance but laced with an underlying desire. Baseman's paintings and sculptures evoke ideas of power and passion, of laughter and joy from a different dimension, and a true atmosphere of desire where insecurities and fears are destroyed.
His new collection of work, "La Noche de la Fusión" is a colorful, climactic solo inspired by tales of intrigue, desire, and living life to the fullest—the first heartbeat, the last kiss, the final breath, all of which, for Gary, exist in the mythical realm. A world we don't often enter because society prevents us from crossing over certain lines.
The exhibition promises to be more than just a show. It will reflect the over-the-top, sensual, culture-blending of his paintings. In his own words, he hopes "to inspire others and create an environment where my viewer wants to participate and personally take away something emotionally, physically, and maybe spiritually. At least, I want them to leave with a big stupid smile on their face"
On the roster for Saturday evening? Live music and performers. Skeleton girls. Bubble girls. Brazilian Dancers. Carnivale Girls. The Enlightened Chou. This is not counting the content of his paintings.
Read more about what Gary has to say about "La Noche de la Fusión", spirituality, ignoring the constraints of society, traveling around the world, and what exactly an Enlightened Chou is in the pages that follow. We guarantee that it will leave you with a big stupid smile on your face . . .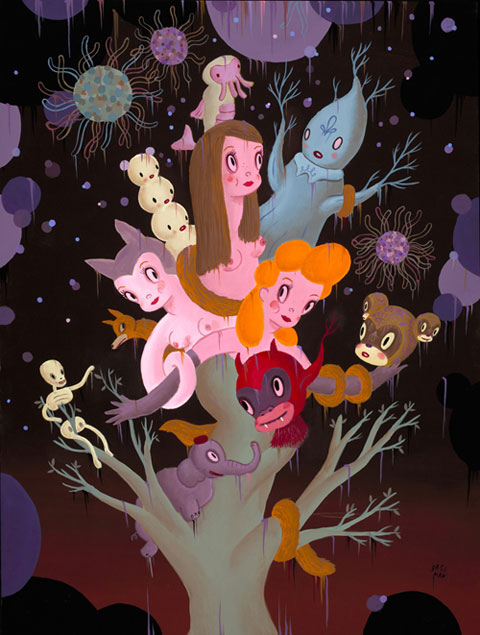 What is your TRUE, FANTASTIC SELF?

Fuck. I knew that phrase was going to come back and bite me on the ass. You are referring to the term "TRUE, FANTASTIC SELF" that my wonderful coordinators came up with and put in the press release.
I just wanted everyone to dress up as how they perceive their "true self." One girl wrote me and told me her true self was a cupcake. I liked that. I don't think my true self is fantastic. If you do want to see how I dress at my event, come and party. I do have a costume designer friend making me a special outfit for the "metamorphosis" performance at the end of the festival.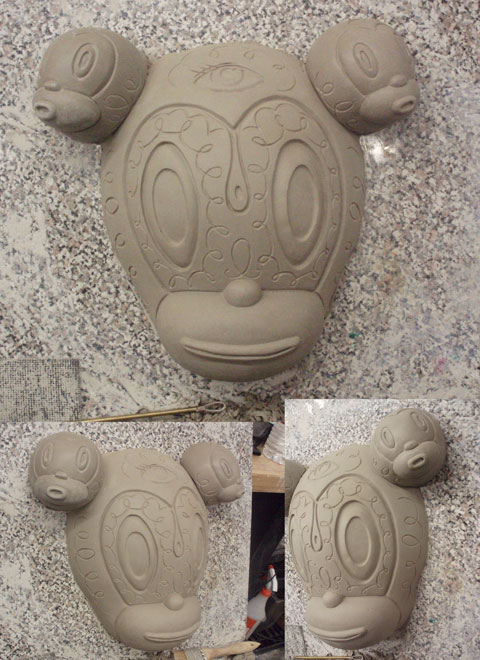 Costumes in the works...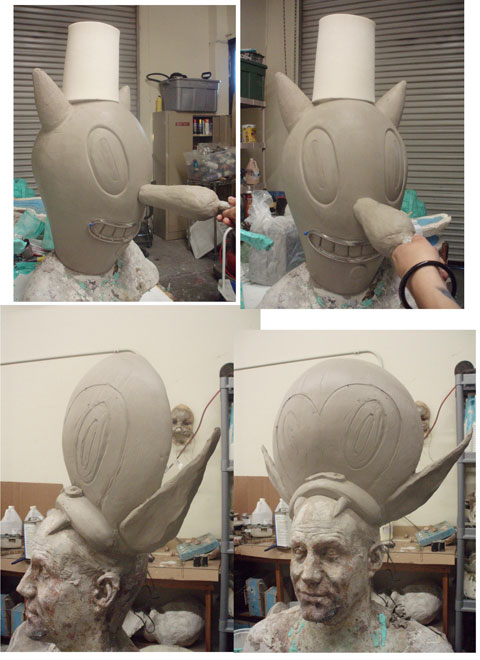 How would you describe your art?

Good question. I really don't spend much time trying to describe my art as much as I try to trust my intuition and find a new fresh direction that compliments the human condition.

I really sacrificed an accomplished commercial art career to challenge myself as a painter to see what I would create if I removed the compromise of taking on assignments.

I have discovered through completing my exhibitions that even though my content with each show is different, my themes seem to revolve around desire, lust, and control or lack of control but most recently about self-awareness, freedom, and enlightenment.

When I produce a body of work, I want my art to transcend any one particular medium and truly break out of any one particular domain. I guess that is why I created the term 'Pervasive Art' or 'Everywhere Art.'

I know my work is very iconic. And at first glance, it is very approachable. I find this works well when working with many media, when one is competing with trillions of stimuli. I want my work to cut through the clutter and stick to the viewer's face like goo.

I like the viewer to initially have one reaction, but then, on second take, discover a deeper meaning. It is important for me that the viewer develops ownership of understanding before they learn my full interpretation. Many of my paintings also have a narrative but usually are not illustrative. In my new body of work, which is the most ambitious to date, I have created an art performance festival to compliment the paintings, drawings and sculptures. Okay. You exhausted me with that question. My brain is throbbing.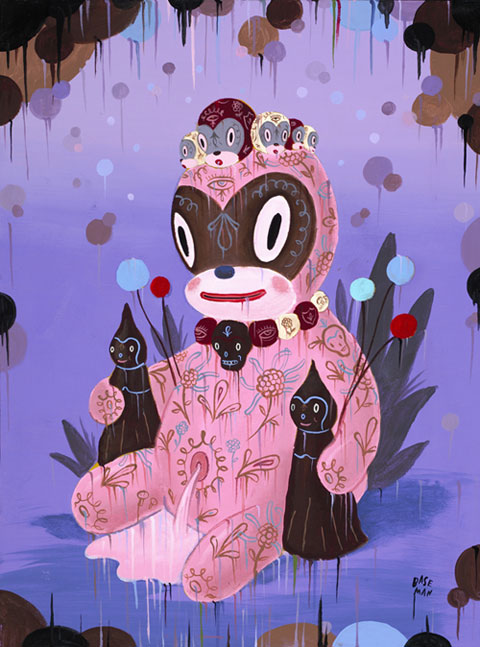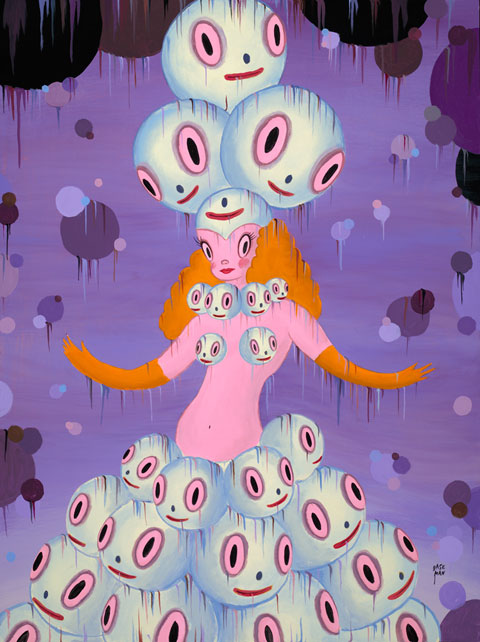 When did you first start creating art? When did you realize that you wanted to be an artist?
I don't remember a time when I didn't create art or didn't perceive myself as an artist.
I remember my dad, an electrician, taking me out on jobs with him when I was like 8, and trying to show me how to rewire something, and how I had no interest and would tell him, "Dad, I don't need to learn this, I am an artist." Damn, I wish I knew now how to re-wire things.
I'm self-taught, so my style has been developing my whole life. Art just exploded into my whole existence. I would go to Sav-On drugs on Fairfax and 3rd St, that was my art store as a kid, and buy sketch pads and El Marko markers and I would have a board that I would lay on my twin bed and draw for hours and hours.
My cousins told me a few years ago, they thought I had some kind of emotional, mental problem, spending so much time drawing. I lived and breathed art. I still do. I was a precocious child when it came to art, but I was very immature in every other aspect of my life. I guess I still am. Growing up in Hollywood, Pop Culture was everywhere. And I loved it. I remember watching old 30s Warner Bros, Fleischer Bros., and Disney Cartoons and thinking they were the perfection. But when it came to going to the university, I never studied art formally. I wanted a liberal arts education. I somehow thought, one cannot learn art or, at least, your own personal voice, in school.
After college, I went through a great deal of insecurity and fear of failing as an artist. It took a few years of being truly miserable trying to compromise with thoughts of going to Law School or working in Advertising before I made the decision to put myself out there to be an professional artist and show my portfolio and risk rejection.
So in my mid-twenties is when I made the true decision to live my life as an artist.
Being an artist to me is being alive. All I do is create. I love to live in my own surreal world and interact with the creatures that I create. I draw all the time. I carry a sketchbook everywhere I go. I draw in a restaurant, in a dentist chair, with a bank teller. I think my cousins were right. I probably do have an emotional, mental problem.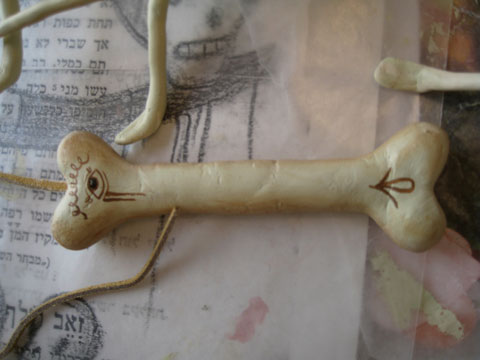 Bones for costume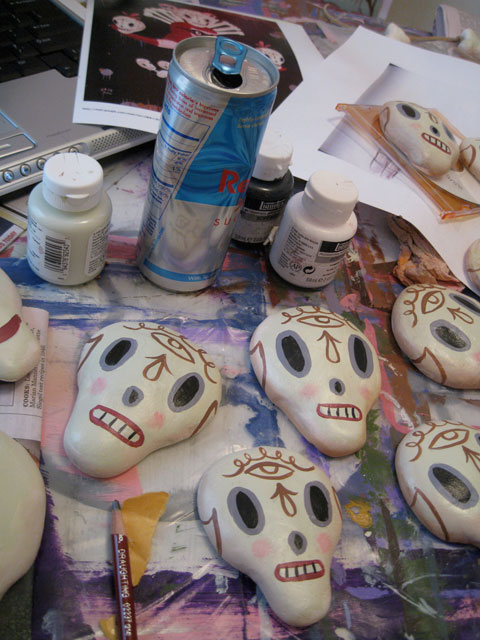 Skeleton heads for dress
When you aren't painting, what else occupies your time?
Drawing. Running. Eating. Fucking. Listening. Swimming. Petting. Driving. Drinking. Dancing. Doing. Watching. Sleeping. Scratching. Shitting. Pissing. Hoping. Dreaming. Wanting. Playing. Snacking. Scratching. Biting. Cracking. Inspiring. Laughing. Teasing. Holding. Hugging. Stretching. Picking. Moving. Packing. Tasting. Creating. Approving. Researching. Sniffing. Risking. Trusting. Finding. Giving. Taking. Nuzzling. Guzzling. Muzzling. And Breathing. (I lied, I always forget to breathe.)
You are quite the world traveler. What do you look for in a traveling experience?
I have been really fortunate to be invited to either have exhibitions, lectures, workshops and/or live paintings around the globe. I have no desire to just fly in, do my dirty work, and fly out. Many of these places I have never been to before. So I want to experience them to the fullest. I want to see the sites, I want to taste all the food, experience the local culture as close as someone living there, party, and be inspired by the people I meet. I always keep a sketchbook to draw out any inspirations.
These past few years, I really noticed how small this world really is. Everyone now can keep in touch through the Internet, our Blackberries, Facebook, Skype, iChat, etc etc etc. Everyone wants the same things, to have the freedom to be who they are. I was surprised how big this Underground LA art scene's fan base is around the world. I can be stopped by fans in a bar in Rio at 2:30am or on a nude beach in Spain in the middle of the day. I can have an impromptu signing in Taiwan at a store and sign for 4 hours straight. I had a speaking engagement in Moscow without any posters or postcards and filled up 350 seats in a big theater and signed till they kicked us out.
For this new exhibition, I wanted to take my travels and all the inspiration and fuse it together. Brazil, Russia, Thailand, Spain, Israel, Argentina, Cyprus, Japan, Italy, and even the U.S. and use those influences to create this mythical holiday as a celebration on the beauty of the bittersweetness of life.
In my travels, I collected old German books on Communism, Russian books on . . . ah, I don't know, I don't speak Russian, an old Hebrew book from the 1950s on Jewish Humor (actually I don't speak Hebrew either), Japanese hotel stationary and menus, Chinese prayer books and then I draw on them to create images for "La Noche." It is one way to fuse, blend and blur all my memories together.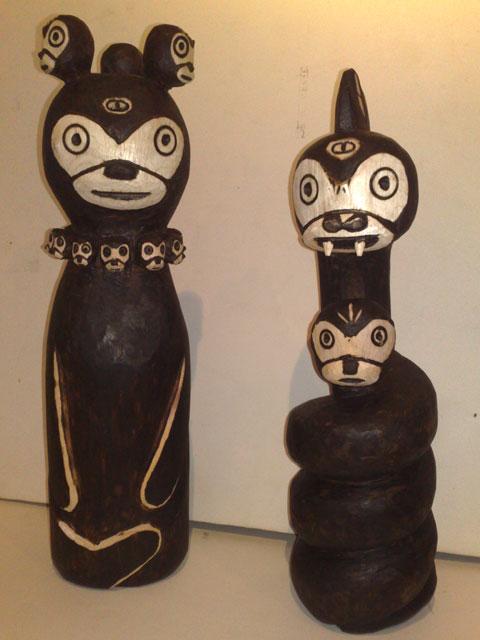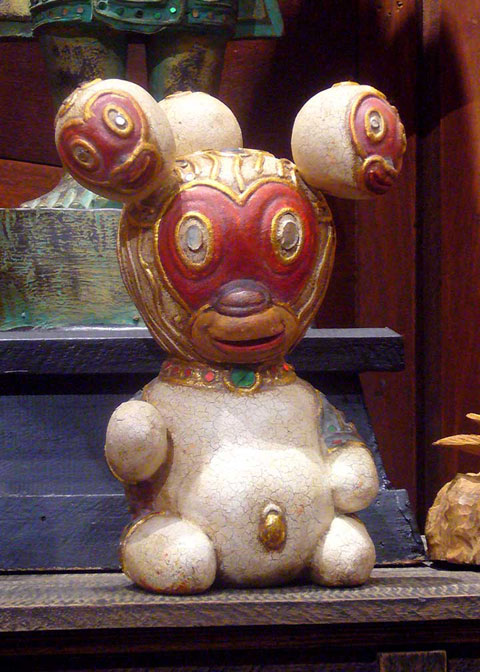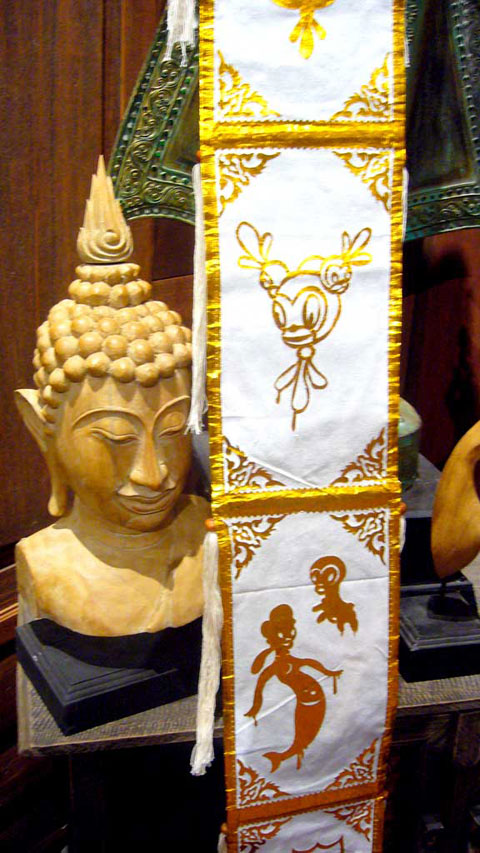 What are some of your all-time favorite travel experiences?
A lot of people seem to try to warn me before I travel to certain places and those are the ones that I have the time of my life. Brazil was so amazing. I flew there for a group exhibition at Choque Cultural that my NY dealer, Jonathan Levine, curated, and I stayed weeks longer for Carnival. I had a collector graciously let me stay in her beautiful apartment, with her caretaker, cutting me fresh mango, papaya, and kiwi every morning.
I had these special VIP passes to the Sambodromo, the competitions for Carnival and had full access everywhere. It was so amazing. I took like 900 photos on that trip. I stayed up till 5am almost every night. Actually, on almost all my travels, I end up staying up till 5am and crash when I return to LA.
Brazil was amazing. So was Russia. St. Petersburg especially, Russians love to dance and have fun and are so relaxed. I had the time of my life and made so many special friends. I remember being in Red Square and at a little cafe, trying to keep up with my hosts and downing 6 shots of vodka. I was amazed that I was able to keep up.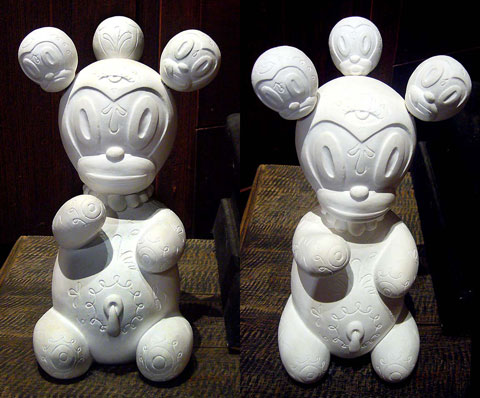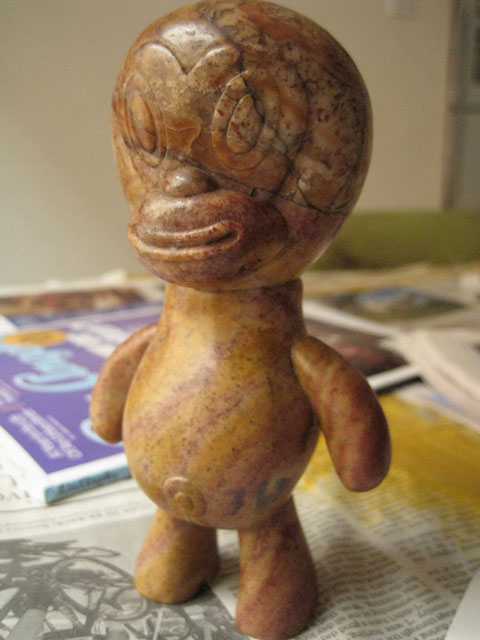 Interview by Elise Hennigan.
Stay tuned for Part 2 of our Exclusive Interview with Gary Baseman in Anticipation of "La Noche de la Fusión" out tomorrow and and Part 3 out this Friday.
More on Gary Baseman at garybaseman.com
More on La Noche de la Fusion at coreyhelfordgallery.com