Exclusive Interview with Gaia Part 2
Juxtapoz // Friday, 24 Jul 2009
1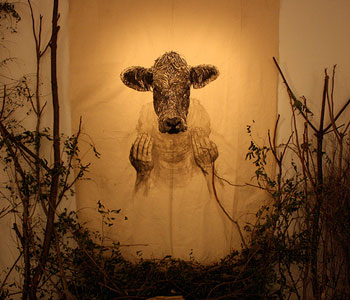 Interview with Gaia, Part 2
By Cheree Franco
As promised, here is Part 2 of our 2-part interview with street and studio artist Gaia. Gaia is a native New Yorker who first established his poster presence on the streets of Brooklyn and lower Manhattan in 2007. Now about to enter his junior year at Maryland Institute College of Art, Gaia has been turning heads and piquing interest wherever his art is left.
Gaia—who grew up around his parents' financial careers—is an unabashed capitalist, equally confident working on the streets or showing in the galleries of New York, Los Angeles and London. His anthropomorphic linocuts—part human, part animal—betray a city kid's enchantment and simultaneous disconcertion with nature. "I'm romanticizing a time when animals and humans lived more closely, but I also want my wilderness tame," he admits.

Recently we chatted about art, the internet and Baltimore versus New York.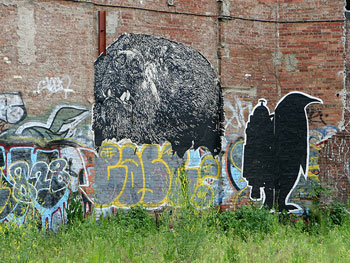 Are gallery shows "robbing" from the streets?
I feel like there could be a certain robbery there, like a self-imposed robbery—it's a just reward thing. Obviously you don't make the money from getting up. It's interesting that there are people who say, 'I'll sell my time, the very fabric of my life, but I won't sell my passion.' If you're going to be capitalizing off your hours, like having a 9-5 and getting up on the side, but you say, 'I would never have my art become impure by hanging it in a gallery,' that doesn't make any sense to me.

Sometimes it seems like street art is this private conversation in a public room.
I feel like that's more graffiti, the 'this isn't for you, this is for us' kind of thing. But sometimes people are like, what right do you have to put something up on this building, but I'm like 'what right does this landlord have to keep this space abandoned and a blight to this community'…You understand that you're going to get a lot of people who aren't into it. Most people are indifferent. I like to say that you are reactivating space. You're taking something visually neglected, and it becomes beautiful.

It's funny because I like neglect. I see something like an old warehouse and I think 'oh that's so gorgeous,' but I'm coming from the Upper East Side. Then it's this exotic thing, versus if you're in that every single day, it kind of sucks. In Baltimore, you have entire blocks that are gone. East Baltimore, like 25 percent of that neighborhood is abandoned.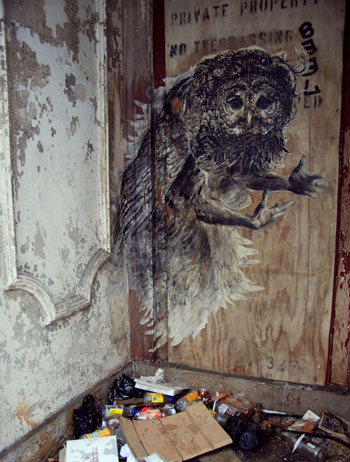 Are there a lot of street artists in Baltimore?
I can count them on one hand. I'm not a part of the scene in Baltimore. I put stuff up, but it's a totally different thing. No one finds it on flicker. I'll get up somewhere like Penn-North. No one goes to that neighborhood. The only people who see the work are the people that live on that block. It's a lot more polarized, you feel that tension. In New York I don't have a problem getting up anywhere. Baltimore it's like, I'm white, I'm coming here putting up work, I'm not asking permission.

But it doesn't stop you?
No. And that's an interesting thing, because does it mean I think my work is more beautiful than graf? Honestly yeah, I do. It serves a different purpose, but I do feel like my work is more accessible than a throw up. And I'm not that interested in doing murals. That denies the space. You paint over an entire portion of the wall, the wall just becomes a canvas. Being in an alcove and having that narrative, the building becomes like a sculpture. It makes the work function.

I came to Baltimore, I had no idea how to get up there. I was just getting up in the upper-class neighborhoods, and nothing was lasting. I finally started exploring the ghetto, and work runs forever.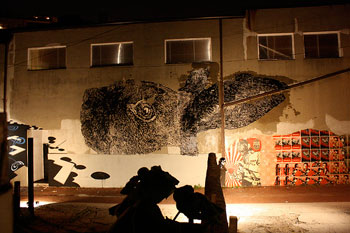 Did someone teach you how to get up in New York?
Flicker taught me.

How does the internet affect your creative process?
I have a conversation with the internet. I think of an image, I find the image, and then that image becomes my composition. So it's back and forth. I make the drawing and put it on the street, hope that brings in a new dialogue, and then I bring it back to the internet, and people comment on it. That sort of leads to a stylistic influence—you see this network of people sharing this experience on the street, but it's a process that's very much based in the internet.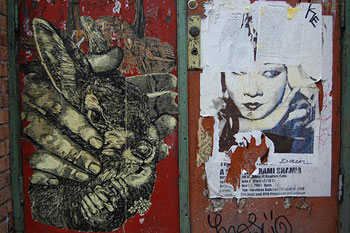 How long did it take to recognize your commercial viability?
I started getting up in March '07. I had a couple of months to put up all my posters, and then I showed with Ad Hoc. I just came to them with a CD and said 'here's my work,' and they were like 'ok, lets do it.' They gave me a small, one-week show in June. It was the day that I graduated high school, I had a little opening. And of course, no one came. Basically everyone who was at my graduation came. I sold one piece for $35, and one piece for $90.

After that people just started getting in touch with me, like three or four people a week. So I would make 6 pieces a week, I was selling them for $100. Everyone was from Williamsburg, so my dad and I would hop in the car and just deliver. People were always surprised that I was so young, and for some reason I got a lot of 'I thought you were a chick.'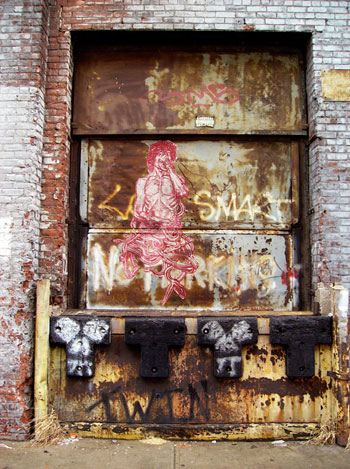 Why don't you sell your work over the internet anymore?
If you sell work out of your studio, you're never going to get into MOMA. Panels, group exhibits and collections—those are the kinds of opportunities a gallery can afford you. It also helps regulate the market for your work. If you sell a lot of work out of your studio, that market could become oversaturated and dry up quickly.

Do you foresee gallery representation in your future?
Who knows? I don't know where any of this is going to lead. I just know that I'm open.


Didn't catch Part 1 of this interview with Gaia? Read it now here: www.juxtapoz.com/Features/exclusive-interview-with-gaia-part-1