Exclusive Interview with Doug Rhodehamel
Juxtapoz // Wednesday, 29 Jul 2009
1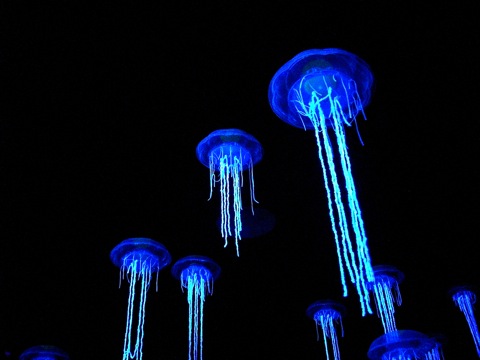 Night of a Thousand Jellyfish.. jellyfish made from salad containers and yarn glowing under black light
Orlando based Doug Rhodehamel knows how to get creative with his materials.
Since then he has been creating all sorts of charming and whimsical projects from found objects. From scattering thousands of handmade mushrooms around the country to creating deep-sea fish "that glow" from cardboard, Doug has been busy creating his own little eco-system. Next up? An upcoming solo show at Bold Hype Gallery in Orlando.
We caught up with Doug this week to learn more about the man holding down the art scene in Orlando.
Interview by Elise Hennigan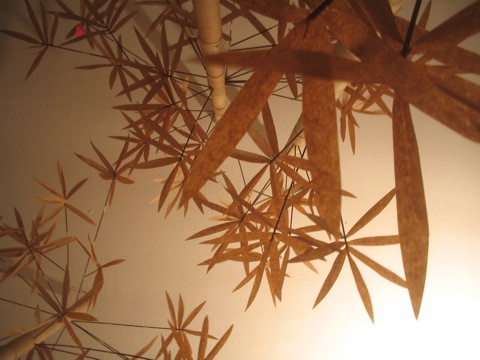 Bamboo forest made from toilet paper tubes, paper towel tubes and hand cut paper leaves
What is your artistic background? Are you self-taught, did you go to art school?

I grew up around a lot of nature... oceans and tide pools in California and creeks and woods in Ohio. I was completely fascinated and inspired by all the different plants and animals and creepy crazy little everythings that lived there. It really shows up in my work. I had a really great art teacher in middle school and also in high school. I was already doing a lot of little interesting things, but they really got the ball rolling. My parents have always been very supportive and I'm forever thankful for that. I spent a year at the Columbus College of Art and Design, a semester at The Center for Creative Studies in Detroit, and ended up Graduating from The Ohio State University with a degree in Industrial Design.

How would you describe yourself and your art?
I'm a pretty easygoing guy. I am content creating things and like being around my friends. Many times my art has been called whimsical. I'm going to go with that. Most of what I do is made from discarded or surplus items. My favorite thing is to create things out of everyday objects. I've made jellyfish from water bottles, mushrooms from lunch bags and thunderclouds from VHS tape. I really enjoy what I do and I want others to enjoy it as well. I want anyone who comes into contact with my art, regardless if they know anything about art or not, to stop and be inspired.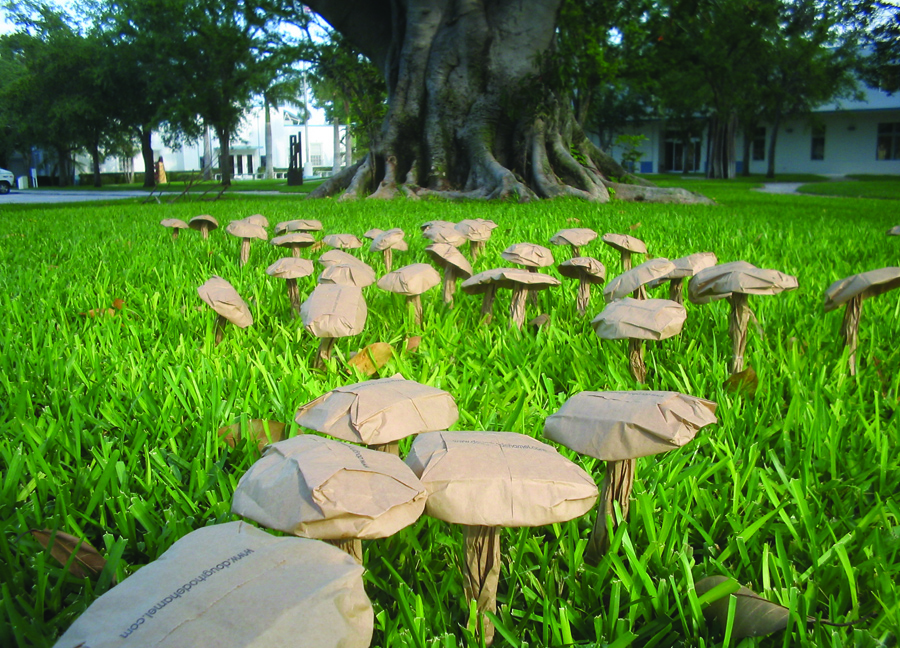 Paper Bag Mushrooms planted somewhere in West Palm Beach


Tell me about your "Spore Project".

The SPORE Project is a worldwide effort I developed to promote awareness for the support for art in schools and creativity in day-to-day life. The project illustrates the importance of self-expression, resourcefulness and creativity - specifically, how to look at one thing (a simple paper bag) and see what it can be instead of merely what it is. The project was created to build awareness, specifically to let people know the importance of art.
How did you think this up?

The idea behind the paper bag mushroom grew innocently out of lunch in high school. While sitting around waiting for the meal break to end, I squished my lunch bag into a mushroom and gave it to my friend. This became a daily routine. Years later I figured out a way to stick them in the ground. I then began placing them in my friends' lawns while they were at work. It was meant as a joke, but other people loved them and asked me to cover their yards with mushrooms as well. I began making hundreds, then thousands. I did them for festivals, art shows, parties and just for fun. I began getting calls from teachers asking if I could come show their classrooms the art of making paper bag mushrooms. This is where the SPORE Project began.

Any thoughts on teaching art yourself?

I play with the idea a lot. I don't know that I would like to teach in a school, but I do like being around kids and showing them how to make things. I actually stop in quite a bit in art classes to show kids how to make paper bag mushrooms. They love it because they are fun and easy to make and the materials are readily available.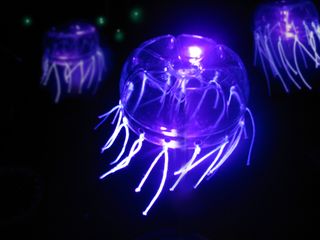 Jellyfish made from water bottles, plastic containers and found objects
What is the scope of your SPORE Project?

Thanks to the Internet, it's already popping up in a few places around the world. I want it to be much more prominent and get the message to as many people that art and creativity are important and why. I have a lot of plans for the future and ultimately want to put one on the moon.


What is your motivation behind this project?

Art is essential: It promotes intelligence and creativity, and it's a great expressive outlet that inspires people toward new perspectives on life, which we all need and need frequently. As of 2009, more than 64,000 mushrooms have been planted throughout the nation as well as parts of Canada, Germany, London and Taiwan. Basically I want people to look at things in a different light and be inspired and smile.
Will this be the subject matter for your upcoming show at Bold Hype Gallery in Orlando this summer?

No actually I will be doing something a bit different. I'm creating a massive amount of deep-sea fish from discarded cardboard. The whole show will be very dark and the fish will glow. I'll have all shapes and sizes and most will have big scary teeth. It's going to be so great! I can't wait!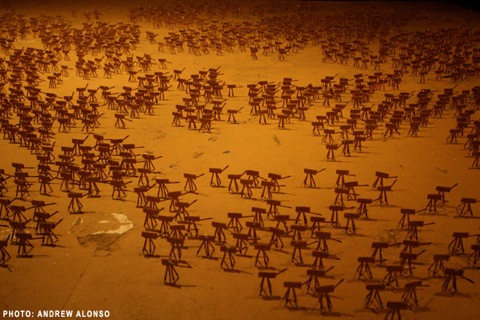 4011 camel-like animals made from match books
Is your installation of these mushrooms ever taken as vandalism?

No, and this actually surprised me in the beginning. I thought for sure I was going to get in a lot of trouble for planting them around and was amazed when people started asking me to do their yards and festivals. I actually have the support of the city, which is wonderful. I just keep making more and more and there are no plans to stop.


What do you do when you aren't mass-producing paper fungi?

I'm usually making something else. I'm always making something. I have odd jobs here and there. I like hanging out with my friends, they keep me sane. I'm by myself a lot when I work, they keep me human. Thanks to all of you! I also like food.


What materials do you typically work with?

Like I mentioned before, mostly discarded and surplus items. If I can find masses of one kind of item, I can usually make it into something. I'm currently working on an installation made completely of lots and lots of weird dried leaves and stems.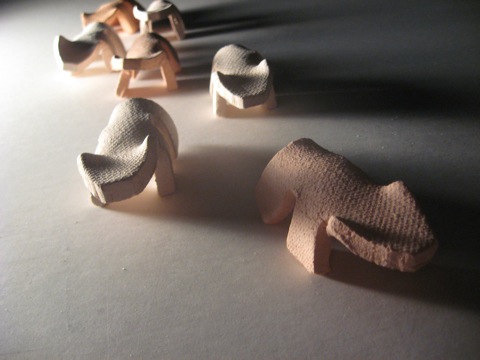 little badger-like animals made from clay
What's the art scene like in Orlando?

It's actually getting better. I've been here for about 15 years. It's been floundering for awhile, but it seems to have stabilized a bit. People are coming up with some cool ideas and putting more effort into what they do. We're a young city and we have a long way to go, but I think that's part of the fun. Right now we get to do anything we want. There are a ton of opportunities out there, you just have to make them happen. I'm very proud of Orlando. There is no place like it on Earth. We've just got so many weird and wonderful things.

Check out Doug's installation, "A Deep Blue" at Bold Hype Gallery in Orlando this Friday, July 31st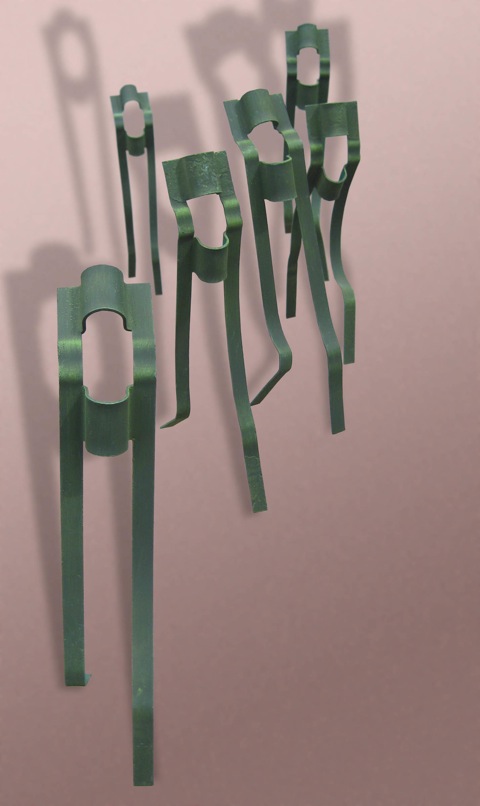 Migration 3 - running of the lederhosen made from painted steel
For more on Doug, check out his website here...