Exclusive Interview with Dan Baldwin
Juxtapoz // Sunday, 01 Nov 2009
1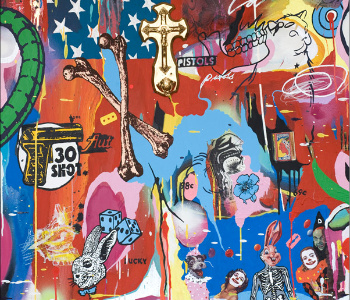 Brighton based artist Dan Baldwin creates provocative mixed media works on canvas. His pieces are a mixed bag of unlikely, juxtaposed elements—motifs associated with the charm of childhood, riddled with floating razors and skulls—and are composed of colors that pop off the canvas.
His recent show at Carmichael Gallery in LA took the city by storm, and left quite an impression on fan Christine Wolf. Read her interview with the artist below and take a peep at what makes Dan Baldwin Dan Baldwin.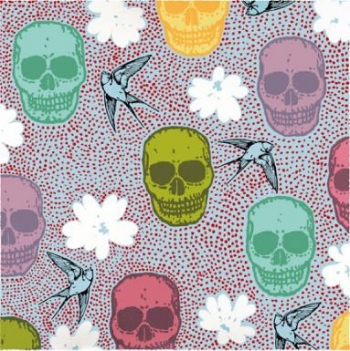 Interview by Christine Wolf
What city do you currently reside in?
I live in West Sussex-a tiny part of West Sussex called Cootham. There is just one pub—it's in the nearest village. We have to walk 20 minutes to get there but I don't go far if I can help it. I can drive to London in 3 hours, Brighton in 1 hour. I moved here to think, paint and have peace and space to focus on my work. I was born in Manchester and lived there until I was 10, lived in Brighton for 12 years, then West Sussex.
Tell me about your childhood.
I was very practical, wanted to be a carpenter, and was always making things. Then I was a skater for 8 years, made my own half pipe because there was nothing else. I began doing plumbing when I was 16 and enrolled in a YTS (youth training scheme) in plumbing, which is essentially an on-the-job training course where I earned £28 a week. It wasn't for me. I left that and went back to my school.
When I was 17, I got an interview at Eastbourne Art College and got in. I loved it. It was a whole new world. I made more personal art than college art, I won best student award—it was a BTEC national diploma in general art and design. We would do a month of photography, a month of graphic design, a month of printmaking/textiles, a month of ceramics, illustration, and a lot of life drawing. I specialized in Illustration.
Then I went on to do a degree in that at Kent Institute of Art and won a commendation for excellence and they asked me to teach a year after graduation.
That was 1995—I never looked back.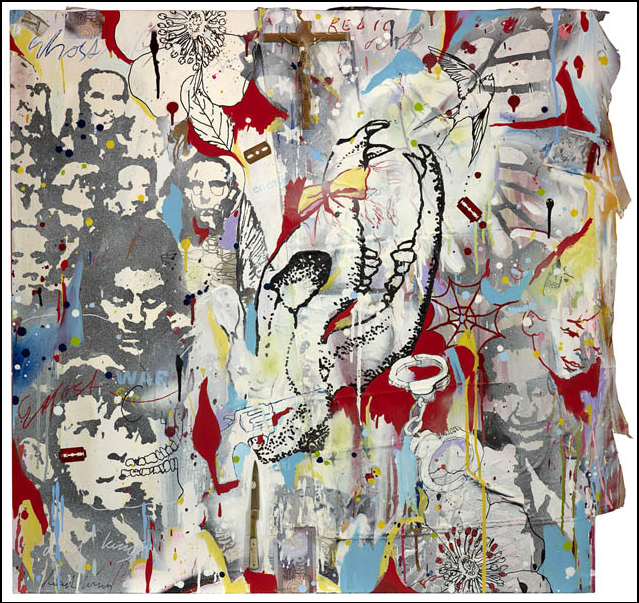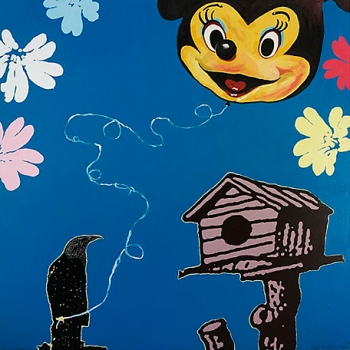 Your art has many references to Disney. Do you think of this as a positive influence in your art?
I don't use Disney references as much now. At first, I was looking beyond the happy innocent playful exterior and trying to suggest a darker meaning behind this, so I was putting Mickey Mouse next to Adolph Hitler or Ronald Regan to make things uneasy. I would place a gun with a flower etc. I use a lot of innocent images: teddy bears, little girls, little boys, cutesy nature elements like squirrels and birds…but I always mean these to have an edge.
Years ago I made these large paintings of puppies, kittens and squirrels but they were so large and distorted that they looked down on you, making you feel on edge. I like playing with the original meaning of subjects.
Have you had the chance to visit a Disney theme park? If so please describe the experience.
I don't like theme parks. I recently went on a ride called Nemesis Inferno and I actually thought I would die. Afterwards I threw up and had to go home. All day I was ill. I'm afraid theme parks don't suit my sensitive disposition! All these kids who were, like, 14 were saying they had been on this ride 10 times that hour, and I thought, how bad could it be?!  Ugh…I do quite like rifle ranges and bumper cars though!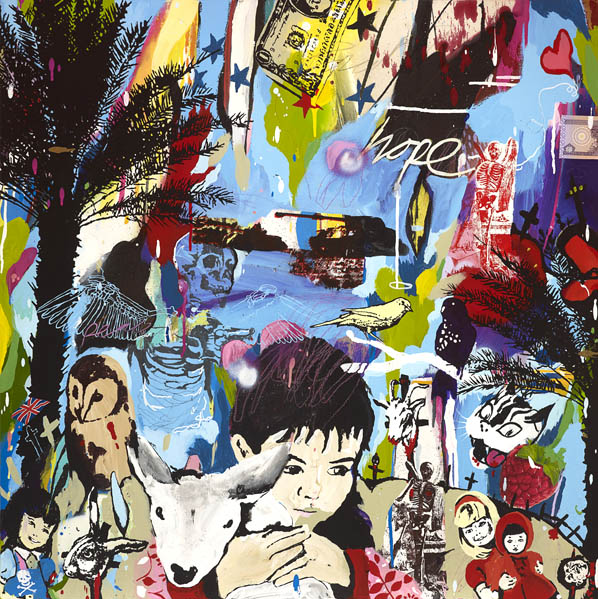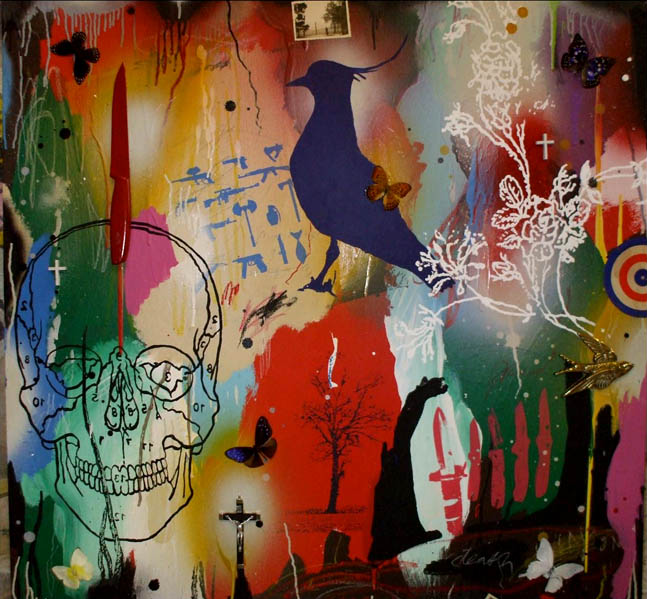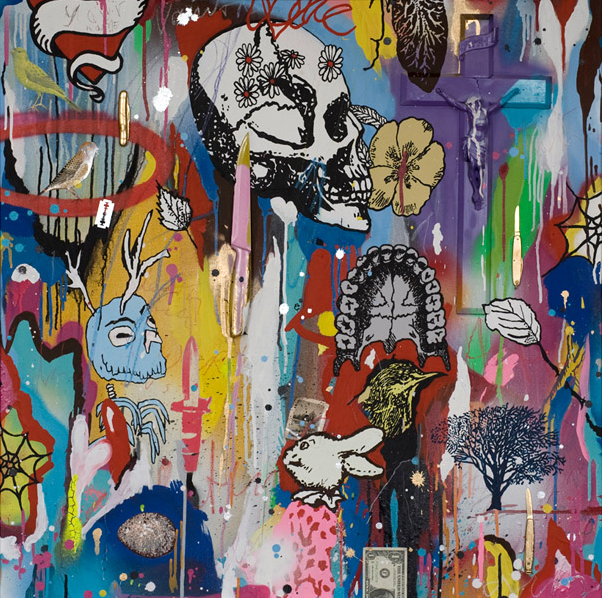 Your art is described as "LIFE". You have the good and the bad in there. How does your imagery describe how you see both sides?
I don't try and describe life; I try and present the viewer with a puzzle, or a situation that incorporates both life and death, innocence, symbolism, decay, nature, war, religion, etc.
It's like a song—layered until the balance is right, then you can let your eyes scan across the imagery to come up with feelings and associations that mean something to you.
They are getting a bit complex recently and I think maybe people don't look deep enough, but once you get into the language of symbolism and double meanings, it will be like a story unfolding.
The Iraqi currency next to the US currency, to me, represents the current war. This links to that tank, that links to death, which is associated with innocence, death of nature, decay etc. It's really simple. The gun is an actual weapon of war; a bird in a cage is symbolic of freedom etc., its really simple. Then I just push that more and more.
Do you have a significant other in your life?
Yes I do. We met years ago when I was working in a video shop in Brighton. It was a cool little shop that had a good atmosphere and specialized in good films etc. Annie was a regular who I always thought was very interesting/attractive/hot and so on, but we were both in relationships.
About 6 years later, one day she came up to me on a hot day and bought me an ice cream. This took a huge amount of courage because she was quite shy, and terrified to talk to me. I was flattered but in a relationship.
Anyway, the long and short of it is that 6 months after this we were both single and I took her to dinner. Our date lasted 36 hours and we fell in love. She was able to give up her job in 2008 and began working for me as my glamorous assistant, taking the pressure off of me by taking care of jobs that need to be done during the day. We live together and are always together; it must be the only relationship that I've been in where we don't argue.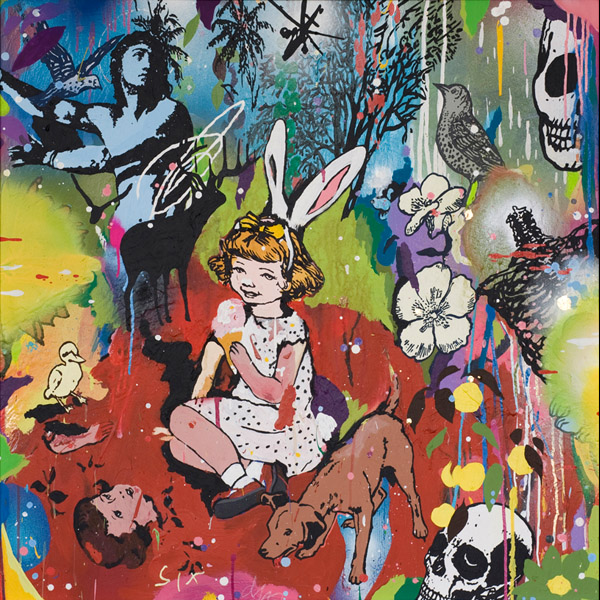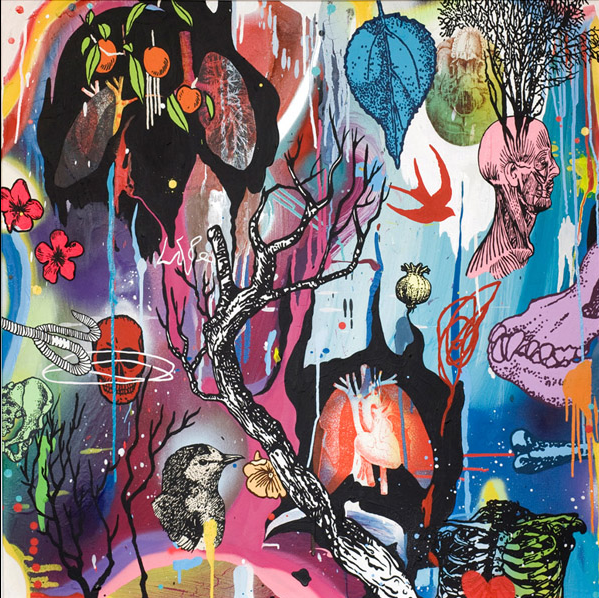 What advice would you give to other aspiring artists?
Be prepared to have no money from it for a long time. It took me 16 years before I was full time. Work hard, be thick-skinned, be organized, believe in yourself and your work, and push to make your language unique, because it's all been done better before and its so competitive. Don't give up.
Will you make it back to Los Angeles any time soon?
I'd love to. I really enjoyed L.A. It had a very upbeat, positive attitude that London doesn't. London is a bit dark and pretentious.
Unfortunately, for now I'm just really busy and I'm now booked up for most of 2010. There are two people trying to arrange a NYC show, there's a London show in the works and there's talk of a Melbourne show…so yeah, as much as I want to get back to LA . . .
Has art allowed you to be who you truly are?
Yes, I'd say so. It has allowed me freedom to be me; to live away from distraction and to think.
I really wanted a house and a garden to plant things. I find relaxation in simple things, like sweeping leaves or sitting by the log fire, playing the drums or piano and listening to music.
It's a funny business, art, because it is very solitary. So you can work nearly a year alone, then it is out there on the walls being looked at—and you may not sell anything!
I think it's taken me a year to realize that I like my space and I like to think. I've moved away from all my friends because I think people just lead to disappointment in general.
I see who I need to see. I love painting, when the music is good and you are truly channeling something special onto canvas. I love that moment.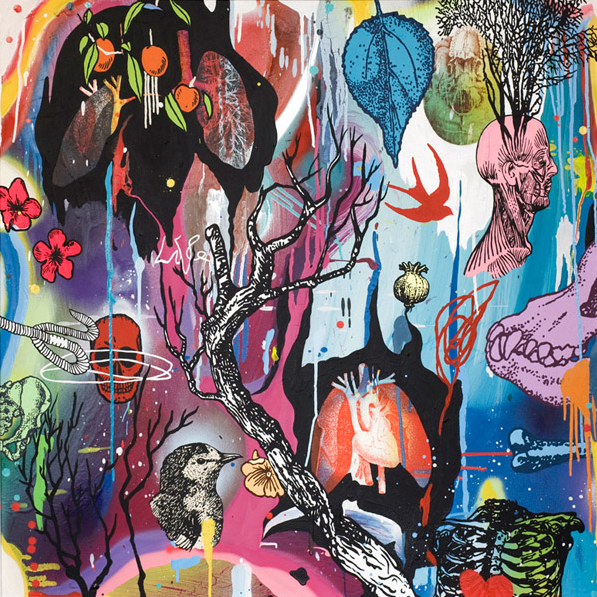 Check out www.danbaldwinart.com to see his work. It's amazing.