Exclusive Interview with Damon Dash, Part Two
Juxtapoz // Sunday, 28 Feb 2010
1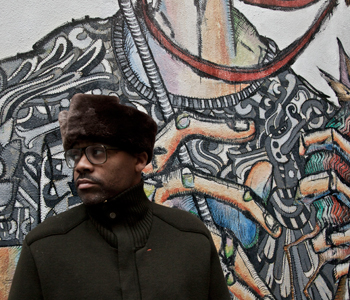 As promised, today we continue our conversation with Damon Dash, the Mogul of-all-trades: from fashion, to music, to movies, and now art. Damon's enthusiasm for his new gallery in Manhattan, DD217, is palpable.
If you missed Part One, get caught up in the conversation here.
George Koroneos: It is hard to ignore the artistic element in the hip hop scene thanks in part to Ed Hardy, etc. Do you think there's a newfound appreciation for it?
Damon Dash: I don't think it's because of Ed Hardy. I just think that these days, kids have a serious appreciation for expression. I think that the last couple of years, kids couldn't express themselves the way they wanted to so they went more towards the arts. Look at music. You see so much more live instrumentation in music. I see a lot more people being creative as it relates to the albums and vinyl packaging. In all my years in the music business—15 to 20—I've never seen it like this. I'm finally seeing where music, art, and acting all cooincide. People are getting together because they don't have a choice and it feels organic and natural. People are embracing it and they are happy about it.
You mentioned that your gallery is a wealth of different kinds of art. What would I be looking at if I walked into it right now?
It's always cheaper to discover an artist. Because we look at ourselves as opinion leaders, we kind of like to let people know that we are thinkers, not bandwagon riders. I'm looking for artists that represent some kind of meaning and lifestyle. If you walk into the gallery right now, you are going to see some big and interesting pieces by different people of different ethnicities and from different places. Some pieces reflect some kind of pain and violence, and some pieces reflect peace and harmony. We can all be in the same place but feel different things. You are going to see some stuffed animals and a lot of different things. At the end of the day it is just expression.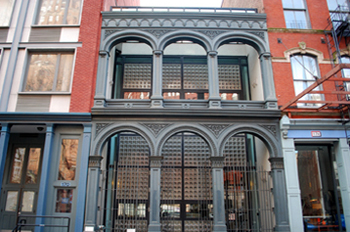 Do you think this is a way to give back to your community?
I'm looking to create a place for people that otherwise haven't had the opportunity to showcase their talent. I'm giving them that platform because they deserve it—no politics, no nothing. If you are a good person, you work hard, and you mean something, you can showcase your talent here any day.
The good thing about this gallery is that it isn't always driven by the art, it's driven by the music that's in it, the movies we make, and all the other things that are around it. It's just an aspect of it. It's not like there's pressure on me to sell the art like it is for other galleries. This gives people a place to be creative and there's no time restrictions or rush. I don't mind if art doesn't sell. I'm not making it to sell I'm making the gallery to showcase the work. It is what it is. In New York, if a gallery wants to keep its lights on, it has to sell art. But I don't really know, because I'm not from that world.
Opening up a gallery at this time is a surprising move, considering the economic mess we're in. What are your thoughts?
For me, my business model is not to sell art. It's not an accessory either, it's a part of. These buildings are still going to exist whether I sell the paintings of not. I think New York and hip hop in general need something cool and unexpected to be honest. Perception wise, for me, having an art gallery makes me feel sophisticated. It makes me feel like I've evolved and I'm not doing what people perceive a hip hop mogul should do and I hate the fact that I'm called a hip hop mogul. On a branding level, I think art is cool and I love the freedom of expression. The best thing for me is to start in a bad economy because it's a different business model that's going to keep us living.
Are you in this for the long haul?
Definitely. I love art and I love things that make me feel good. If I hang something on the wall and it makes me feel good and I can make money off of it or it makes me look cool, then I love it. I love art.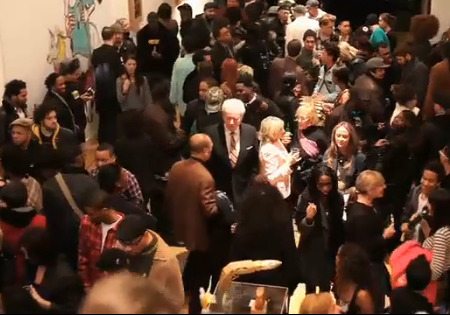 Dash's Gallery on Opening Night
Read Part One of this Interview here.